'9LivesJoines' focuses on technical racing
Canada's former speed world champion is hoping that a shift to technical events will help her onto the podium at the 2015 Worlds in Panorama, Canada.
10 Feb 2015
Imagen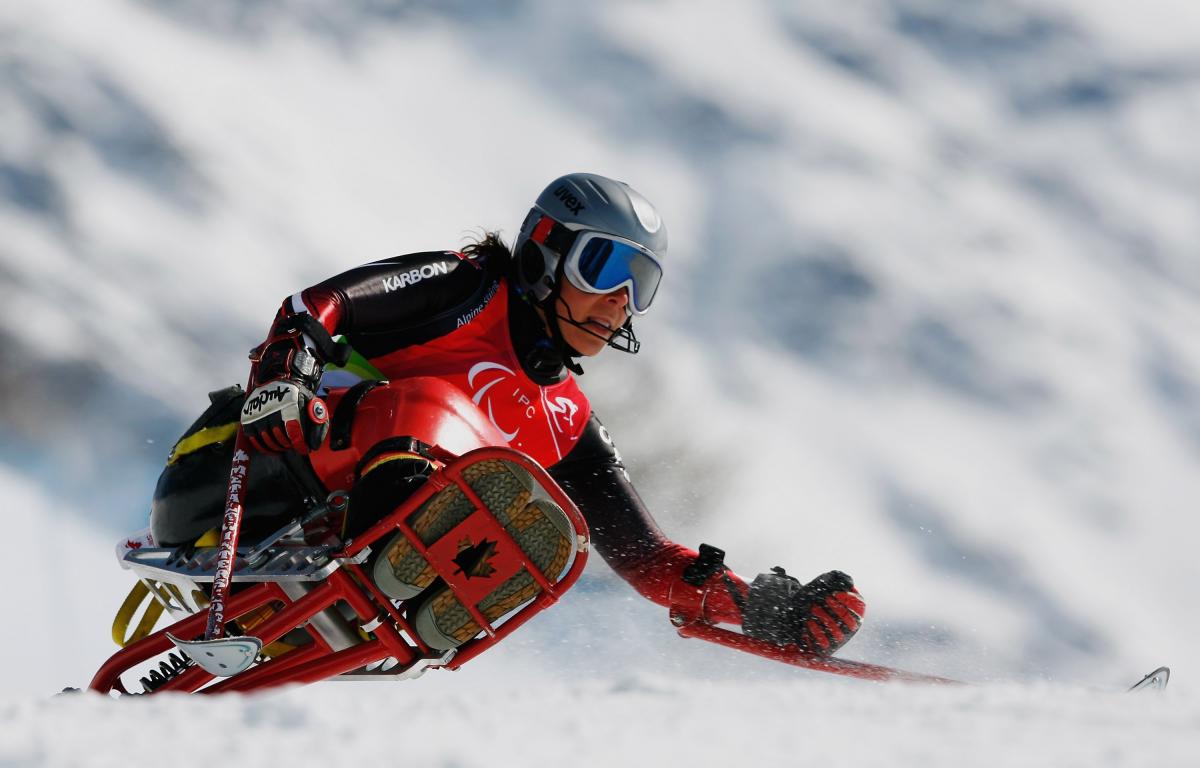 ⒸGetty Images
By Jake Duhaime | For the IPC
"I've gotten more hours leading up to the season, more runs and more volume."
Two years after a major crash pushed Canada's Kimberley Joines to the brink of retirement, the former speed world champion's switch of focus to technical events could pay dividends at the 2015 Worlds in Panorama, Canada, from 28 February.
During a 2013 IPC Alpine Skiing World Cup event in Sochi, Russia, Joines suffered a spiraling crash in the downhill. Her left collarbone was completely shattered, while the right shoulder was separated. The 33-year old was rendered immobile in a hospital room, thousands of miles away from home.
"I immediately decided that it was the last big crash I could take," Joines said. "I called home and told my boyfriend and parents about my plans to retire."
It took just a few days to change her mind.
"Then the boyfriend joked that I'd have to get a real job," Joines, whose Twitter handle @9LivesJoines is a playful take on her fortunes, said. "That wasn't really appealing to me."
Joines' comeback started with a tactical decision that would alter her approach to the sport. Instead of competing in all five disciplines, the emphasis would be placed on the slalom and the giant slalom.
When she returned to Sochi the following year for the 2014 Paralympic Winter Games, Joines had a renewed outlook on the sport. This time, instead of leaving the Russian mountains with bandages and bruises, she took home a slalom bronze medal and now has her eyes on the event at PyeongChang 2018.
"The decision gave me a renewed lease on my own skiing. At the time, I felt like I had plateaued," Joines said. "Now, because of the time spent on just the technical events, I see gains on a daily basis."
With the 2015 IPC Alpine Skiing World Championships on home snow set to begin in just a matter of weeks, Joines notes the benefits to a technical training regimen.
"I've gotten more hours leading up to the season, more runs and more volume," Joines said. "As skiers will tell you, in the technical events, the more experienced skiers have a greater advantage."
There are few skiers with more experience than Joines, a downhill and super-G world champion, multiple World Cup winner and now, a two-time Paralympic bronze medallist.
After missing Vancouver 2010 due to injury, there is new excitement in being able to compete in a World Championships so close to home. There are also luxuries and comforts beyond the mountain that Joines and her teammates believe offer a considerable advantage.
"We stay in the same condos, cook our own meals and really make this a home for us," Joines said. "Just that ability to establish a routine and feel comfortable in our surroundings will help."
Also new is retrospection only seen by a 12-year veteran in the second half of her career. Joines has taken on the role of Alpine Canada's elder stateswoman. And she's starting to see shades of herself in the young skiers she lives and trains with at Panorama.
"Now that we have so many young and coming athletes, I feel like I take on the role of Team Mum a little bit," Joines joked.
Just do not expect the Team Mum to give up the torch just yet. She's having too much fun to go searching through the classified ads for a real job.
Panorama 2015 runs from 28 February - 10 March and is expected to feature around 130 of the world's best skiers from 30 countries.
Media accreditation is still open at Panorama2015.com, alongside the competition schedule and entry is free for spectators.