Agitos Foundation to tell incredible stories of athletes
The stories of eight athletes will be told in the weeks leading up the Rio 2016 Paralympic Games, describing their journey.
20 Jun 2016
Imagen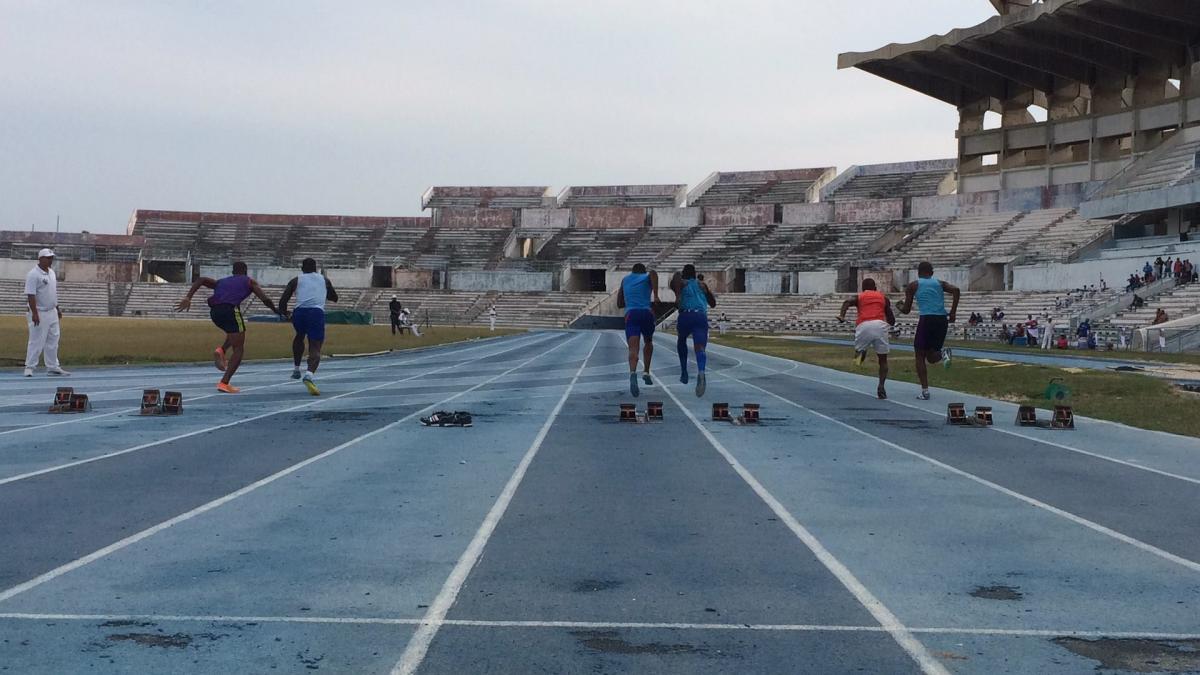 ⒸAgitos Foundation
By Agitos Foundation
The development arm of the International Paralympic Committee (IPC), the Agitos Foundation is to launch a series of incredible video stories documenting eight athletes from Latin America on their journey to the Rio 2016 Paralympic Games.
The eight featured athletes all come from different backgrounds; some are already Paralympic champions and have qualified for Rio 2016, whilst others come from humble upbringings where Para sport has transformed their lives.
The one thing they all have in common is that they, together with some of their coaches, have benefitted from training and expertise provided during the Road to Rio 2016: Agitos Foundation Sessions. The sessions, organised in partnership with the Rio 2016 Organising Committee and Brazilian Paralympic Committee, have aimed to improve coaching and Para sport standards as part of the legacy of Latin America's first Paralympic Games.
From 21 June, short documentary films showing everything from their background and family life to daily training, routines and competition will be published on the Agitos Foundation's Facebook and Twitter each week, before the final film is revealed just before September's Games.
The featured athletes in the series are:
Darwin Castro (Ecuador): The 22-year-old T11 middle distance runner won a historic 5,000m bronze medal at the Toronto 2015 Parapan American Games together with his guide Sebastian Rosero. He is the first Ecuadorian to qualify for a Paralympic Games with an A mark.
Darwin moved from his home town of Cuenca to Quito to join the national team. But after six months, due to his lack of resources, he was about to quit sport altogether before Sebastian offered him to live with his family and to continue running together.
Maria Paula Barrera (Colombia): The 14-year-old is a promising swimmer who won a gold medal in the 400m freestyle S10 and 200m individual medley SM10 at the Santiago 2014 Para South American Games. She made it to the finals of six events at Toronto 2015.
Luis Herazo (Colombia): After being talent spotted at an Agitos Foundation project in Colombia, the 20-year-old claimed a national record in the javelin F35. Through his participation in Para sport, Herazo - who hails from a humble family in a small Caribbean town - has changed attitudes towards people with an impairment, including those of his own family.
Omara Durand (Cuba): Although the 24-year-old won medals at London 2012 as a T13 athlete, the birth of her first child resulted in further vision loss. She was reclassified as a T12 athlete and in 2015 became the world's fastest female Para athlete. She won three sprint world titles, set multiple world records and made the qualification time for the Olympics over 200m.
Yunidis Castillo (Cuba): The 29-year-old is Cuba's most successful Paralympian having won five gold medals since her first Games in Athens in 2004. At London 2012 she won gold and set world records in the 100m, 200m and 400m T46 events. She became a mother in late 2014 and months later won 100m and 200m T46 titles at Toronto 2015. She continues to be a fantastic ambassador for Para sport in the region.
Cecilia de Araujo (Brazil): The 17-year-old won a bronze medal in the 50m freestyle S8 at Toronto 2015, narrowly missing out on gold by 0.03 seconds. Born in Natal, the swimmer moved to Sao Paulo to further her career after winning several medals at the 2013 Buenos Aires Youth Para Pan American Games.
Eliezer Gabriel (Mexico): The 18-year-old won a gold medal in the javelin F46 at Toronto 2015 and is now aiming for a medal in Rio. He was born in the well-known neighbourhood of Veracruz where he lives with his mom and little brother. Thanks to his achievements, he has taken over the responsibility of providing for his family, and has helped his mother to open a small grocery shop and buy a new house.
Washington Do Nascimento (Brazil): Like many born in the famous Rio favela Cidade do Deus, Nascimento did not have a birth certificate. As a result the 19-year-old did not have a passport and was unable to compete at Toronto 2015. He is aiming to compete in the Rio 2016 T47 sprint events.
Clean, broadcast quality versions of all videos are available free of charge to all media. Requests should be submitted to footage@paralympic.org. The Agitos Foundation must be credited for all use of footage.
Alongside the videos, the Agitos Foundation will launch the #TeamAgitos. This relates to all the activities taking place to help athletes and coaches, and organisations within the Paralympic Movement, to grow and develop.
More information can be found at www.agitosfoundation.org.
Media Advisory: Imágenes y vídeos cortos disponibles sobre inspiradoras historias de ocho atletas en su camino a Río 2016.
El brazo de desarrollo del Comité Paralímpico Internacional, la Fundación Agitos, lanzará una serie de vídeos con increíbles historias documentando los viajes de ocho atletas de Latinoamérica a los Juegos Paralímpicos de Rio 2016.
Los ocho atletas protagonistas proceden de diferentes contextos, algunos campeones Paralímpicos y con su pase a Río 2016 en el bolsillo, mientras otros con un pasado más humilde han visto transformadas sus vidas gracias al Para deporte.
Todos tienen en común que se han beneficiado, junto con sus entrenadores, de la capacitación y entrenamiento ofrecido en el programa Road to Rio 2016: Agitos Foundation Sessions. Los talleres, organizados en colaboración con el Comité Organizador de Río 2016 y el Comité Paralímpico Brasileño, han ayudado a mejorar el nivel de los entrenadores y estructuras Paralímpicas en Latinoamérica. Todo ello es parte del legado de los primeros Juegos Paralímpicos de la región.
Desde el 21 de junio, los videos documentales cortos mostrarán todos los detalles de sus vidas, desde su historia familiar hasta los entrenamientos diarios, pasando por actividades rutinarias y competiciones. Los videos serán publicados cada semana en las páginas Facebook y Twitter de la Fundación Agitos, guardando un último capítulo a ser presentado justo antes de los Juegos en septiembre.
Los atletas protagonistas en la serie son:
Darwin Castro (Ecuador): El mediofondista ecuatoriano de 22 años, categoría T-11, ganó una histórica medalla de bronce en los 5000 metros en los Juegos Parapanamericanos de Toronto 2015 junto con su guía Sebastián Rosero. Es el primer ecuatoriano de la historia en clasificar a los Juegos Paralímpicos con marca A.
Darwin abandonó su Cuenca nata por Quito para unirse al seleccionado nacional. A los seis meses de llegado a Quito, estuvo a punto de abandonar el deporte debido a su escasez de recursos. Fue entonces cuando Sebastián le ofreció vivir junto a su familia y continuar corriendo juntos.
Maria Paula Barrera (Colombia): La nadadora promesa de 14 años ganó una medalla de oro en los 400 m estilo libre S10 y 200m individuales medley SM10 en los Juegos Para Suramericanos de Santiago 2014. En Toronto 2015 consiguió clasificarse a seis finales en diferentes eventos.
Luis Herazo (Colombia): Después de ser un talento descubierto en un proyecto de la Fundación Agitos en Colombia, el joven de 20 años consiguió batir el record nacional de lanzamiento de jabalina en la categoría T36. A través de su participación en Para deporte, Herazo –que procede de una humilde familia de un pequeño pueblo caribeño- ha cambiado la manera en que muchos perciben la personas con discapacidad, incluyendo a su propia familia.
Omara Durand (Cuba): A pesar de sus 24 años, ya ganó medallas de oro como atleta T-13 en Londres 2012. Durante el nacimiento de su primera hija, Omara perdió algo más de visión y fue reclasificada como atleta T12. Recientemente en 2015, se convirtió en la Para atleta más rápida del mundo.
Ganó tres títulos mundiales (100m, 200m, 400 m), estableciendo múltiples records del mundo, incluso clasificando para los Juegos Olímpicos en los 200m.
Yunidis Castillo (Cuba): Es la atleta Paralímpica cubana más exitosa tras a sus 29 años, haber ganado cinco medallas de oro desde sus primeros Juegos en Atenas 2004. En Londres ganó oro y estableció records del mundo en 100m, 200m y 400m en la categoría T-46. Fue madre a finales de 2014 y poco después logró los títulos Parapanamericanos de 100m y 200m en Toronto 2015. Ella continua siendo una fantástica embajadora del Para deporte en la región.
Cecilia de Araujo (Brazil): La nadadora de 17 años ganó la medalla de bronce en los 50m estilo libre S8 en Toronto 2015, perdiendo el oro por tan solo 0,03 segundos. Nacida en la nordestina Natal, la nadadora se mudó a Sao Paulo para avanzar en su carrera después de ganar muchas medallas en los Juegos Parapanamericanos Jóvenes de Buenos Aíres 2013.
Eliezer Gabriel (Mexico): El jóven lanzador de jabalina de 18 y campeón Para panamericano en Toronto 2015, aspira a medalla en Río. Nacido en un popular barrio de Veracruz donde aún vive con su mamá y su hermano, gracias a sus logros, ha conseguido hacerse cargo de su familia, apoyándolos para comprar una nueva casa y poner una tienda de comestibles para su madre.
Washington Do Nascimento (Brazil): Como muchos de los nacidos en la famosa favela Ciudad de Dios, no tenía partida de nacimiento. Debido a ello, el jóven de 19 años no pudo competir en Toronto 2015 al no tener pasaporte. Aspira a competir en los eventos de velocidad T-47 en Río 2016.
Versiones sin gráficos de todos los vídeos están disponibles de manera gratuita. Pueden enviar sus peticiones de vídeos a footage@paralympic.org. La Fundación Agitos debe citarse en créditos en cualquier uso del material.
Junto con los vídeos, la Fundación Agitos lanzará la campaña #TeamAgitos. La campaña nos contará todas las actividades que tienen lugar para apoyar a atletas, entrenadores y organizaciones dentro del Movimiento Paralímpico, ayudando a su crecimiento y desarrollo.
Más información en www.agitosfoundation.org