Americas region has new Proud Paralympian leaders
Agitos Foundation's athlete education programme now has a pool of trained leaders from all five regions
06 Sep 2018
Imagen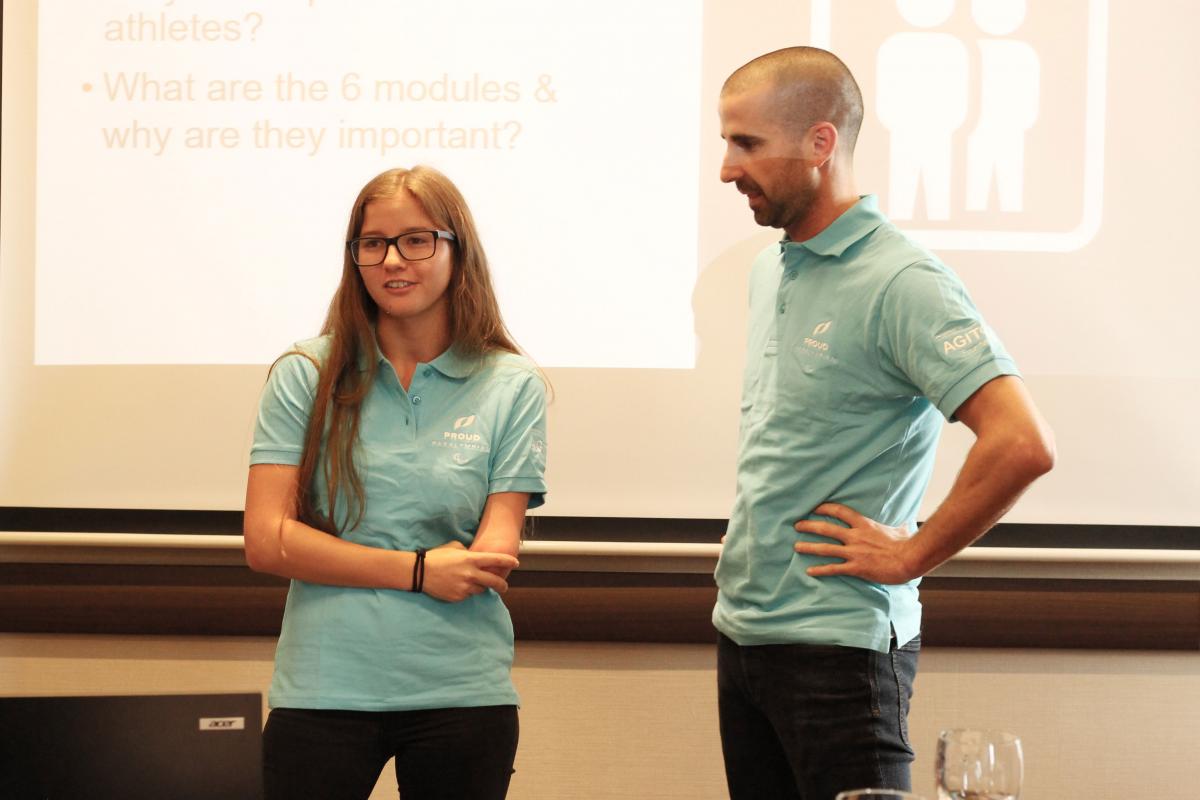 ⒸAgitos Foundation
By Agitos Foundation
Paralympians are exciting and creative people. And every time you have a chance to engage with an athlete of this calibre you learn as much as you share when you get in there
From 27-29 August the Agitos Foundation hosted a Proud Paralympian leader training in Bogota, Colombia.
Five Paralympians from the Americas were trained and will now be able to deliver workshops of the athlete education programme. After hosting similar trainings in Asia, Africa and Europe in the last 10 months, the Agitos Foundation's now has a global pool of trained leaders from all five regions.
New Proud Paralympian leaders are Para swimmers Benoit Huot (Canada), Camila Haase (Costa Rica) and Phelipe Rodrigues (Brazil), track and field athlete Jose Luis Casas (Peru) and former Para alpine skier Erin Latimer (Canada).
During the three-day training, they were provided with detailed information about the Proud Paralympian programme and its modules and learned how to enhance their presentation and facilitation skills.
The training was delivered in cooperation with the Adecco Group, who has been a partner of the International Paralympic Committee (IPC) since 2007. Patrick Glennon, the Adecco Group Global Senior Vice President (SVP) for the International Olympic Committee (IOC) and IPC Athlete Career Programmes, said:
"I have had the pleasure and the opportunity to work with the Paralympians for a number of years now. Paralympians are exciting and creative people. And every time you have a chance to engage with an athlete of this calibre you learn as much as you share when you get in there.
"The impact that Proud Paralympian makes is really to help Para athletes see that they can take the success that they demonstrate on the field every day, to really bring that success off the field of play as well to really brighten who they are so they can achieve a successful life."
Following the leader training, newly-trained leaders Camila Haase and Jose Casas stayed in Bogota to host their first Proud Paralympian workshop, with 15 Para athletes from Colombia.
The half-day long activity was focused on increasing their knowledge on sport and the media and had interactive sessions, during which they dealt with typical interview situations as well as the risks and benefits of social media and gave room for the participants to share and discuss their experiences.
"My motivation to be a Proud Paralympian leader is to share with other athletes the knowledge I learned in this workshop about the different values and working with the Paralympic Movement. I hope that, through the programme, the athletes know a little more about themselves and that they can reach every goal that they proposed themselves. And that they can be the best they can", said Camila Haase.
Delivered and funded by the Agitos Foundation, Proud Paralympian aims to give Para athletes the tools they need to give their best on and off the field of play, from their first experiences in Para sport to their transition to employment and education after sport.
The next Proud Paralympian workshops will be delivered in September in Guaranda, Ecuador, and Addis Ababa, Ethiopia, both combined with sport technical courses delivered by the Agitos Foundation.