Proud Paralympian closes 2017 with new leaders
Seven Para athletes were trained in Dubai to deliver workshops in Asia
19 Dec 2017
Imagen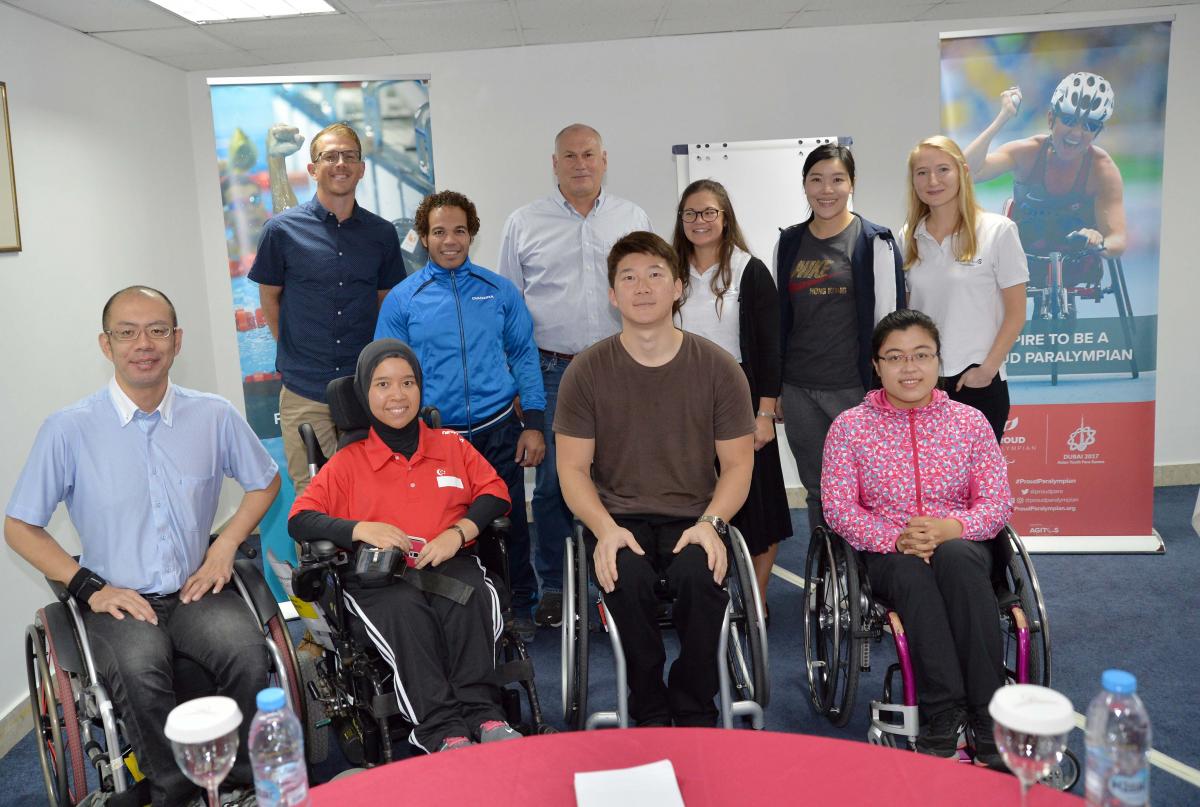 ⒸAsian Paralympic Committee
By Agitos Foundation
"I think at the end of three days they were really able to clarify who they were, how they can help out fellow athletes and how they can become role models in the future."
After its relaunch at the Rio 2016 Paralympic Games, the IPC's athlete education programme Proud Paralympian successfully closes 2017 with seven new leaders from the Asian region. From 5-7 December, the athletes attended a leader training in Dubai, UAE, aimed to prepare them to become certified trainers able to facilitate workshops and outreach activities in the region.
New Proud Paralympian leaders are Hong Kong's Yu Chiu Yee (wheelchair fencing), Australia's Bradley Scott (Para athletics), South Korea's Gyu-dae Kim (Para athletics), China's Jiamin Zhou (Para archery), Egypt's Sherif Osman (Para powerlifting), Singapore's Nurul Taha (boccia) and Japan's Mitsuru Nagase (Para ice hockey).
The leader training was hosted in cooperation with the Adecco Group, who has been a partner of the International Paralympic Committee (IPC) since 2007. Supported by the Agitos Foundation, Proud Paralympian aims to give Para athletes the tools they need to give their best on and off the field of play, from their first experiences in Para sport to their transition to employment and education after sport.
Patrick Glennon, the Adecco Group Global Senior Vice President (SVP) for the International Olympic Committee (IOC) and IPC Athlete Career Programmes, said: "It was actually very exciting because we had athletes who really wanted to deliver a message to act as role models and, when they came in, their message was vague. I think at the end of three days they were really able to clarify who they were, how they can help out fellow athletes and how they can become role models in the future."
Singapore's Nurul Taha, who's also a member of the IPC Athletes' Council, said: "I learnt a lot about interactive and flexible facilitation skills from both the trainers and fellow Proud Paralympian leaders in training and in preparation for the workshops at the following Asian Youth Para Games 2017. I'm looking forward to the next opportunity to interact meaningfully with athletes as they aspire to be Proud Paralympians."
Australia's Bradley Scott said: "The big part is having something to work towards after sport, because we are so driven to achieve athletic goals as athletes that after sports we can sometimes get lost. Having a career path is important because it still gives purpose to your life and that's what this has led me to do."
After the training, from 8-10 December, four of the new leaders were able to deliver their first workshops to approximately 190 young athletes, coaches and officials from Korea, Japan, Singapore, Iraq, Pakistan and Mongolia. Another 300 athletes also visited the Proud Paralympian athlete space from 11-13 December, taking part in outreach activities to reinforce some of the information taught in the workshops, such as the Paralympic Movement history, dual career strategy and athlete health and well-being.
In 2018, there will be Proud Paralympian leader trainings in Africa, Europe and the Americas – the exact dates and locations will be communicated later on the Proud Paralympian website and social media channels:
Facebook: /ProudParalympian
Twitter: @ProudPara
Instagram: @ProudParalympian