Armenia and Colombia keep I'mPOSSIBLE momentum going
Two NPCs were among first to implement education programme as part of pilot launches
01 Dec 2017
Imagen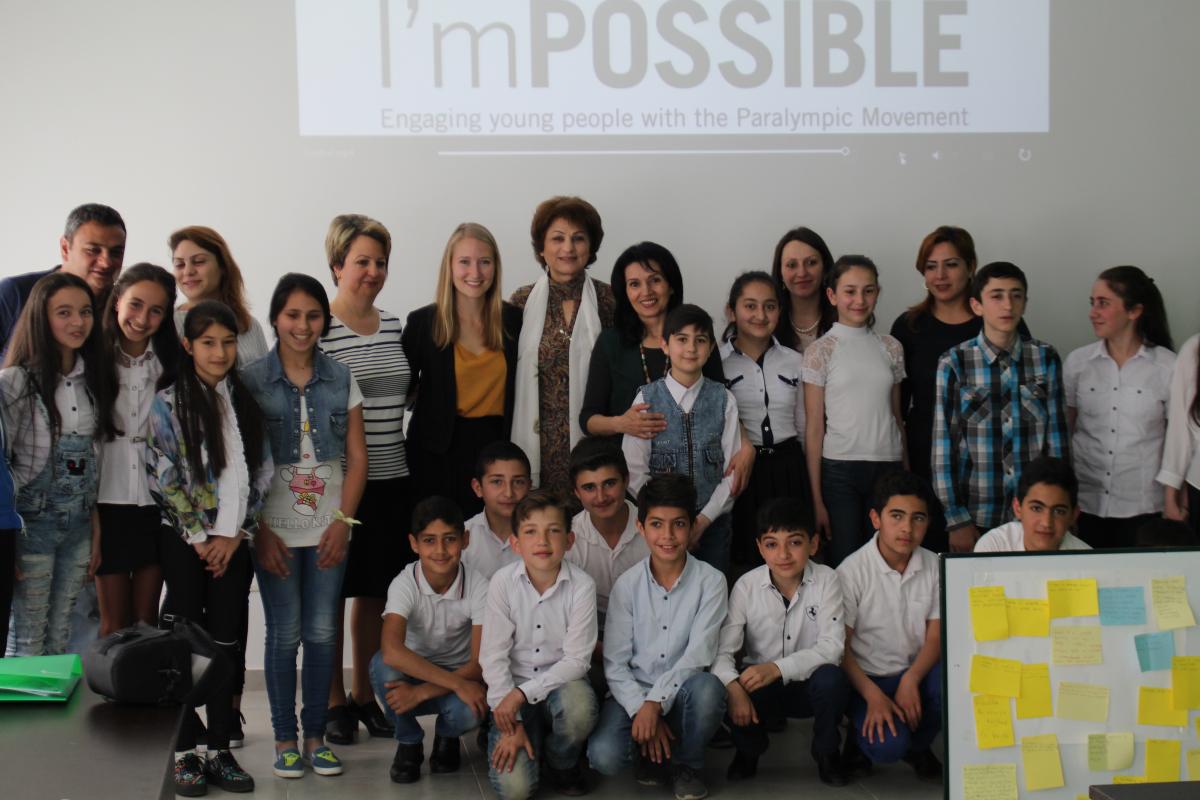 ⒸAgitos Foundation
By IPC
Before I'mPOSSIBLE makes its global launch on Sunday (3 December), two countries have already experienced positive responses within their youths because of the education programme.
Armenia and Colombia were among the first countries to implement I'mPOSSIBLE – a toolkit of resources designed to engage young people in the Paralympic Movement – as part of a pilot launch, and have seen plenty of passionate interactions with schoolchildren learning more about Para sports and the Movement's values.
"We have been in schools and universities and all youth are aware of the Paralympic Movement," said Ruzanna Sargsyan, Secretary General of the National Paralympic Committee (NPC) Armenia. "They are aware of sports for people with disabilities and believe people with disabilities should be active and full members of society."
I'mPOSSIBLE is led by the International Paralympic Committee (IPC) and its development arm the Agitos Foundation. By educating young people about inclusion and the Paralympic values, it aims to challenge and change the perceptions of how they perceive people with an impairment.
The toolkit includes a teacher handbook and five units that were translated to Armenian to assist in the implementation back in November 2016. So far, they have implemented the programme in universities and schools in Yerevan.
"I'mPOSSIBLE is a great opportunity for the public at large to learn about the Paralympic Movement and raise awareness that sport for people with disabilities exists and how important it is for people to be active," said Sargsyan.
Now, NPC Armenia wants to keep the momentum going.
On Monday (4 December), they will hold a wheelchair basketball game and short introduction to I'mPOSSIBLE at the Institute of Physical Education of Armenia to celebrate the programme's international launch.
In April, NPC Colombia also had a pilot launch at schools with a Spanish version of the toolkit.
The NPC's Secretary General Carlos Raigoza said the programmed was implemented in 10 schools in three different areas of the country, and has a plan in place to also continue the momentum.
"We are already working on the approach of the project to the teachers of the schools that initiate the process," Raigoza said. "We have invited them to different spaces where the detail of the Paralympic sport has been explained to them and they have shared with our athletes. All of the project's information has been shared with them so they can become familiar with its contents."
"We are sure that this project will make it possible to erase that gap of lack of knowledge and disinformation that currently exists with people with disabilities and Paralympic sports," he continued. "It will allow people in general to know all the possibilities offered by Paralymic sport and the benefits it brings for people with disabilities who practice them."