Australia and Canada claim important wins in men's wheelchair basketball
Germany and the Netherlands find their form in the women's competition.
01 Sep 2012
Imagen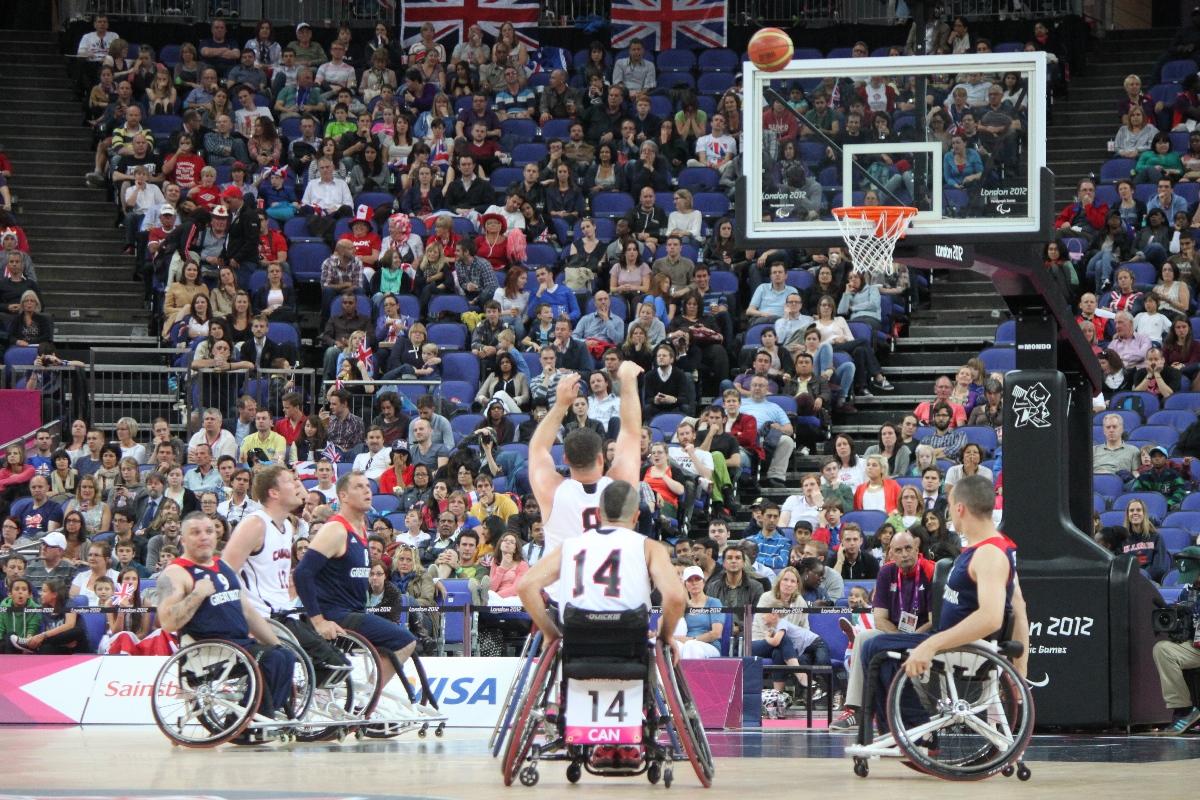 ⒸIPC
"We came out and climbed up the mountain again."
Beijing 2008 finalists Australia and Canada both recorded important victories in a thrilling day in the men's wheelchair basketball.
Reigning champions Australian were made to battle all the way before finally overturning a fourth quarter deficit to beat an impressive Turkey side 71-64.
Then 2008 silver medalists Canada had outstanding performances from Patrick Anderson and captain David Eng to inflict a second straight defeat on host nation Great Britain 70-54.
Australia were on the ropes in their Group A match when they trailed Turkey in the final quarter, but Tristan Knowles insisted that his side fully expected such a strong challenge.
"They beat the US, they were pumped up," Knowles said.
"Also a couple of us play in Turkey so we know what they are about, you could say we know more about them than any other team in the competition.
"We've got 10 guys that have been to the Paralympics before so they know what it's about."
In Group B, Anderson and Eng helped Canada get off to a flying start against Britain, and they led 20-7 at one point, but although the hosts battled back well with Joni Pollock impressing, it was not enough.
Anderson was superb throughout, and eventually finished with a game high total of ** points.
Elsewhere in the men's competition, in Group A the USA beat Italy 77-51, and Spain defeated South Africa 74-50, while in Group B Japan went down to Poland 78-53.
In the women's competition, Marina Mohnen scored seven points in the last two minutes of play to help Germany beat USA 54-48 in a rematch of the women's gold medal finalists at the Beijing 2008 Paralympic Games.
There were eight lead changes and the game at the Basketball Arena was tied twice before Germany secured their first win of the competition in the Group B match.
"I think the States is the best team in our group. We beat them so that is a great start to our tournament," Mohnen said.
"We had a slow start over the first three quarters I would say but like the Americans we did not shoot well."
In the other Group B match of the day, China overcame France 72-34.
In Group A, Australia produced a comprehensive performance to beat Great Britain 51-24, while the Netherlands edged out Canada 70-59.
Netherlands player Mariska Beijer scored a superb 34 points for her side.
"The beginning was really smooth, every ball went straight in," Beijer said.
"It was just amazing. Sometimes we missed a few balls off each other and we kind of dipped.
"But it was a team effort. We came out and climbed up the mountain again."