Basel 2019: England exert strength
Jack Shephard and Krysten Coombs stay on course for rematch
22 Aug 2019
Imagen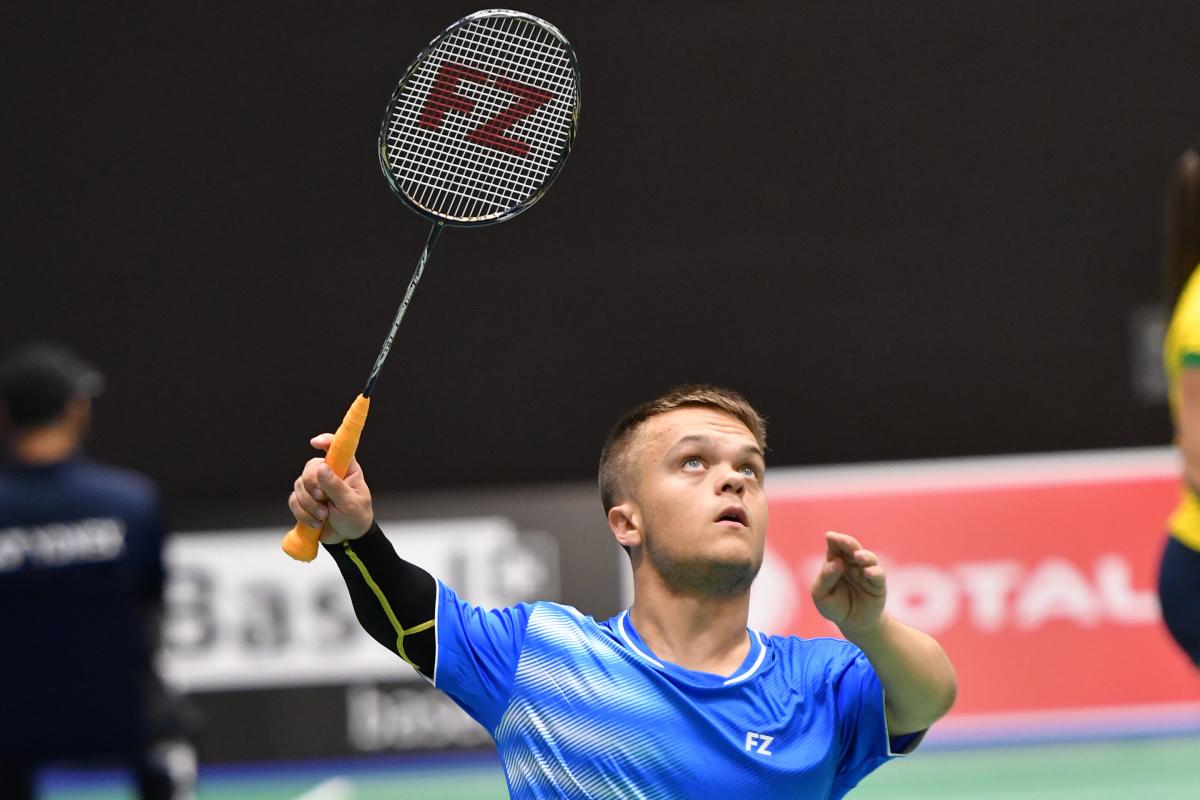 ⒸBadmintonphoto/BWF
By Amp Media | For IPC
England reasserted its dominance of the short stature classification as the second day of the Basel 2019 Para Badminton World Championships followed the form book on Wednesday in Switzerland. 
In the men's singles SS 6 event, Jack Shephard and Krysten Coombs remain on course for a rematch of the 2017 final after both stormed into the knockout stages at the St Jakobshalle.     
"I think my rivals are looking at me now and thinking, 'Yep, he's on form and we have to do a lot to come out and beat him,'" Shephard said before his 21-6, 21-6 win over Sun Jong Lie of the Netherlands. "I just have to keep playing my game, keep focused, keep confident and the Championships will be mine." 
Among those standing in Shephard's way is Coombs, who put down a marker of this own with a polished 21-5, 21-10 win over Wyatt Lightfoot of Canada. 
"I've probably had the best preparation I've had so far for any of my tournaments; I'm feeling really good," the 29-year-old Coombs said. 
Such is the English pair's dominance of the SS 6 class, Coombs said the only time he gets to watch Shephard play live is when the world champion is stood on the other side of his own net. 
"Because we're the one and two seeds, we seem to always be on at the same time," he said. "It's handy for our coaches and teammates but sometimes when it gets tight, like in the semi-finals and we're both on the opposite courts, it can be a bit like 'What's going on over there then?'"
The English top seeds in the mixed doubles SS 6, Andrew Martin and Rachel Choong, also enjoyed a comfortable win on Wednesday, beating Grzegorz Jednaki and Maria Bartusz of Poland (21-4, 21-11).
"Our partnership has gone on for nearly a decade now so we can understand each other really well and I think that will help us to achieve the gold," Choong said.
Oktila continues excellence 
In the women's singles SL 4, Indonesia's top seed Leani Oktila confirmed her place in the knockout stages with a routine 21-7, 21-4 defeat of Veronique Braud of France. 
But as the double world champion Parul Parmar of India breezed into the knockout stages of the women's singles SL 3, her compatriot and closest challenger, Manasi Joshi, needed a third game to see off Australia's Celine Vinot (21-11, 19-21, 21-14). 
In the wheelchair hall, home favourite Karin Suter-Erath took time out from signing autographs to beat Canada's Yuka Chokyu in straight games (21-5, 21-13). 
"I'm really happy to win my group, hold my No.2 seed as I think it's getting more difficult game-by-game here," the Swiss shuttler said.
"The World Championship is always fantastic and together with the able-bodied players for the first time and at home – it's really unbelievable. There are so many people coming to support me, it's a big motivation and I love it." 
The closest match of day two was in the men's singles SL 3 class, where Scotland's Alan Oliver beat Geoffrey Byzery of France 27-25 in the third. 
The Basel 2019 Para Badminton World Championships continues until Sunday and more information is available on the BWF's website.