Booth bounces back from accident, targets Tokyo 2020
The Australian rider looks to build off her Rio 2016 experience.
07 Apr 2017
Imagen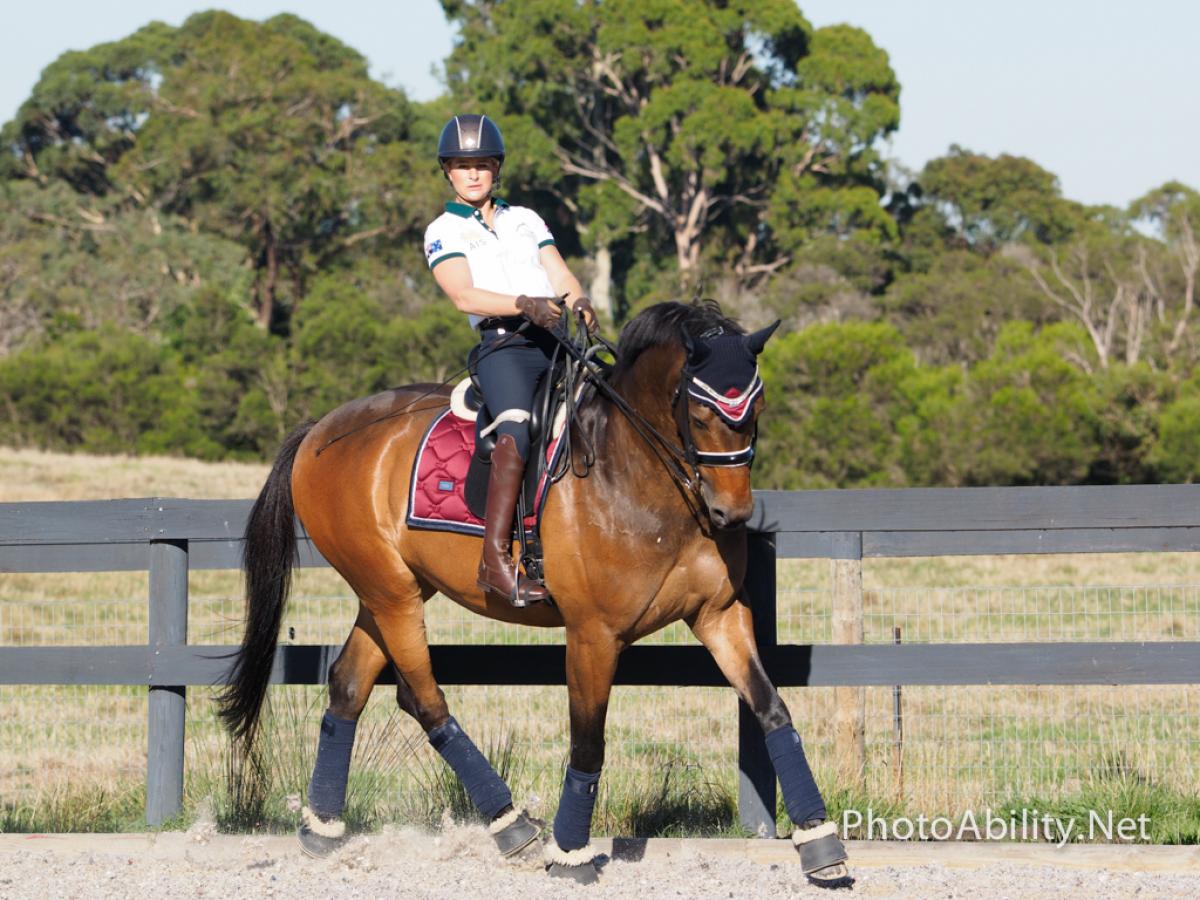 By Rob Howell | For the IPC
"It was mind blowing to get that call"
At the Rio 2016 Paralympic Games, 24-year-old Emma Booth made her major international Para equestrian debut for Australia. In doing so she fulfilled what had long seemed her destiny to become an accomplished horsewoman, but one which had taken a dramatic and violent twist just three years before the Games.
Booth's journey to Rio began when she was just 10 years old. Out of thousands of Australian school children she won a TV talent search – The Saddle Club. Her prize was the use of a horse for a year, plus all associated costs. She was quickly addicted to riding and soon started to compete in eventing (combining dressage, showjumping and cross country).
Eleven years later, and now an up and coming eventing talent, Booth was driving home from a competition with friends when a lorry jack-knifed in front of her causing a major road accident. Sustaining numerous injuries, Booth was left paraplegic, and hospitalised for many months.
"It was six months before I could ride again," she said. "And when I did it was the most uplifting and awesome moment."
She was not aware of Para equestrian before her accident and acknowledges now the impact it has had on her life.
"I started googling it and immediately knew I wanted to do it," she added. "I was lucky to have my first ride with Julia Battams, the high performance director of Australia's Para equestrian squad, and I set my sights on Rio there and then.
"It's amazing that I can still do the sport I love and it's made a huge difference to me mentally and physically. It gives me focus and goals and motivation and I don't know what my life would be without it."
As well as learning how to ride with her impairments, the grade II (now known as grade III) rider also had to learn how to ride a freestyle test (eventers only complete the individual tests in their sport).
She explained: "Julia helped me enormously as I had to learn how to control my horse in a completely different way, but I was lucky enough to earn a spot on the high performance squad and came to the UK [United Kingdom] to compete at Hartpury in 2014.
"That was a great experience and a real eye opener to be among so many other international Para dressage riders."
In 2014 Booth missed a spot on Australia's team for the Alltech International Equestrian Federation (FEI) World Equestrian Games. But two years later, she scored a spot on the team for Rio.
"It was mind blowing to get that call," Booth said.
At the Games, and riding Mogelvangs Zidane, Booth had the misfortune of a less than satisfactory ride in the team test in the early days of the competition.
"He was spooked as we were getting ready to enter the arena," she explained. "We never really recovered from that."
But a sign of promise came during the individual medal test, when she came a close fifth place, just one percentage point away from the podium. However, the earlier lower score meant that the pair did not qualify to ride in the freestyle.
"I learned so much in Rio though," she said. "It was a rollercoaster after a pretty terrible first day. But we pulled ourselves together for a better second day and I learned a lot from that. I'm learning all the time really.
"I'm really excited about our future, especially with the next FEI World Equestrian Games next year, and then Tokyo in 2020. I'll stay in Australia this year but maybe next year head to Europe with Zidane for more experience.
"The Australian team has so much potential and gets stronger and stronger. We're working on a programme to get more exposure and have a good high performance structure in place."