Brilliant birthday for Bochet
French skier extends her international winning streak to 10 golds in 2019
09 Feb 2019
Imagen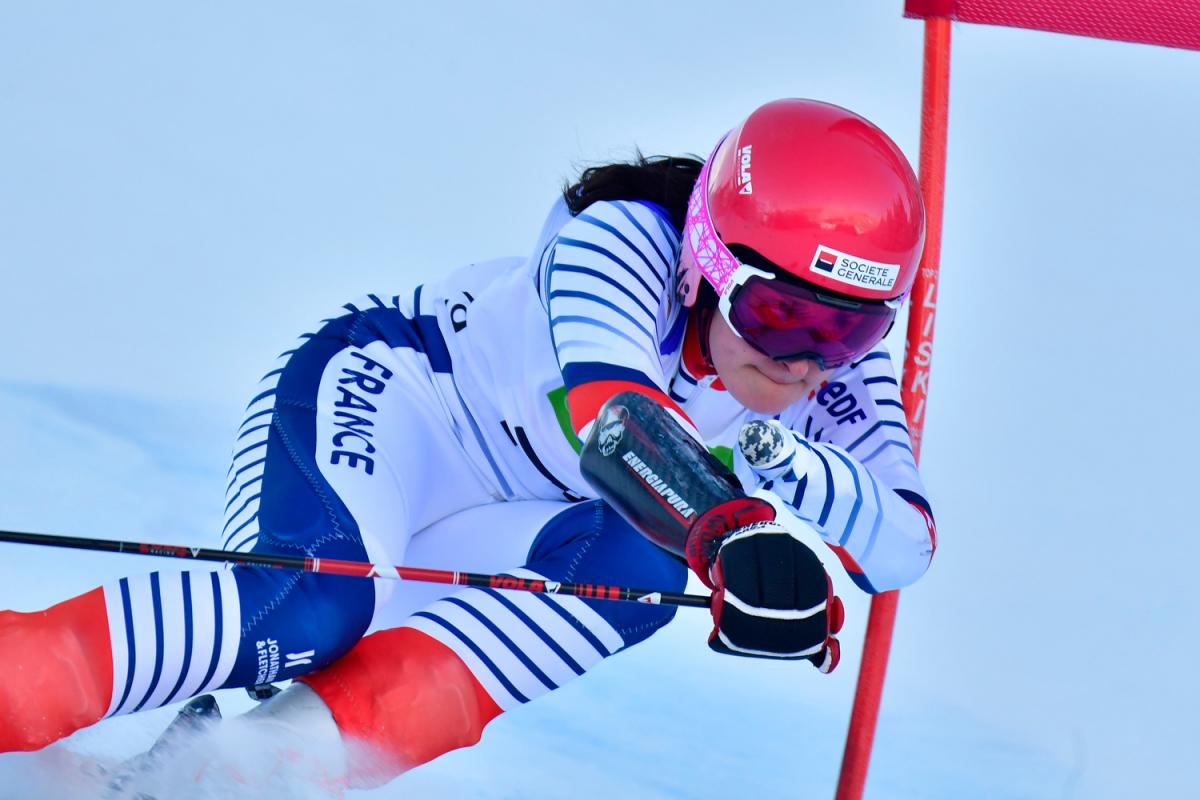 ⒸLuc Percival
By Lena Smirnova | For World Para Alpine Skiing
Birthday girl Marie Bochet celebrated coming into her 25th year in style as she took her total tally of World Cup medals in Veysonnaz, Switzerland to five consecutive golds.
The day was also ripe with celebrations for the other medal favourites. World champions Momoka Muraoka and Jeroen Kampschreur collected their second golds in giant slalom sitting, while world champion Marek Kubacka reclaimed his top status in the men's vision impaired.
Women's standing - Golden birthday
It was a fabulous day on the slopes for Marie Bochet. The French ski queen not only added another gold medal to her overflowing collection, but also got a birthday serenade at the finish line from spectators and fellow competitors.
Blushing in her distinctive pink helmet and pink goggles, Bochet made her way to the now very familiar leader box after her two winning runs.
The French skier had a near scare the previous day where she lost the first run to Germany's Andrea Rothfuss and only won the race by a mere 0.28 seconds. But there would be no doubts on her special day where she led both runs with a big margin.
"It's a nice present to give to myself," Bochet said of her 10th consecutive gold this year. "I'm happy with my race today, better than yesterday. I think I showed better skiing so I'm very happy with that and I'm happy to get the gold for the birthday."
Rothfuss turned too early in the last part of the course, missing a gate, and was unable to return to the race. Her German teammate Anna-Maria Rieder took the silver while Japan's Ammi Hondo was third.
Men's vision impaired - Back on top
Marek Kubacka was back on top of the podium in the men's vision impaired after losing out to teammate Miroslav Haraus the previous day.
He and his guide Maria Zatovicova won the first run despite getting distracted by cheering spectators at the top of the course, and were even stronger on their second try, going under the minute mark.
"I feel much more confident than in the years before," Kubacka said of coming into the race as the new world champion. "I believe in myself much more because I can ski very good, so it feels much, much better for me. My mind is much better from the start. I'm not stressed. There's no extra pressure anymore."
Haraus and his guide Maros Hudik finished second, while the USA's Kevin Burton and guide Kurt Grimmelmann wrapped up the podium in third.
Men's standing - Theo triumphant
The silver he got on the first day of giant slalom did not sit well with hyper-competitive Theo Gmur. The Swiss skier came out in full force the next day, smashing the board with a time of 55.82 seconds in his first run.
Despite the stellar run, Gmur remained tense in the leader box and only unstrapped his skis, settling into his winning status, when his main rival Arthur Bauchet crossed the finish with a slower run.
"I did two big mistakes on the top today, but it's a win and I take it," Gmur said. "The skiing was not so good. Before the mid-section it was good, but not so active and at the finish I pushed all that I have to take something and at the end it's victory, so it's feeling good."
Arthur Bauchet finished 0.15 seconds behind Gmur with his grandmother, her friends and their chubby dog - a frequent visitor to his competitions - watching from the sidelines.
Austria's Markus Salcher had the best time in the second run and finished third overall.
Women's sitting - Battle of continents
Momoka Muraoka got a fourth straight win at the World Cup in Veysonnaz. The silver went to Laurie Stephens of the USA who struggled to get on the podium the previous day.
"There's a lot of terrain on the hill, so it makes it a little challenging to have a good line and you get bounced around a lot," Stephens said. "I'm pretty happy with how I skied today, but there's always room for improvement and I'm definitely going to keep working on that. I just want to ski as well as I can."
Australia's Victoria Pendergast mounted another strong performance to follow up on her silver run in the first giant slalom and finished with the bronze.
Women's vision impaired - Rest, win, repeat
A day's rest added a fresh punch of energy to Menna Fitzpatrick and Jennifer Kehoe's skiing as the pair heralded in their third gold medal in Veysonnaz.
After spending the first day of giant slalom watching the competition on an iPad in their pyjamas an drinking tea, the British skiers came into the second race rejuvenated and hungry for gold.
"You do get pretty tight. But it's more the emotional side of things, especially with the speed," Fitzpatrick said of the fatigue factor after competing for four straight weeks. "There's a lot of emotion that goes into us racing, whether it goes well or badly. It properly drains your mind and your body, so to have actual space to recharge all the batteries is really important."
Fitzpatrick and Kehoe took a solid lead in the first run over Melissa Perrine and Bobbi Kelly, which proved enough to keep the Australian pair at bay in the overall result.
"We went and attacked hard," Kehoe said.
Men's sitting - Jeroen 3 - 2 Jesper
World champion Jeroen Kampschreur got one gold up on his rival, Paralympic champion Jesper Pedersen by winning the second giant slalom of the World Cup in Switzerland.
"Yesterday I had a big mistake in the first run. If I hadn't had that, that would be really close to Jeroen. Today my first run was just not good enough," Pedersen said. "Tomorrow I aim to be back on the top, but it's going to be tough to beat Jeroen. He's a fantastic skier."
Switzerland's Christoph Kunz took the bronze.
The World Cup in Veysonnaz will wrap up with the third and final giant slalom competition on Sunday (10 February).
You can watch all the action from Veysonnaz live on World Para Alpine Skiing's website, where live results are also available.