Theo Gmur's sweet homecoming
Local skier takes revenge in last super-G race in Veysonnaz
07 Feb 2019
Imagen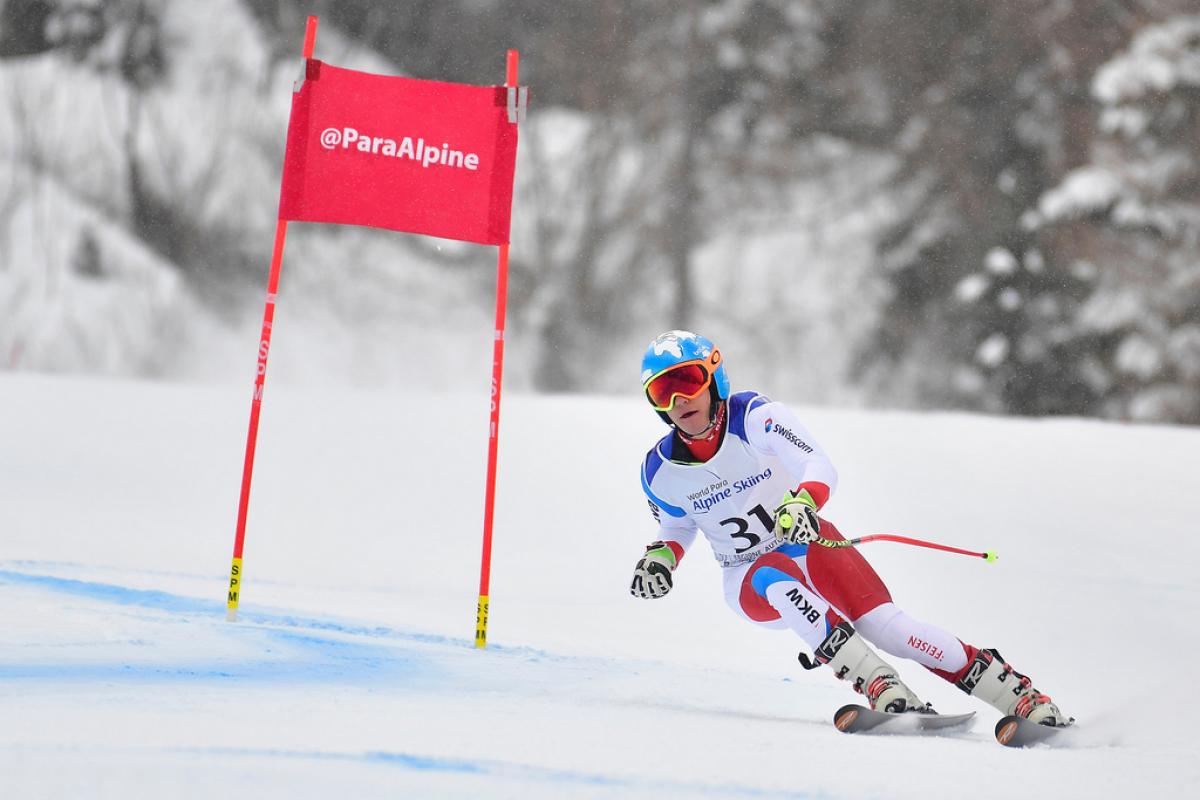 ⒸLuc Percival
By Lena Smirnova | For World Para Alpine Skiing
A good night's sleep, a slice of Swiss cheese and a new course set up was just what the previous day's runners-up needed to score their best runs and get on the top of the World Cup podium in Veysonnaz, Switzerland.
Theo Gmur and Jeroen Kampschreur reclaimed their winning status against their top rivals, while Miroslav Haraus and Marie Bochet finished the third and final super-G race in Veysonnaz with a hat-trick.
Men's standing - A hero comes home
It came a day late, but Paralympic and world champion Theo Gmur got the super-G victory he wanted so badly on the home slope that is only a short drive from where he lives.
The Swiss skier was second to France's Arthur Bauchet in the first two super-G races, getting silver medals and a half-round of Swiss cheese for his efforts. As he watched Bauchet's celebration from the finish line, Gmur promised to win the next race, which is exactly what he did, coming 0.70 seconds quicker than Bauchet in the final super-G race in Veysonnaz.
"It's a really good feeling. Yesterday it was maybe not my day, but Arthur skied also really well, and today I took my revenge," Gmur said. "It's incredible to win at home."
Austria's Markus Salcher collected his second bronze of the competition.
Men's sitting - Jeroen v. Jesper
When world champion Kampschreur skid past the finish line in the second super-G race on Wednesday, his first words were "This was good, but the next one is important" - the "next one" meaning Kampschreur's key rival Jesper Pedersen.
The Dutch and Norwegian sit skiers have gone head-to-head in all five alpine disciplines over the last season. Their most recent bouts - the super-Gs in Veysonnaz - ended with Pedersen getting two wins by small margins and leaving Kampschreur with two bitter silvers.
Full of motivation from those losses, Kampschreur swept through the finish line in Veysonnaz's final super-G and bumped the Norwegian to second place on the board.
"When I inspected the course, I saw it was a little bit more turny. It was more my cup of tea, so I really liked it and I was already smiling in inspection," Kampschreur said. "I thought, 'OK, this is going to be nice. Some really hard turns and I can really make the angles I want. It's not just straight lines because everybody can do that'. I really want to battle for it and I battled for it."
The USA's Andrew Kurka came third.
Women's standing - More cheese for Marie
France's farm girl and skiing sensation Marie Bochet followed up on her "Grand Slam" at the 2019 World Championships with a hat-trick at her first World Cup of the season.
"It's another super-G, another race, another setting too so it's very different," she said of winning her third race in Switzerland. "It was cool and a little bit more scary today because it's more engaged in the different parts. I was not very confident at the top, but I'm happy to come up with something good today."
With this victory, Bochet also earned another full round of Swiss cheese given to all race winners at the World Cup in Veysonnaz. Luckily, the skier has already come up with what she will do with all the extra cheese when she gets back to France.
"I keep it because it's my brother's holiday so I want to make a party with friends so I will share it with them," Bochet said.
Germany's Andrea Rothfuss got a silver medal for the third time, while Japan's Ammi Hondo collected the bronze.
Men's vision impaired - Miroslav's golden glow
Besides Bochet, Miroslav Haraus was the only competitor able to accomplish a hat-trick in the three super-G races in Veysonnaz.
The Slovakian skier and his guide Maros Hudik were on top of the podium once again after beating new skiing tandems France's Hyacinthe Deleplace and guide Maxime Jourdan, and USA's Kevin Burton and guide Kurt Grimmelmann.
"Today was a little bit difficult for me," Haraus said. "I wanted to stay balanced mentally because I knew that I could win the third medal and in the end I'm very happy that I made it again.
"From race to race I'm getting better and the more I race, the better it is for me."
Women's vision impaired - Hakuna matata
The women's vision impaired race went again to Great Britain's pair Menna Fitzpatrick and Jennifer Kehoe.
The duo broke into the catchy chorus from "Hakuna Matata" while standing on the top step of
the podium, cheese in hand and gold medals around their necks.
"Every single run things are getting better. There's stuff that can also be improved on every time and we're just inching that one step forward," Fitzpatrick said.
"This is great," Kehoe added about the pair's latest victory. "Obviously it's a World Cup race, it's not training, but everything we do does build up our skills."
Women's sitting - Japan's speed train
Momoka Muraoka fended off Germany's Anna-Lena Forster for the second time in Veysonnaz.
The Japanese skier won by a mere 0.25 seconds and will next look to challenge her key rival in giant slalom where she is the reigning world champion.
"I'm happy, but this race was a little bit more difficult," Muraoka said. "There were gates where it was very hard to turn, so it was difficult for me."
The giant slalom races will kick off in Veysonnaz on Friday (8 February) with all classes competing in three races.
You can watch all the action from Veysonnaz live on World Para Alpine Skiing's website, where live results are also available.