Revenge is a dish best served on the slopes
Forster and Muraoka strike back in Veysonnaz
06 Feb 2019
Imagen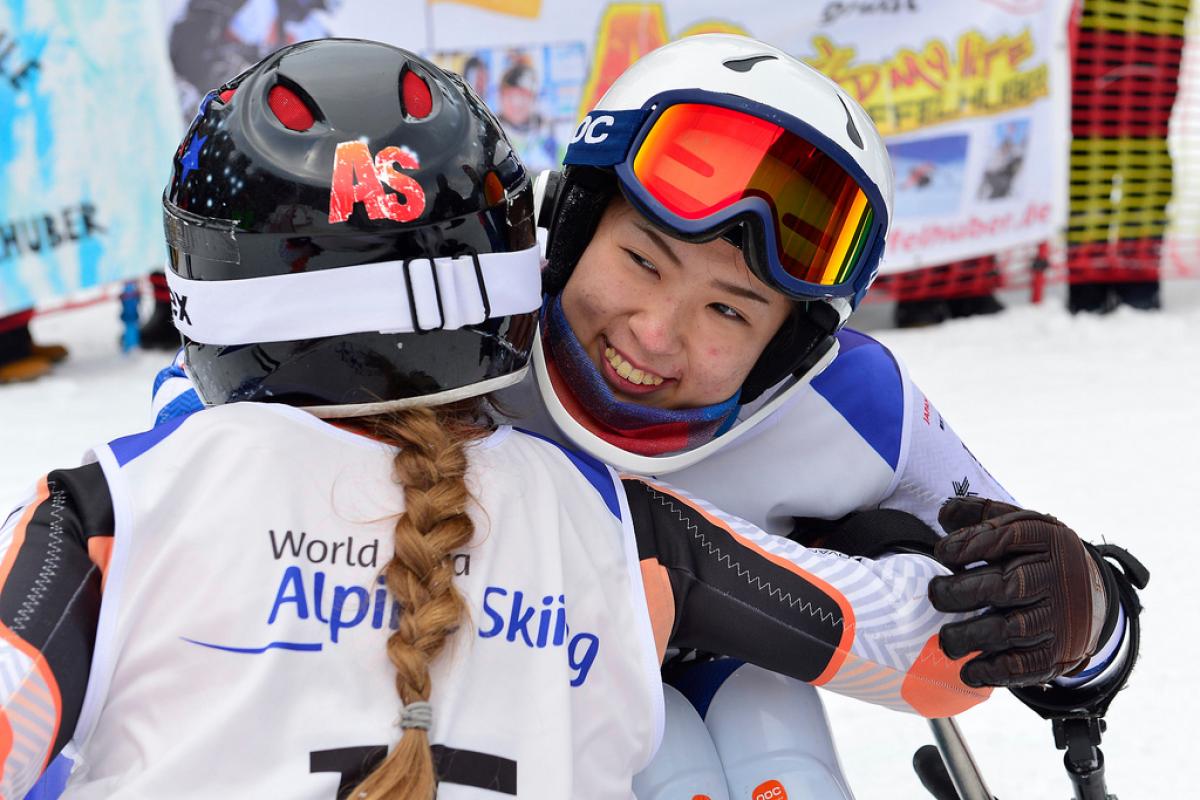 ⒸLuc Percival
By Lena Smirnova | For World Para Alpine Skiing
"It's very special to win two times in one day. I like this slope. It was a nice one, a very technical one, but playful too. There were baby jumps, not big jumps, but we don't have a lot of jumps in the season so we are not very prepared for that, and sometimes it's a little bit difficult to jump a little bit, but it was cool because it was changing all the time."
A rolling, wavy course made for a lot of jumps - and plenty of fun - in the women's super-G races with the results from the opening day of the World Para Alpine Skiing Veysonnaz World Cup proving equally bouncy to predict.
With the exception of the women's standing races where France's Marie Bochet remains the undisputed queen, the winners of the other events shifted from the morning to the afternoon races in Switzerland, with a few striking comebacks in the mix.
Women's sitting - Comeback queens
Revenge was the theme in the women's sitting races with Anna-Lena Forster and Momoka Muraoka making up for earlier fumbles.
Super-G was the only race at last week's World Championships where Forster did not get a medal. The German skier made sure that did not happen again in Veysonnaz where she blasted past the finish line in the first race to take gold.
"I know I can go better, but I couldn't show it at the World Champs so it is annoying, but I'm happy that I can show it here now," Forster said. "I wanted to show that I can do it, and it's cool to be in top spot."
The USA's Laurie Stephens was second to Forster in the first super-G race, while Netherlands' Barbara von Bergen was third.
Japan's Momoka Muraoka was disappointed with finishing fourth in the first race and took revenge on the tricky course with a cleaner second race, taking the afternoon's gold medal for her efforts.
"The first run was difficult for me. I thought that I wouldn't have so much speed and there would not be so many jumps, but it was not so," Muraoka said. "In the second run, I knew this so I did my best."
Forster was runner-up in the second race with Stephens wrapping up the podium.
Women's vision impaired - Rolling up and down
The gold and silver medallists from the Worlds went head-to-head in the vision impaired races.
Champions Menna Fitzpatrick and Jennifer Kehoe of Great Britain were triumphant in the first race but fell behind world runners-up Melissa Perrine and Bobbi Kelly in the second.
"Prior to this we've done one speed race together and that was at the World Champs so we're still learning how to ski together in speed," Perrine said.
"This morning we both went out there and were both tentative and just still trying to feel things out. Second run we made a call and we stepped it up a little bit, so that was really good."
Like their Australian rivals, Fitzpatrick and Kehoe are also still gaining confidence in the speed events and were happy to improve by 0.54 seconds in their second race.
"We're definitely happier with the first run than the second run. In the second run, we lost a little bit of the connection in the top part, and it was hard to gain that back," Kehoe said. "But the fact that we still managed to improve the time is a good sign going into future races."
Women's standing - Bochet reigns again
While the course proved unpredictable for the other classes, there was no hill or jump big enough to stop Marie Bochet in the women's standing category. Fresh from winning five gold medals at the Worlds, the French skier continued the golden streak in her first World Cup of the season.
"It's very special to win two times in one day. I like this slope. It was a nice one, a very technical one, but playful too," Bochet said. "There were baby jumps, not big jumps, but we don't have a lot of jumps in the season so we are not very prepared for that, and sometimes it's a little bit difficult to jump a little bit, but it was cool because it was changing all the time."
In the first race, Bochet beat Andrea Rothfuss with a margin of 3.87 seconds and fended her German rival off again by 3.33 seconds in the second race.
"It was really a lot of fun," Rothfuss said. "There are roads and pitches everywhere so you often can't see the next gate and you had to know from inspection where everything was. You also had to be a little bit brave to go over these roads in the right direction, but it was really fun."
Switzerland's Bigna Schmidt was third in the morning race, while Japan's Ammi Hondo took the spot in the second race.
The female skiers next race in the third and final super-G at Veysonnaz, followed by three days of giant slalom racing.
You can watch all the action from Veysonnaz on World Para Alpine Skiing's website, where live results are also available.