British Archers Beaten in Finals at London Test Event
Though Korean and Chinese archers topped the medals table on Saturday, Sunday was a more European affair. However, the top spot eluded the British team
06 May 2012
Imagen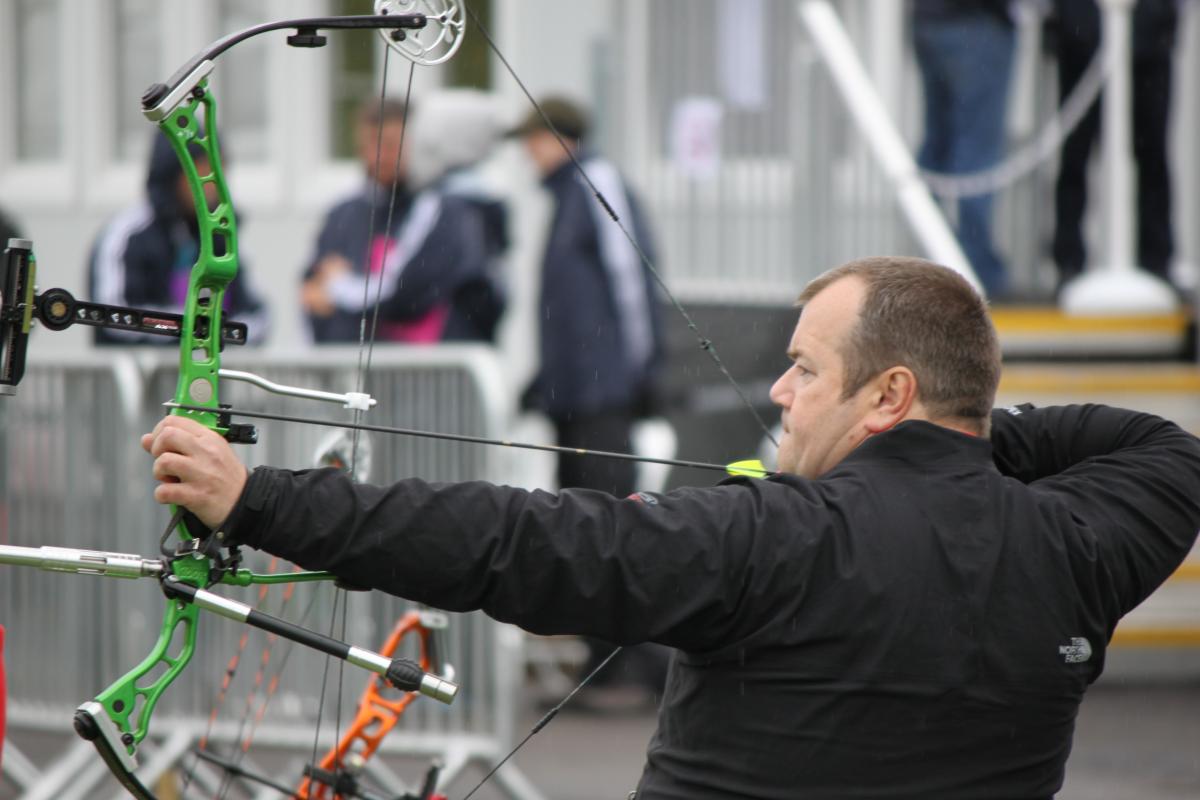 ⒸIPC
By IPC
"I will probably need to shoot 10,000 arrows between now and the Paralympics to get my technique to where it needs to be."
Great Britain's Danielle Brown and John Stubbs had to settle for silver on Sunday (5 May) after they were defeated on home ground at the London Para Archery International Tournament at the Royal Artillery Barracks, part of the London Prepares test event series.
Brown lost to Russia's Stepanida Artakhinova in the women's individual compound open. Her opponent, who says she trains twice a day for three hours at a time, shooting 200 arrows per session, was happy with her performance.
"I was expecting to win and counted on it," Artakhinova said. "I bettered my results through the competition and significantly improved them."
Brown, who recently came fourth at the able-bodied world cup was disappointed with silver.
"At the end of the day I shot badly," Brown said. "But it is probably the best thing for me as it is going to make me go away and train twice as hard so she [Artakhinova] doesn't beat me again."
Ukraine's Kseniia Markitantova took bronze after beating Turkey's Gulbin Su.
In the men's individual compound open, Switzerland's Philippe Horner beat Great Britain's John Stubbs in the final to take gold.
"The first set, which I won, gave me the advantage," said Horner. "It was a crucial set as going in front helped me psychologically. I was then able to shoot the arrows with no problem," said Horner, who took the last month off due to an operation on his arm in April.
Stubbs was disappointed with his performance, but hopes to learn a lot from it.
"It made me become complacent, only needing to hit the outer gold with the last throw," Stubbs said. "I thought I could hit the outer gold with my eyes shut, and obviously I can't," he said, after his final arrow scored just 7 points.
Norway's John Olav Johansen took bronze after defeating Sweden's Hakan Torstrom.
In the men's individual compound W1, the Czech Republic's David Drahoninsky took gold after beating Finland's Osmo Kinnunen, who took silver.
Kinnunen, who mainly practices indoors in Finland, wants to get more practice in shooting outside before the Paralympics, after a cold and wet experience in London over the weekend.
"I will need to go out and practice in windy and cold conditions back in Finland in open fields," he said, adding, "I will probably need to shoot 10,000 arrows between now and the Paralympics to get my technique to where it needs to be."
Great Britain's John Cavanagh won the bronze medal match after defeating Canada's Norbert Murphy.
Chinese and Korean archers dominated the competition on Saturday (5 May).
China's Xiao Yanhong won gold in the women's individual recurve W1/W2, beating Finland's Saana-Maria Sinisalo.
Despite the defeat, Sinisalo was pleased with her performance, having been ranked seventh going into the event. Ko Hee Sook took the bronze.
In the men's individual recurve W1/W2, Poland's Piotr Sawicki won gold, beating China's Cheng Changjie in the final. Italy's Oscar de Pellegrin took bronze after winning against Korea's Lee Myeong Gu.
In the individual recurve standing competition, Russia's Timur Tuchinov set a world record of 659 points on Friday (4 May), beating the previous mark by nine points. But on Saturday, he was defeated by Korea's Kim Suk Ho in the quarterfinals, and then went out on the bronze medal match to world number one Dong Zhi.
After beating the world record holder, Kim went on to take gold in the men's recurve standing, beating Russian Oleg Shestakov to take gold.
The women's individual recurve standing was an all-Asian affair with Korea's Kim Ran Sook beating China's Gao Fangxia in the final and Gao's teammate Yan Huilan taking bronze, after defeating Switzerland's Magali Comte.
The Parlaympic Archery event takes place from 30 August – 5 September at the Royal Artillery Barracks in Woolwich, London, the same venue as Shooting.
Related Images
Related Videos