Bugaev's strong first run enough for first place
The Russian posted the fastest run in the men's giant slalom standing to take first on day two of the World Cup.
19 Jan 2016
Imagen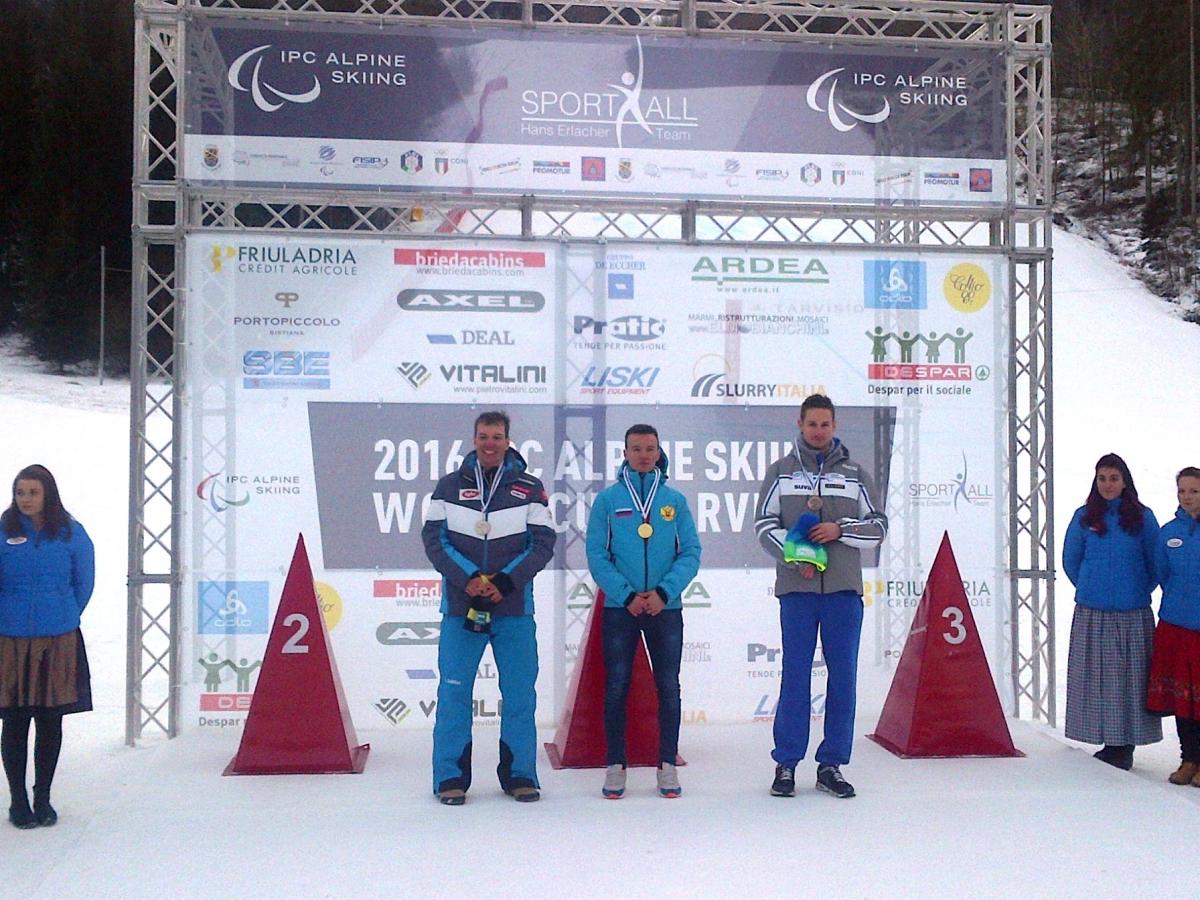 ⒸIPC
By IPC
A strong first run was just enough to help Russia's Aleksei Bugaev win the giant slalom in the men's standing and leave the IPC Alpine Skiing World Cup in Tarvisio, Italy, with two first-place podium finishes.
The two-day competition wrapped up on Tuesday (19 January) with giant slalom races. Bugaev, who won the slalom on Monday, clocked the fastest time in his category with 49.44 seconds and then 53.12 in his second run for a combined time of 1:42.56.
Austria's Markus Salcher came in second, being .32 seconds slower than Bugaev's time. Switzerland's Thomas Pfyl rounded off the podium in third (1:43.64).
Host nation Italy had one of their own reach the top of the podium. After finishing third in Monday's slalom event, Giacomo Bertagnolli, with guide Fabrizio Casal, won the men's giant slalom visually impaired posting a time of 1:42.33. Russia's Valerii Redkozubov with guide Evgeny Geroev came in second with 1:44.34. The Czech Republic's Patrik Hetmer, along with guide Miroslav Macala, came away in third (1:47.80).
The USA's Tyler Walker produced the fastest time on the giant slalom course for the men's sitting with 49.93. But a third-place second-run knocked him to second place (1:44.25). It was Japan's Taiki Morii who left with the best time at 1:43.68, and Austria's Roman Rabl in third (1:44.52).
Marie Bochet was the fastest woman on the giant slalom slope on Tuesday. The Frenchwoman continued her unbeaten World Cup run in the women's standing by posting a time of 1:48.60, which was about 10 seconds quicker than the USA's runner-up Stephanie Jallen (1:58.52). Slovakia's Petra Smarzova came in third (1:59.95).
After winning the women's slalom visually impaired on Monday, 19-year-old Staci Mannella returned the next day with another first-place finish in the giant slalom side. The US skier, with guide Sadie de Baun, clocked 2:05.87. Belgium followed with a two-three finish from Eleonor Sana with guide Chloe Sana (2:09.40) and Marie-Morgane Dessart with guide Antoine Marine Francois (2:29.51), respectively.
It was no surprise on the women's sitting category, as Germany's Paralympic champion Anna Schaffelhuber produced the two fastest runs for a combined 1:53.02 result. Japan's Momoka Muraoka finished second (1:56.12) and the USA's Laurie Stephens took third (1:57.59).
Full results are available online.
Competition in Tarvisio continues on Tuesday (19 January) with giant slalom. All the action is being shown live at www.ipc-alpineskiing.org courtesy of Rai Sport.
Updates and pictures are available at @IPCAlpine and Facebook.com/IPCAlpineSkiing.
The next World Cup gets underway in St. Moritz, Switzerland, on 22-23 January featuring slalom.