China look to build on Worlds success at regional Champs
The 2015 World Archery Asian Para Championships get underway in Bangkok, Thailand, on Tuesday (10 November).
09 Nov 2015
Imagen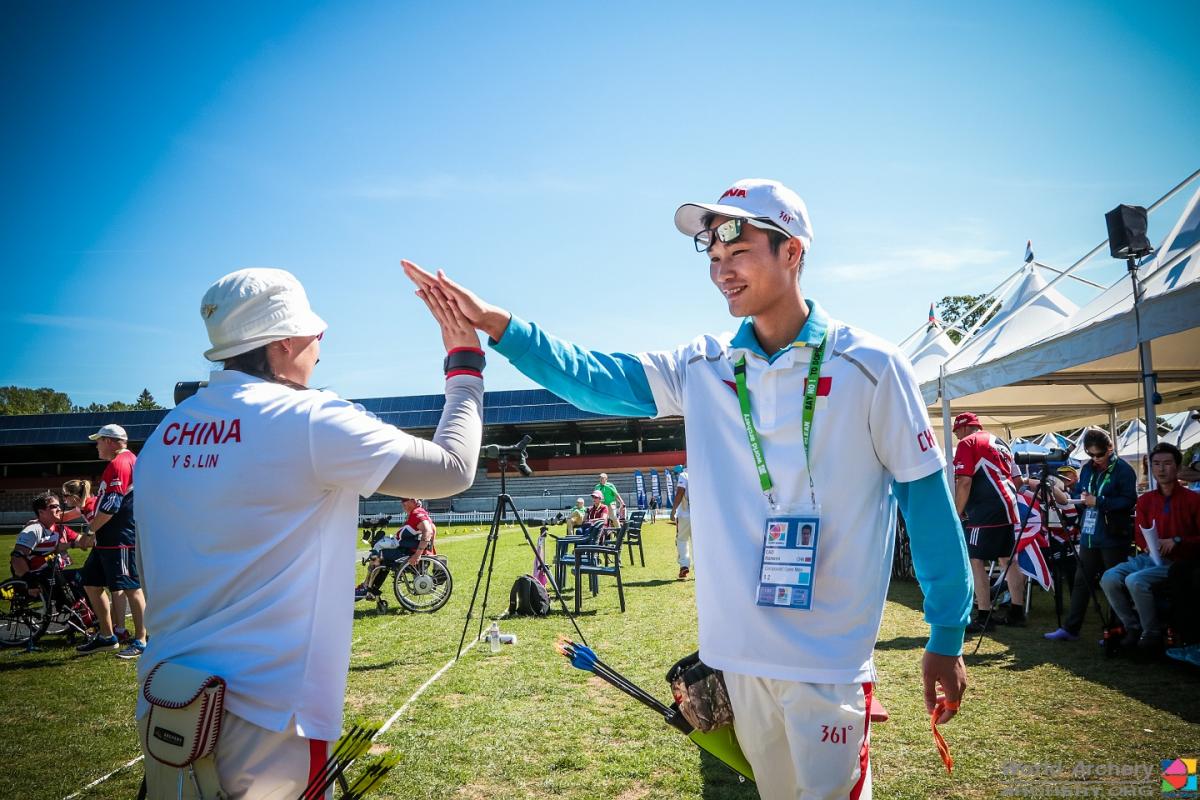 ⒸAlberga/World Archery
By Billie Marshall | for the IPC
The 2015 World Archery Asian Para Championships begin on Tuesday (10 November), in Bangkok, Thailand, with the event marking the second opportunity to earn qualification places at the Rio 2016 Paralympic Games.
Following the recent Para Archery World Championships in Donaueschingen, Germany, 17 places were awarded to China, South Korea and Thailand respectively. The Chinese were the most successful team at the event, earning ten places.
The Chinese men's W1 team won the bronze medal with a new matchplay world record. Despite not knowing of their achievement at the time, it has given the trio of Wang Zhusheng, Liu Huanan and Han Guifei a platform to build on ahead of Rio 2016.
Liu said: "I felt amazing, but also disappointed to some degree. My hard work paid off when I stood on the podium at an international event, but I feel I could have shot better and achieved a gold medal.
"To be honest, I did not know that we broke the world record. Of course, I'm very happy, but I've no idea about foreign archers' scores, as I have only pay attention to improve my own scores," he concluded.
The team posted a score of 201 through the 24-arrow match to beat the Czech Republic, who featured Beijing 2008 Paralympic Champion David Drahoninsky, to the W1 men's team bronze medal.
Wang did admit that success at Donaueschingen, along with a new world record set, would make expectations even higher for him and his team in Bangkok:
"It was my first time competing at a World Championships, so I did not overthink anything and just shot the best I could.
"Our success has increased the pressure when competing, but it also gives you a boost knowing you have done well on the international stage." Wang explained.
Liu also admitted there will be added pressure going into the Asian Games, but wanted to use his experience in Donaueschingen to help him succeed again, but this time in a more familiar setting: "I think there is pressure, but not too much."
He explained: "I will continue to take training very seriously and listen carefully to my coach's advice for the Asian Games. I know it will be slightly different to the World Championship, but I aim to do well regardless."
Just like Wang, it was a first Para Archery World Championships for Han, who also achieved a silver medal in the W1 mixed team category. However, Han will not be competing in Bangkok as he focuses on other events and looks toward Rio.
"With the Paralympic Games very close, my goal is clear and that is to train as much as I can and perform to my maximum. I will train very hard to improve my technical skills, even the basics," he said.
Many archers will see the Asian Para Championships as an ideal opportunity to earn qualifying places at next year's Rio 2016 Paralympic Games, and for China, it is simply a case of replicating the form shown in Donaueschingen earlier in the year.
More information about the Bangkok 2015 World Archery Asian Para Championships, which run until 19 November, can be found at World Archery's website.