Donaueschingen 2015: China, Turkey advance
China will play Great Britain for gold in the compound open mixed event, while Turkey will face the US for gold in the men's equivalent.
27 Aug 2015
Imagen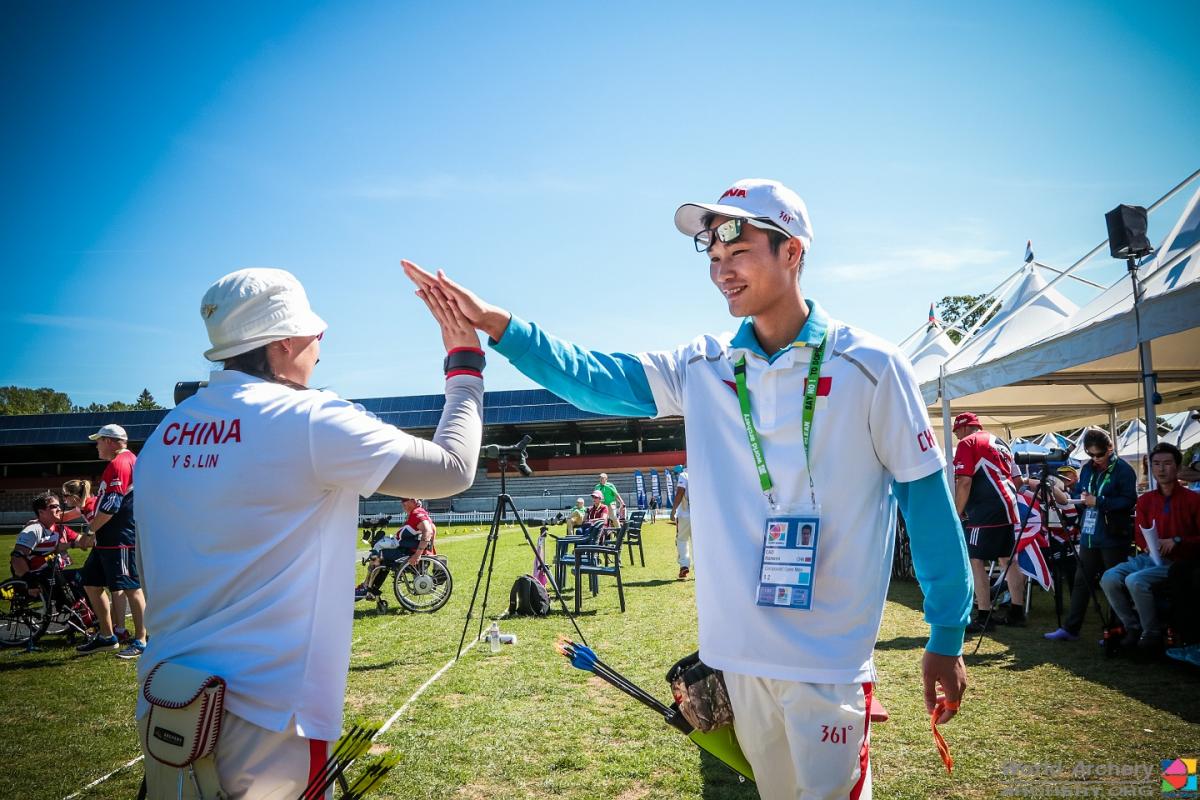 ⒸAlberga/World Archery
By Billie Marshall for World Archery
"I think we shot very well because we have been training each day for over five months now in preparation for this event."
China's compound open mixed team upset top-seeded Italy, en route to a gold-medal match berth at the 2015 World Archery Para Championships in Donaueschingen, Germany, on Wednesday (26 August). And they did so in world-record fashion.
China shot a world-best 157 out of 160 for the 16-arrow match, advancing to the finals, defeating Italy and a strong Russian team in the process.
The duo of Lin Yueshan and Cao Hanwen set the world record during the first round of the competition when facing France, beating them by an impressive 18-point margin.
"We shot well as a pair but my score was still below my expectations," said Yueshan, who is competing in her first international competition. "I always feel I can do better and look forward to competing during the rest of the week."
Yueshan and Hanwen moved onto a quarterfinal against Russian fifth seeds Stepanida Artakhinova and Aleksander Zubar. The Chinese duo just narrowly defeated the Russians 155-153 to set up an eagerly-anticipated semi against Italy.
The Italians hit a perfect-four arrows to start the semifinal match. But China responded, coming from five points behind for the 151-149 win. They will face Great Britain for the gold on Saturday (29 August).
Great Britain's Mel Clarke and John Stubbs defeated Slovakia, Spain and South Korea on their way to the winning final berth.
"I have never faced the British team as it is my first international experience, but I am excited ahead of Saturday's final and the chance to win the gold medal," Yueshan said.
Competition in the compound men's open team was also underway on Wednesday, with Turkey advancing to face the USA for gold.
Turkey did so by surprising top-seeds Italy in the semi-finals. The team of Bulent Korkmaz, Dogan Hanci and Erdogan Aygan gained revenge on the Italians, who defeated Turkey at the European Para Championships last summer in Nottwil, Switzerland.
This time, Turkey won the rematch in Donaeuschingen with a score of 230-224. The USA beat France and Slovakia to make the final.
"We (me, Dogan and Erdogan) trust each other and because of our friendship the team spirit is always very high," Korkmaz said. "I think we shot very well because we have been training each day for over five months now in preparation for this event."
The Turkish team did not secure any quota places in the mixed team competition, and none were available in the team event. But they have an opportunity still in Donaeuschingen in the individual competitions.
"While Rio Is obviously a big event and achieving the quota places is important, we wanted to win medals here in Germany and didn't think much past that," Korkmaz said.
The Donaueschingen 2015 World Archery Para Championships act as the primary qualifying tournament for the Rio 2016 Paralympic Games. Places are available in both the mixed team competition and individual events.
Each top-four (semi-finalist) mixed team wins two places – one men's and one women's – for their nation to attend the Paralympics. Further places will be available to top individual finishers.
For a country-by-country breakdown of which nations won places, visit World Archery's website. Complete results of Donaueschingen 2015 can also be found on World Archery's website.