Colombian Herazo, plucked from obscurity, tells his story
A video of Luis Herazo who has benefitted from the partnership between the Agitos Foundation, Rio 2016 and Brazilian Paralympic Committee has been released.
26 Nov 2015
Imagen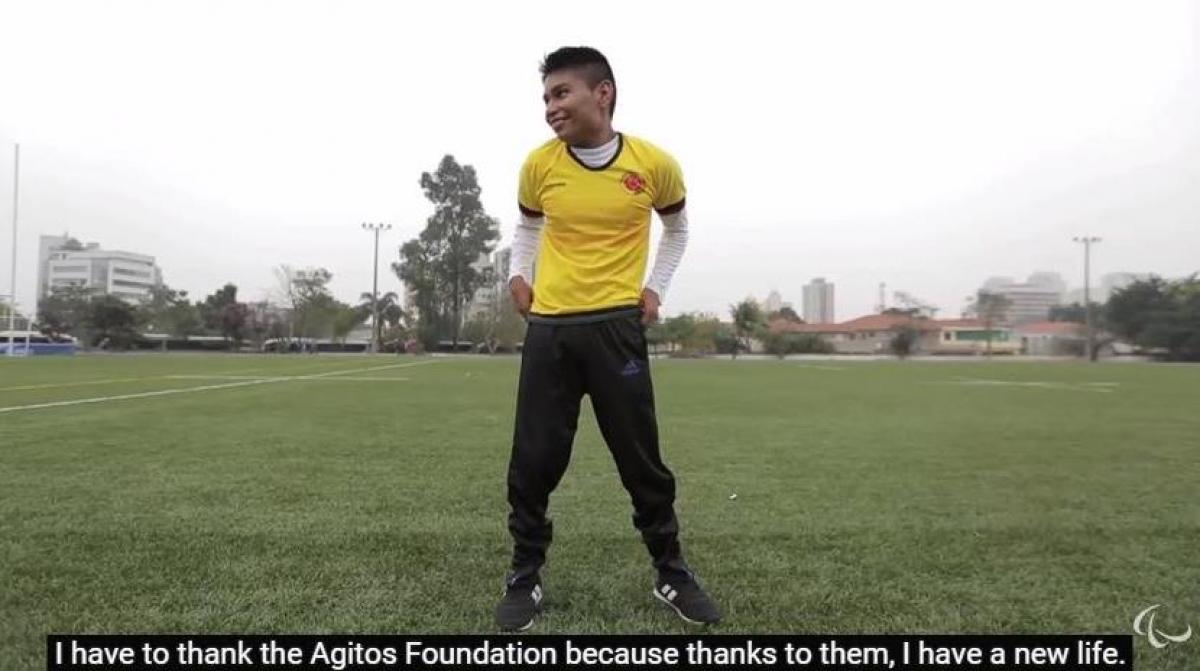 ⒸIPC
By IPC
The inspirational story of a Colombian teenager whose life has been transformed into that of a Rio 2016 hopeful thanks to his participation in an Agitos Foundation project is the subject of a new video released on Thursday (26 November).
Luis Herazo's story can be viewed in English, Spanish and Portuguese.
The video launch coincides with conclusion of the penultimate Road to Rio 2016: Agitos Foundation Sessions which gathered 34 athletes and coaches for training workshops in Natal, Brazil, from 22-25 November.
The sessions are being delivered in partnership with the Rio 2016 Paralympic Games Organising Committee and the Brazilian Paralympic Committee, and are designed to increase the standard of para-sport in the Americas as part of the legacy of Rio 2016.
Herazo, 19, took part in the second workshop in Sao Paulo, Brazil, in July after he was identified during an Agitos Foundation supported project in Monteria, Colombia in 2013.
His coach, Jesús Kergelen, participated in the Road to TO2015: Agitos Foundation Sessions run in partnership with the organisers of the Toronto 2015 Parapan American Games in April 2014.
The tools and skills Kergelen learnt allowed him to better train and nurture Herazo's talent.
Herazo was then sent to Sao Paulo after winning bronze in the javelin F36 at an open competition in Medellin, Colombia, in November 2014.
Now the national record holder and a firm prospect for the Rio 2016 Paralympic Games, Herazo, who has cerebral palsy, speaks from the Sao Paulo workshop about the attitudes of people around him and even his father prior to his involvement with the Agitos Foundation.
"Most of the people bullied me and they looked at me with pity but I have always thought of myself as a normal person, keeping a positive attitude," Herazo said.
"People don't see me as an unimportant boy anymore. Now they see me as an example of success; a medallist. If I can be successful, why can't they?
"The only thing is that I have received a bit less support from my dad when it comes to my sporting activities. He doesn't believe in me. When I told him that the International Paralympic Committee was taking me to the Agitos Foundation workshop he couldn't believe it.
"Even one week before travelling he still couldn't believe it. I showed him the tickets and I told him that I was travelling that Sunday. And at that moment, he believed me. He took me to the airport and wished me good luck.
"I really think my dad has changed and when I come back he will think differently about me."
The video also gives viewers an insight into the training and workshop activities that take place during the Road to Rio 2016 Agitos Foundation Sessions.
The latest edition in Natal covered coaching for goalball and sitting volleyball and were facilitated by experts including Alessandro Tosim, the coach of the Brazilian national goalball team and Amauri Ribeiro, the national sitting volleyball team coach from 2004-2009.
Participants from Aruba, Brazil, Chile, Colombia, Cuba, Ecuador, El Salvador, Guatemala, Honduras, Mexico, Nicaragua, Panama, Puerto Rico and Uruguay travelled to Natal.
In addition, 10 Paralympians from across South America came together in the 'train the trainers' course.
These national role models were further empowered with the tools to promote the Paralympic Movement and share their stories with the next generation of para-athletes.
Paralympians in attendance included Brazil's 12-time Paralympic swimming medallist Clodoaldo Silva and Adria Santos, a 14-time medallist in track and field, as well as Moises Fuentes of Colombia and Argentina's Ariel Quassi.
Workshops in classification and sport management have already taken place in previous editions in April and July 2015. The final workshops are scheduled for January 2016.
The Agitos Foundation is the development arm of the International Paralympic Committee.