European Space Agency recruits Paralympic medallist McFall as first "Parastronaut"
John McFall will take part in the Parastronaut Feasibility Project, which looks at ways to include persons with physical disabilities in human spaceflight
24 Nov 2022
Imagen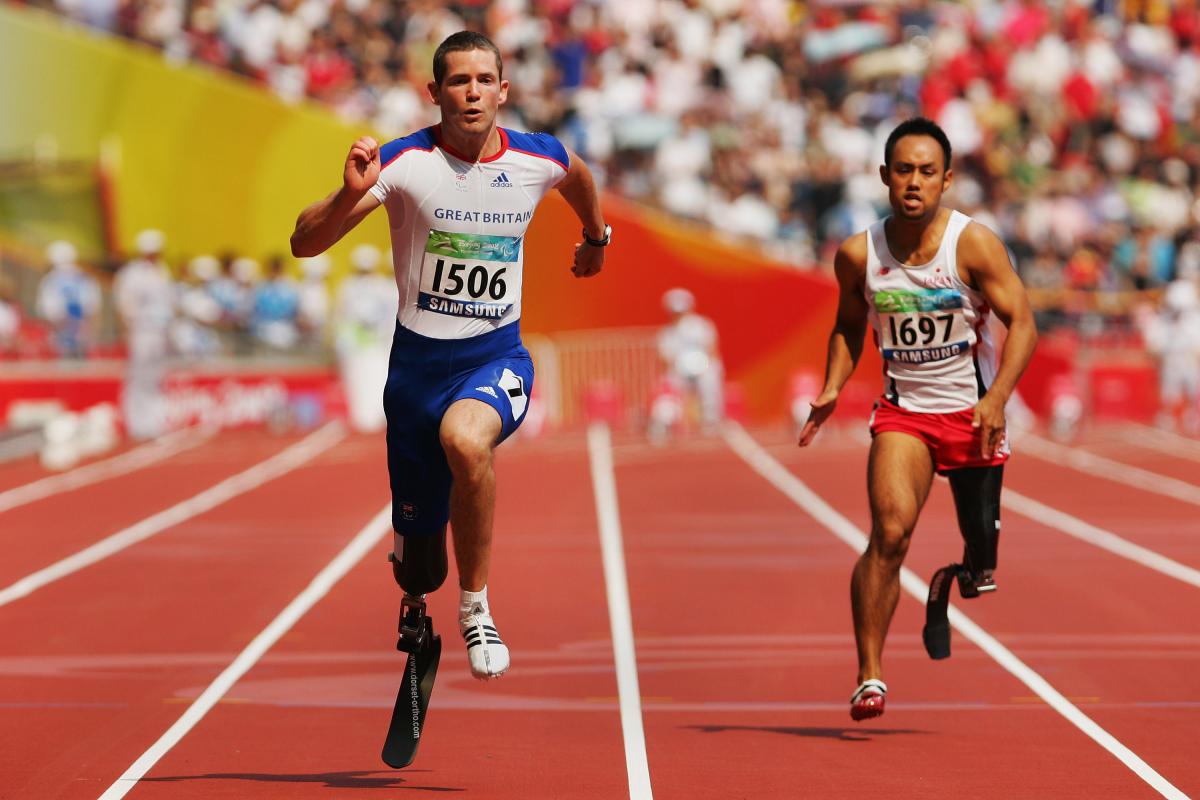 ⒸAndrew Wong/Getty Images
By IPC
Former British Paralympic sprinter John McFall was among 17 astronaut candidates that the European Space Agency (ESA) recruited as part of its class of 2022.
The call-up makes him the first person with a physical disability to be recruited by a world space agency.
McFall took up running competitively in 2005 and raced at the Beijing 2008 Paralympic Games where he won a bronze medal in the men's 100m T42. He is also a silver and bronze world medallist. 
"I was incredibly excited and proud of myself that I got through the selection process," the 41-year-old said of being selected as the world's first Parastronaut. "It'd been quite a whirlwind experience. As an amputee, I'd never thought that being an astronaut was a possibility, so excitement was a huge emotion and I look forward to what the future holds.
"The message that I would give to future generations is that science is for everyone and space travel, hopefully, can be for everyone."
Rigorous selection process
The European Space Agency received more than 22,500 applications for the class of 2022, including 1,361 applications from people with a disability. These candidates had to have specific lower limb disabilities, such as amputation, shortened limbs at birth or following an accident, or be less than 130cm tall.
After their applications were submitted, the candidates underwent medical exams, practical tests, group exercises, psychological assessments and multiple interviews as part of a four-stage selection process. 
The 17 finalists are the first new recruits that the European Space Agency has taken on since 2009.
They will undergo a 12-month, basic training programme starting in spring 2023 and serve duty at the European Astronaut Centre in Cologne, Germany.
After the basic training is completed, the astronauts will pass to the next training phase, followed by specialised training once they are assigned to a mission.
On track to space
Coming from a military family, McFall grew up aspiring to join the army, but an accident at the age of 19 derailed these plans.
He was in a motorcycle crash while on holiday in Thailand, which resulted in the amputation of his right leg. After that his focus switched to pursuing bachelor's and master's degrees in sports and exercise science. But even while immersed in his studies, it did not take long for McFall to get back to his earlier active lifestyle. He re-learned how to run and was racing competitively by 2005.
In addition to his medals at the Paralympic Games and World Championships, McFall also reached the podium at the European Championships, IWAS Games and on the World Cup circuit.
After retiring from sports, he served as an ambassador and attaché for the International Paralympic Committee (IPC) at the London 2012 Paralympic Games.
McFall returned to medical school in 2008. He now holds a bachelor's degree in medicine and surgery and has worked in different medical and surgical positions at the British National Health Service. 
"I realised that I couldn't be an athlete for my whole life," he said. "I probably needed to get a proper job, so I thought, 'What would I've liked to have done had I been 15, 16 and not wanted to join the army?' And that was when I thought about medicine - the idea of learning so much more about the way stuff works, how we work, but applying it and doing something practical."
In early 2021, McFall came across the European Space Agency's advert seeking an astronaut with a physical disability. And so, his journey to become the world's first Parastronaut began.
"I've always been hugely interested in science generally and space exploration has always been on my radar, but having had a motorcycle accident when I was 19, like wanting to join the armed forces, having a disability was always a counter-indication to doing that," McFall said.
"When the advert for an astronaut with a physical disability came out, I read the person's specifications and what it entailed, and I thought, 'Wow, this is such a huge, interesting opportunity', and I thought that I would be a very good candidate to help ESA answer the question they were asking – can we get someone with a physical disability into space and I felt compelled to apply."
On a space mission
As part of ESA's class of 2022, McFall will take part in the Parastronaut Feasibility Project, which looks at ways to include astronauts with physical disabilities in human spaceflight. Making adaptations to space hardware is one of the potential solutions that could make it possible for people with disabilities to join the on-board crews.
The European Space Agency is the first of the world's space agencies to launch such a project, and McFall is eager to take off.
"I've got quite an interesting point of view for human space exploration being the first cohort of astronauts with a physical disability," the Paralympian said. "Not only have we got to undergo astronaut training, but we've got to undergo astronaut training and work out what it is about having a physical disability that makes it tricky and overcome those hurdles.
"I'm extremely excited about using the skills that I have for problem solving, identifying issues and overcoming obstacles that allow people with a physical disability to perform the job equally to their able-bodied counterpart. Furthermore, I'm interested in the science of space exploration. What actually happens to someone with a lower-limb amputation in microgravity? What happens to their residual limb and the science around that sort of thing? How does exercising in space differ?"
According to the European Space Agency, its class of 2022 will focus on missions related to moon exploration, including the construction of a new station that would orbit the moon and human space missions to the lunar surface.
The Agency hopes to achieve its first landing on the moon before the end of the decade, to be followed by preparations for missions to Mars.