Final 2015 edition of The Paralympian published
The third and final magazine of 2015 wraps up all the last World and regional Championships, as well as the 'big deals' made ahead of Rio 2016.
18 Dec 2015
Imagen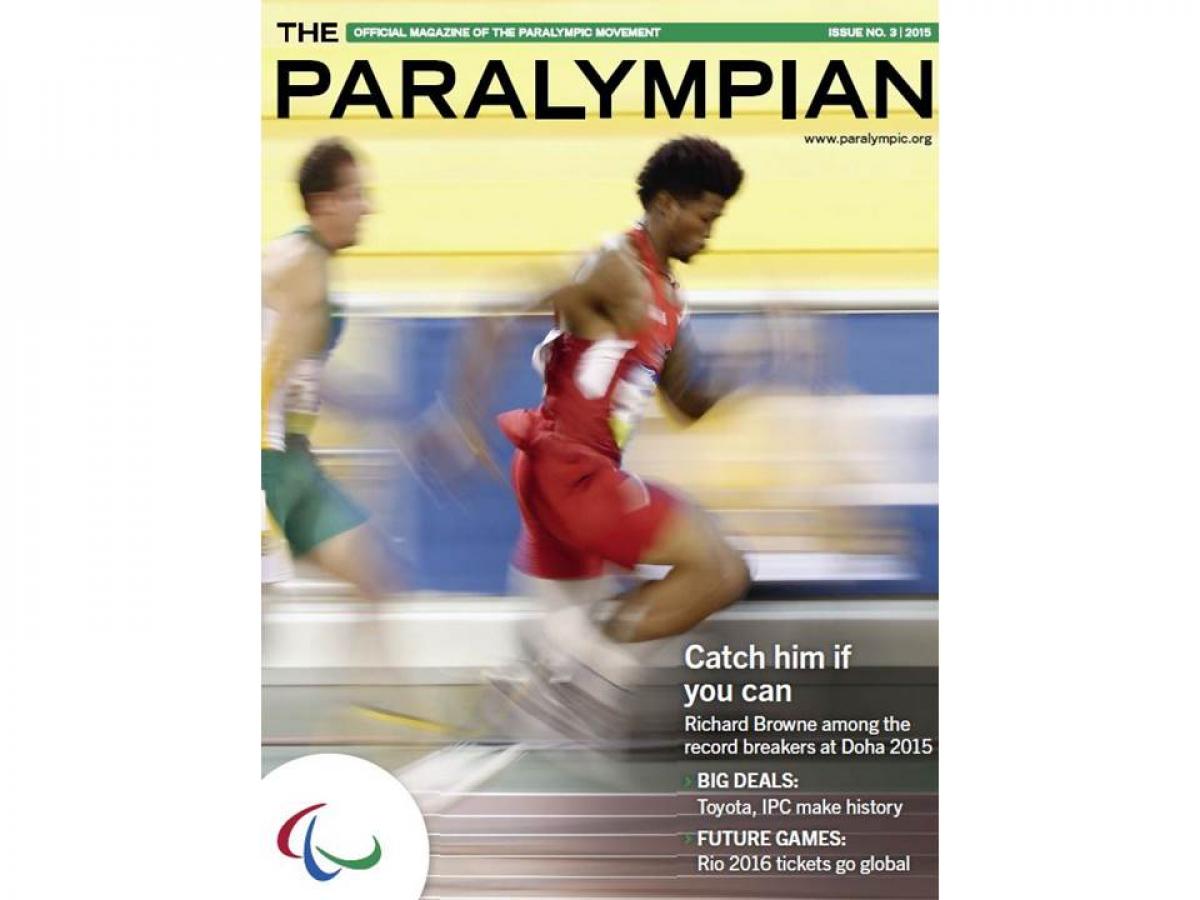 By IPC
The final 2015 edition of The Paralympian magazine was published online on Friday (18 December), wrapping up an action-packed year by featuring the last major competitions for athletes to qualify for Rio 2016, as well as historic deals that will impact the future of the Paralympic Movement.
The magazine's third issue of 2015 looks at a ground-breaking partnership between the IPC and Toyota.
Sir Philip Craven, IPC President, says: "The agreement with them is monumental for the whole Paralympic Movement as it is the first of its kind to cover the IPC, all National Paralympic Committees [NPCs] and future editions of the Paralympic Games. They are also the first, and I hope not the last, International Olympic Committee [IOC] Top Partner to build a holistic partnership with the Paralympic Movement."
Going off this is another partnership formed between the IPC and Jet Set Sports, which was formed to help ease the process of making tickets to the Rio 2016 Paralympic Games available to everyone around the world.
This edition then takes a closer look at the work of the IPC's development arm the Agitos Foundation, how it has been developing para-sport around the world over the last three years and where it goes from here. In 'Issue of the Season' section, Rwandan Paralympic sitting volleyball player Dominique Bizimana and former president of NPC Colombia Juan Pablo Salazar further discuss the challenges NPCs in developing nations face in growing the Movement and how they can overcome them.
"The first challenge was the attitude toward people with impairments in Rwanda, and simultaneously the lack of self confidence among people with impairments," Bizimana writes. "To overcome those challenges, the NPC focused on developing para-sports where Rwanda had the potential to be competitive, such as goalball and sitting volleyball."
Numerous World and regional Championships were held toward the end of the year, and Rio 2016 Paralympic qualification spots were at stake. The magazine takes readers through the competitions, looking at who the top performers were and what can possibly be expected at Games time.
In regards to the Games, this edition also runs down the latest news from Rio 2016, PyeongChang 2018, Tokyo 2020 and even Beijing 2022.
Play and Train's manager Mariona Masdemont, who helped organise VISTA 2015, wraps up the magazine with her guest column, looking at some of the biggest takeaways from the science conference, which was held for the first time in a while outside of Bonn, Germany.