First snowboard banked slalom titles decided
Riders from the USA, the Netherlands and Italy have taken historic victories in Landgraaf, the Netherlands.
19 Nov 2014
Imagen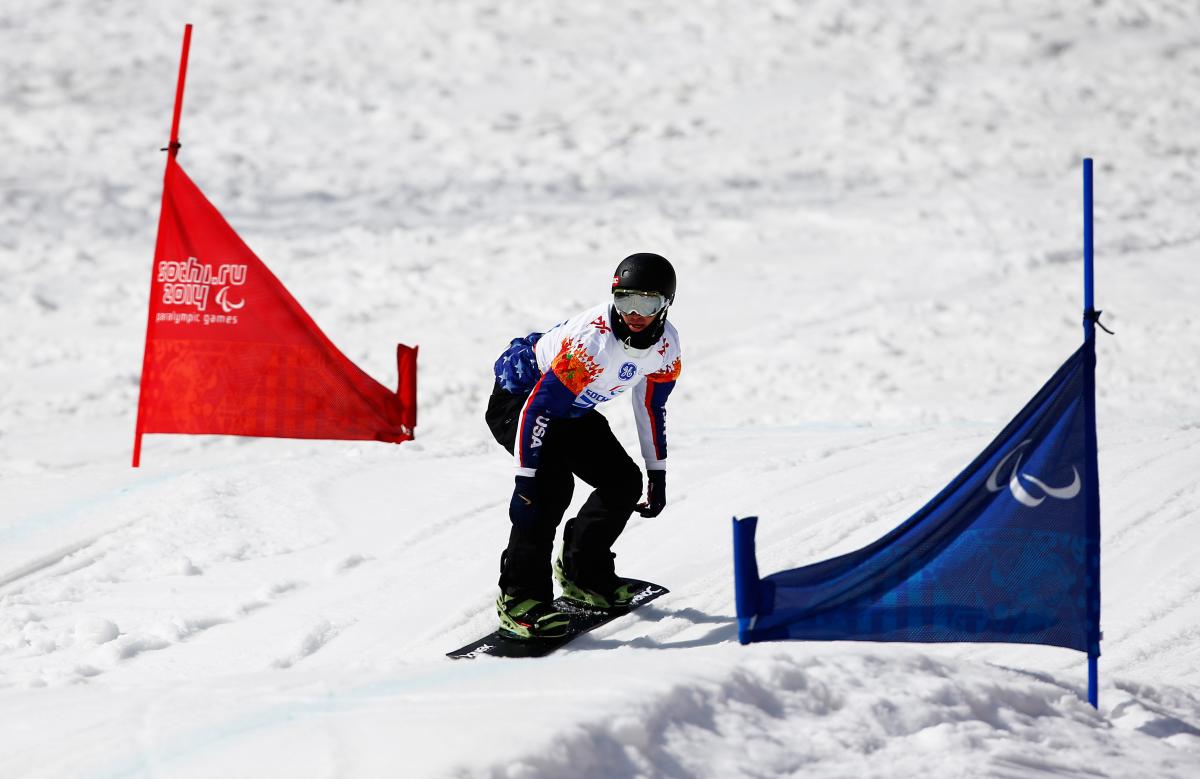 ⒸGetty Images
By IPC
"I have never before won a race and I am so excited!"
American snowboarders Mike Shea and Brenna Huckaby, Dutch riders Bibian Mentel-Spee and Chris Vos and Italian Manuel Pozzerle sealed victories in the first ever banked slalom races at the IPC Alpine Skiing Europa Cup in Landgraaf, the Netherlands, on Wednesday (19 November).
Sochi 2014 silver medallist Shea (1:06.72) claimed the historic gold in the men's SB-LL2 ahead of teammate and snowboard cross Paralympic champion Evan Strong (1:10.47). New Zealand's Carl Murphy (1:10.80) finished just behind Strong at the indoor venue at Snowworld.
Paralympic champion Mentel-Spee (1:14.41) started her season with a bang, posting near-perfect runs to lead the USA's Heidi-Jo Duce (1:27.13) and Australian Joany Badenhorst (1:28.70) onto the women's SB-LL2 podium.
"It went well, however there was one spot where I lost a bit of time," Mentel-Spee said. "It's lots of fun and especially at the bottom of the course you can gain a lot of speed."
Chris Vos (1:20.41), 16, continued the success of the host country with a win in the men's SB-LL1, finishing ahead of the USA's Mike Schultz (1:22.78), who is making his international debut this season.
A beaming Vos said "I have never before won a race and I am so excited! I like the banked slalom and I think I am better at it than snowboard cross, as carving is my speciality. [The new classification] is great and I think it is more fair this way, as snowboarding is easier for people with a prosthesis below the knee than for me."
Frenchman Patrice Barattero (1:27.40) claimed bronze.
The women's SB-LL1 saw Sochi 2014 silver medallist Hernandez-Cervillon (1:26.72) win over Americans Brenna Huckaby (1:33.21) and Nicole Roundy (1:44.88)
"For me, it is very special to win here," Hernandez-Cervillon said. "It is my first time indoor, the first time in my life to do a banked slalom and the first time in the new class. It all feels great.
"The snowboard cross is still my preference, because I really like jumps. But I did enjoy the race very much."
Concluding the men's races was Pozzerle (1:17.80) in the upper-limb category, which will be contested alongside the lower-limb classifications at the 2015 IPC Para Snowboard World Championships in La Molina, Spain, from 23-28 February.
The Italian took the win ahead of Great Britain's Ben Moore (1:18.05) and Austria's Patrick Mayrhofer (1:18.60).
Banked slalom races continue at the same venue on Thursday (20 November), this time with a World Cup. Full results can be found at IPC Snowboard's website.
The 2014-15 season features a split in the classification for lower-limb impaired riders.
SB-LL2 riders have an impairment in one or two legs or have less activity limitation. SB-LL1 athletes have a significant impairment in one leg or a significant combined impairment in both legs.
La Molina 2015 will see around 80 athletes from 20 countries gather for the biggest meeting of para-snowboarders since Sochi 2014.