Get to know world, Paralympic equestrian champion Michele George
With the European Para-Equestrian Dressage Championships less than a month away, here are 10 facts about one of Belgium's top riders.
24 Aug 2015
Imagen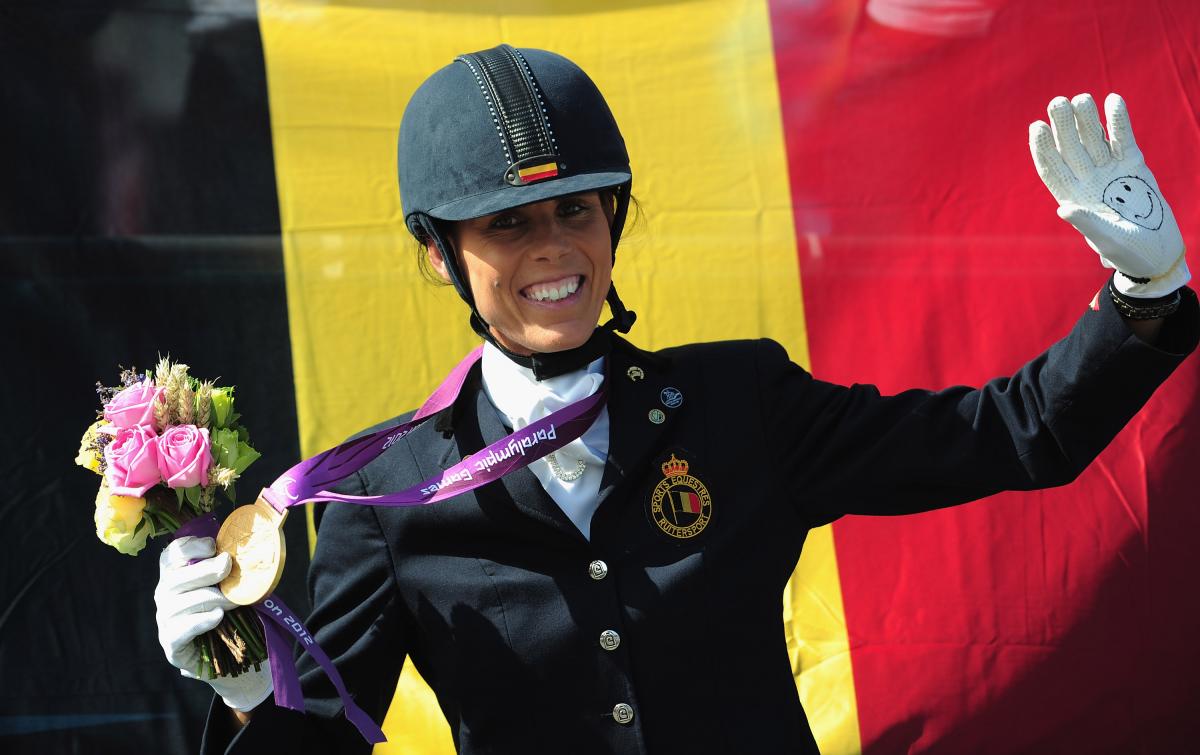 ⒸGetty Images
By Robert Howell| For the IPC
Belgium's current double-world and Paralympic champion Michele George will, once again, represent her country at this year's International Equestrian Federation (FEI) European Para-Equestrian Dressage Championships, which takes place 17-20 September in Deauville, France.
George has been competing in grade IV para-equestrian dressage since the 2009 European Championships.
Here are 10 things you probably never knew about George:
1. I live near the French border in Amougies. It's a small city, not too crowded which I like, and I have my private training centre there.
2. I have two children. My 13-year old daughter is a very competitive rider too, while my 12-year-old son likes to keep himself busy with our tractors and lorry; for him it's all about engines.
3. I started riding when I was 12. I started on racehorses and trotting and then tried show jumping. But then I met a dressage rider, so I tried that and fell in love with it.
4. I had an accident in 2008 when I was lunging a horse in an indoor arena. The horse got afraid and bolted and escaped and, in doing so, took me with it, breaking my knee severely. I had a succession of serious operations and was told not to ride again.
5. My biggest achievement in my career so far was winning two individual gold medals in London 2012. I had had so many health issues up to the Games and at times couldn't walk. My doctors were telling me not to ride, that the risk was too high and that I should stay in my wheelchair. But I had a crazy passion that was too big for that. I believe that if you want something enough you can do anything. And then winning two titles at the Alltech FEI World Equestrian Games 2014 was a huge achievement too and proved London wasn't an accident – it's all about training and more training.
6. I'm not an excitable person and am actually quite shy. I need to be with my family and friends. I work hard, always trying to improve and to achieve my goals and, when I do, it almost feels normal because that's all I've been working toward.
7. I like 80s and disco music.
8. I enjoy cooking too but I don't have any specialty dish. When you have two children it's more about cooking what you know they will like. But I like it and if others like my food I'll happily cook for hours.
9. After riding, my other passion is watching my son and helping him develop his athletics. He runs 60m and hurdles at the moment. We train together, him running, me on my bike and my daughter on her horse. My horses are not objects but rather more like my children. I've worked hard to get where I am and I want my children to know that if they work hard too they can get where they want.
10. I enjoy the close rivalry between myself, Sophie Wells [Great Britain], Frank Hosmar [the Netherlands] and the other grade IV riders. You need rivals in sport otherwise you wouldn't be able to focus. Competition means to compete and that's important to have and it helps our Paralympic sport grow and become more and more professional.