Golden treble for France's Lucas Mazur
India tops medals tally with four gold, six silver and 10 bronze
06 Apr 2021
Imagen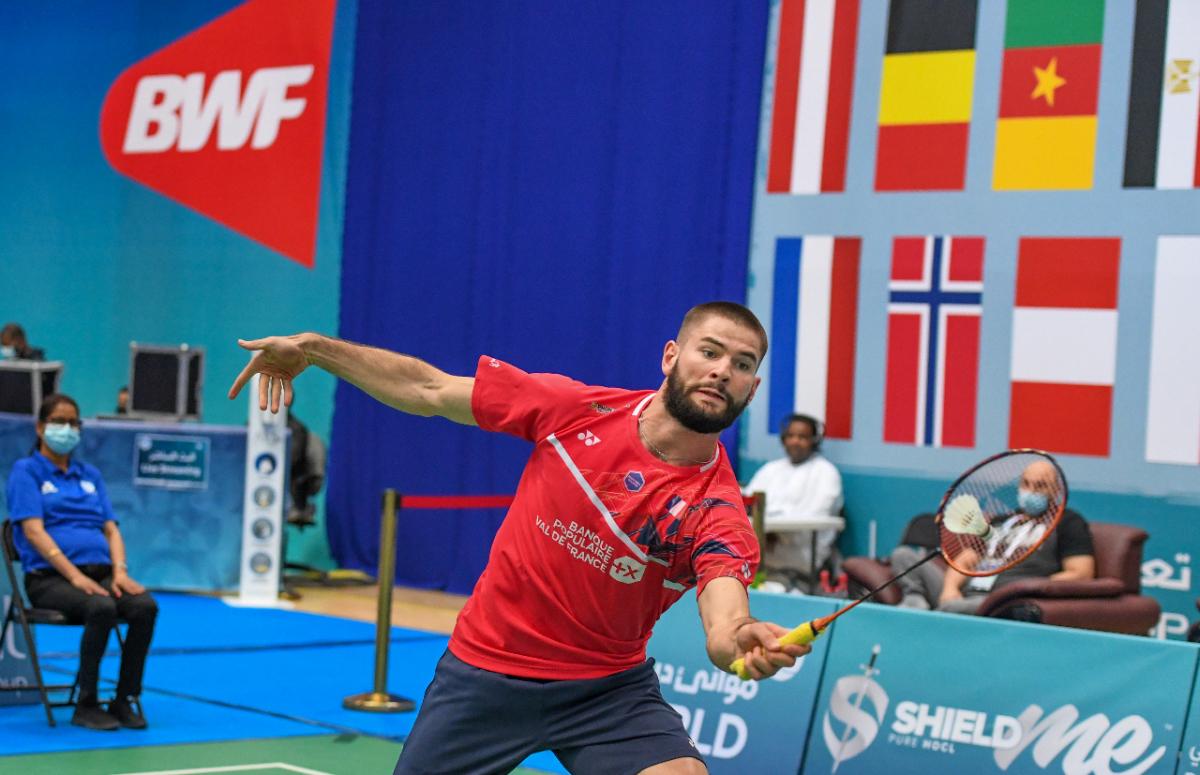 ⒸJames Vergese / BWF
By Priyanka Sharma / Asian Paralympic Committee | For the IPC
France's world champion and top seed Lucas Mazur completed a golden treble as the curtains fell at the 3rd Sheikh Hamdan bin Al Maktoum Dubai Para Badminton International 2021.
This was the first BWF competition after more than a year following the COVID-19 pandemic outbreak; the last international event was played in Peru, in February 2020.
As many as 127 players from 29 countries including hosts United Arab Emirates took part in the championships, with the highlight being participation of countries Kuwait, Maldives and Nepal for the first time.
Besides, this year the Championship, known as Fazza-Dubai Para Badminton International in the past, was renamed to pay tribute to His Highness Sheikh Hamdan bin Rashid Al Maktoum, the Deputy Ruler of Dubai and UAE Minister of Finance and Industry, who passed away recently.
On the final day, Mazur opened his golden run-in style, partnering with Faustine Noel in the mixed doubles standing category (SL3-SU5) as the pair came back from a game down to beat top Indonesian pair Hary Susanto and Leani Ratri Oktila 12-21, 21-19, 21-19 in a battle that lasted almost an hour.
The Frenchman then claimed his men's singles standing lower SL4 title with ease against India's Sukant Kadam  in straight games 21-15, 21-6 in just 33 minutes. A pumped up Mazur then completed the treble teaming up with Meril Loquette in the men's doubles SU5. The duo defeated Indonesia's Suryo Nugroho and Fredy Setiawan in absorbing three games 21-19, 13-21, 21-19.
BHAGAT HELPS INDIA FINISH ON TOP
Mazur's triple gold was enough to put France in the top three of medals standings as they finished second with eight medals (4 gold, 2 silver and 2 bronze) behind India who finished with 20 medals (4 gold, 6 silver and 10 bronze medals), and ahead of Malaysia with seven medals (3 gold, 1 silver and 3 bronze).
"I am happy to put in my game plan and tactics here in the Championships. I have fond memories of this Dubai event as I always had won titles here. I am happy that all the hard work during the lockdown paid off here," said Mazur who is already eyeing a gold in Tokyo 2020.
Elsewhere, reigning world champion Pramod Bhagat displayed a dominant show to clinch two gold medals in men's singles SL3 and men's doubles SL3-SL4 events.
"It was a good tournament overall and I am very happy to start the year on such a strong note and hope I can end it with a gold at Tokyo 2020. It feels great to get the rhythm back. Everyone had come here after a lot of hard work in the lockdown and this shows in their performance," said Bhagat, who took the men's singles standing lower (SL3) gold against compatriot Nitesh Kumar 21-17, 21-18 before partnering with Manoj Sarkar to yet again beat team mates Kumar and Kadam 21-18, 21-16 in men's doubles SL3-SL4 final.
DOUBLE DELIGHT FOR OKTILA
Meanwhile, Indonesian top player Oktila also left the Shabab Al Ahli Club with two gold medals in women's singles SL4 and women's doubles SL3-SL4.
"I wanted to go back home with three gold medals, but managed only two. I will work on my mental aspect and fighting spirit to achieve my target of three gold in Tokyo 2020," said Oktila, who alongwith partner Khalimatus Sadiyah overcame France's Lenaig Morin and Noel 21-15, 21-16 in women's doubles. The Indonesian had topped the group stage to take the women's SL4 title.
MALAYSIAN CHEAH PULLS OFF A THRILLER
Oktila's compatriot and world no 1 Dheva Anrimusthi had a heartbreaking loss in the men's singles standing upper (SU5) finals, as Malaysian world championships bronze medallist Cheah Liek Hou pulled off a thrilling comeback victory 14-21, 22-20, 21-18.
Cheah later said he was lucky to save four match points and force a decider after trailing 16-20 to win the contest at 22-20.
OKSANA SHOCKS WORLD CHAMPION
Among other highlights, Ukraine's Oksana Kozyna came out with a brilliant performance to shock reigning world champion Manasi Joshi in straight games 21-10, 21-17 in women's singles SL3 final.
"Oksana played really well. I am also content with the way I played here as this is an analysis game for me. I had start using this new prosthetic just two weeks ahead of the event. Otherwise, the competition has become more competitive after the lockdown, as everyone has worked hard and were here to make the most of the opportunity," said Joshi hoping that, the women's SL3 event is included in Paris 2024 Paralympics.
MALAYSIA RULED WHEELCHAIR EVENTS
Malaysia claimed the men's singles WH1 and WH2 events with Muhammed Ikhwan Ramli and Noor Azwan Noorlan taking the top honours in the wheelchair events.
France's David Toupe who settled for the silver in the men's singles WH1 23-21, 13-21 against Ramli, paired up with Thomas Jakobs to pull off a thrilling men's doubles WH1-WH2 match 21-19, 23-21 against India's Prem Kumar Ale and Abu Hubaida.
Before the silver, India's Ale had already claimed the mixed doubles WH1 - WH2 title along with Russian Tatiana Gureeva against Swiss pair Luca Olgiati and Karin Suter-Erath 11-21, 18-21. "This title was a big boost to my confidence. I am motivated to work harder now," Ale added.