Greg Hartung awarded with Paralympic Order
IPC President Andrew Parsons makes presentation at a glittering ceremony in Sydney
15 Oct 2019
Imagen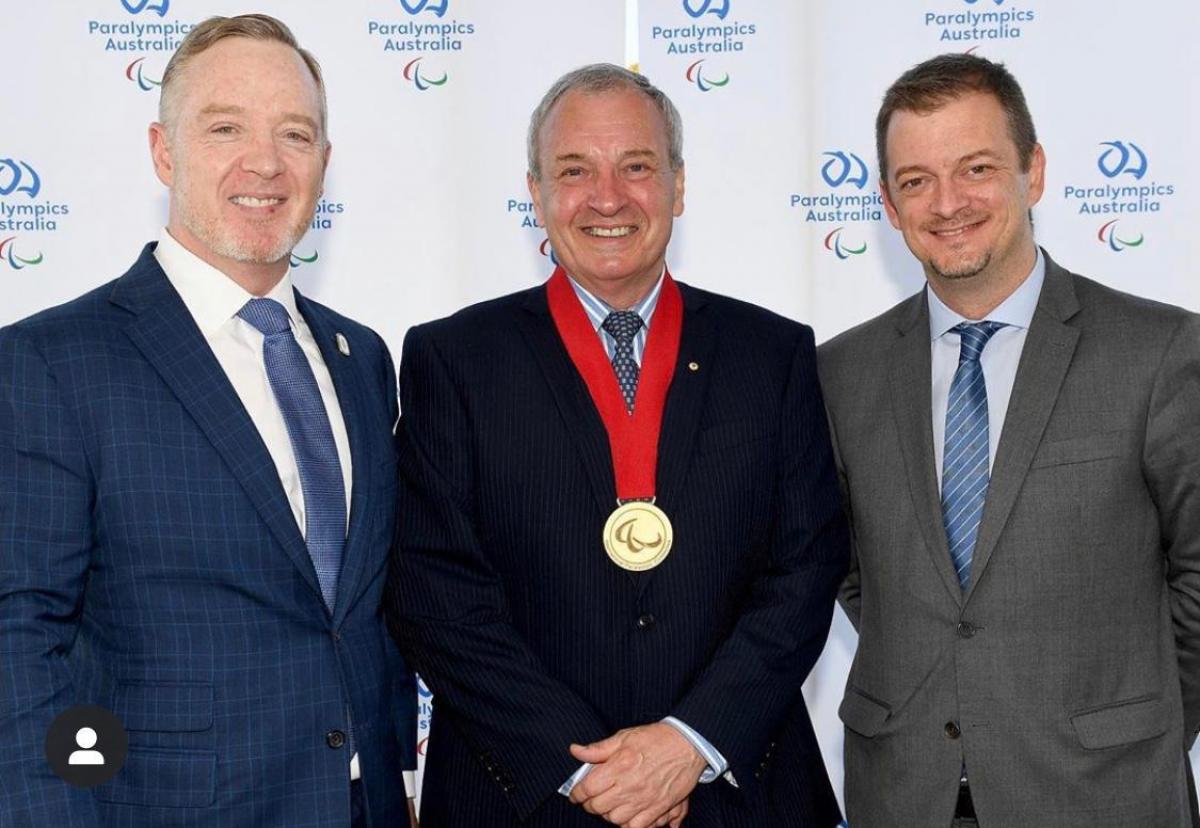 ⒸParalympics Australia
By Paralympics Australia
Greg Hartung AO, known as the most influential administrator in the history of Australian Paralympic sport, was bestowed with the highest international honour - the Paralympic Order - by International Paralympic Committee (IPC) President Andrew Parsons at a special ceremony in Sydney.
The Paralympic Order is the highest award a non-athlete can achieve in the Paralympic movement. The recipient of the award are the ones who have exemplified tremendous Paralympic principles through their actions, made remarkable strides in Paralympic sport or rendered outstanding services to the Paralympic cause.
Serving as Paralympic Australia President between 1997 and 2013, Hartung made a monumental contribution to the Paralympic Movement domestically and internationally by increasing support and respect for athletes with disabilities.
He oversaw the Australian team's preparations for eight successful Paralympic Games and during his tenure, Australia finished within the top five on the medal tally at each Summer Games.
He also led the establishment of national programs in classification and talent identification which are now renowned worldwide, introduced a successful national Paralympic Education Programme and initiated programs to increase the representation of female athletes and athletes with higher levels of disability on Australian Paralympic Teams.
In addition, Hartung successfully lobbied for a more equitable level of Federal sports funding for athletes with disabilities and drove the implementation of 'mainstreaming' partnerships with national sporting federations.
Hartung was also the first Australian to serve as IPC Vice President (2009-2013) and held positions on several International Olympic Committee (IOC) Commissions. He was selected as the inaugural President of the South Pacific Paralympic Committee in 2000, which later became the Oceania Paralympic Committee, and chaired the IPC's Paralympic Games Committee from 2006-2010.
While speaking on the occasion, Parsons said : "It's a true honour to present Greg with the Paralympic order today.
"The Paralympic Movement drives social inclusion, transforms attitudes and empowers the lives of millions around the world. I can honestly say that Greg has upheld these values and displayed passion and enthusiasm for our Paralympic Movement for many years. 
"His work has helped place Paralympic sport firmly on the map in Australia and the Oceania region and his legacy will live on for many years to come." 
A beaming Hartung said after receiving the award: "In receiving this honour, I do so out of recognition and respect for the remarkable people I have worked with over many years both in Australia and internationally.
"Paralympism drills into your DNA and it brings out the best in athletes, coaches, carers, support staff, families, administrators and of course, the public.
"The Paralympic Movement occupies a special place, a unique place in the world of sport. Not only do athletes often re-define their lives through sport, but by extension they have a profound impact on the lives of those who surround them or who watch them compete.
"It was a privilege for me to play a part in lifting the status and profile of Paralympic sport. I have been engaged in a multitude of roles in sport over a career spanning five decades.  The Paralympic Movement is different… you may leave it, but it never quite leaves you."
Hartung is the fourth Australian to receive the Paralympic order after Dr John Grant (Sydney 2000 Organising Committee President), George Dunstan (IPC Regional Representative, South Pacific) and Bob McCullough (President of the International Stoke Mandeville Wheelchair Sports Federation).