How gymnastics helped Huckaby to snowboard title
The USA's snowboard-cross world champion says that her success on snow proves that 'you never forget your first love'.
18 Jun 2015
Imagen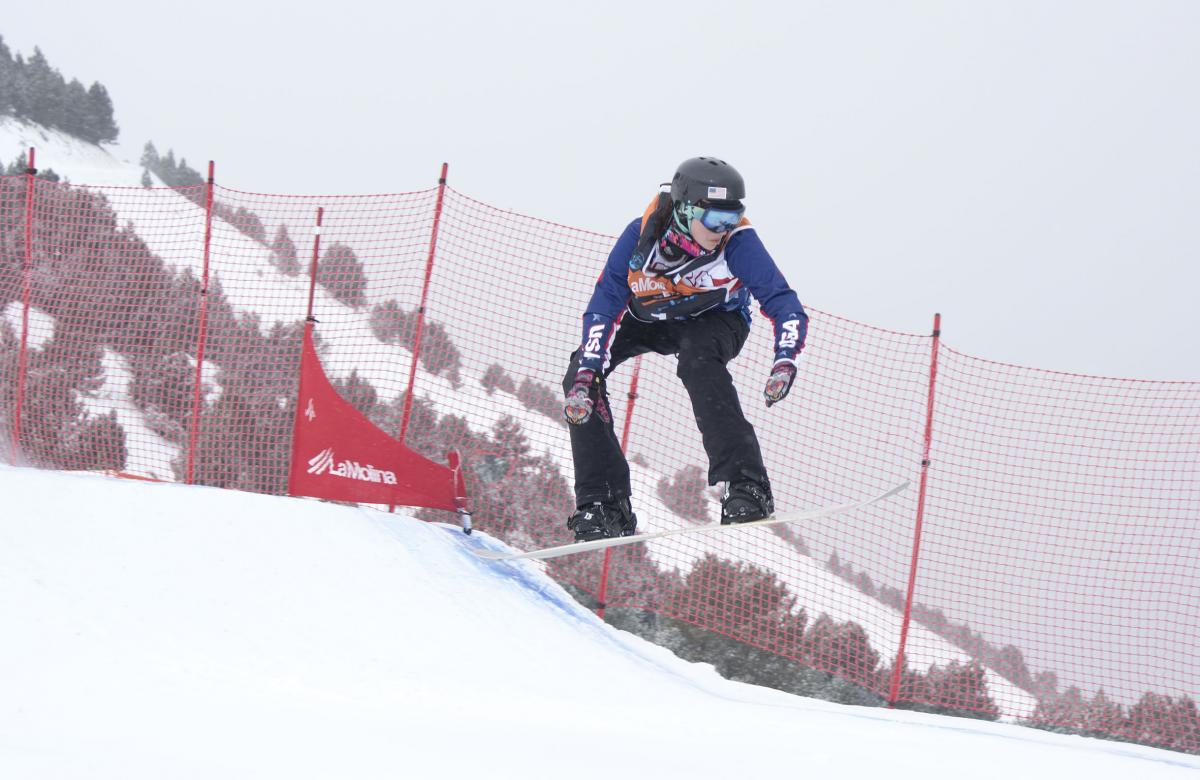 ⒸOriol Molas
By Giuseppe Di Florio | For the IPC
"From the moment I began snowboarding I absolutely loved the feeling and freedom the mountains had to offer."
At just 19-years-old and a newcomer to the US team, Brenna Huckaby stormed to gold at the 2015 IPC Snowboard World Championships in La Molina, Spain, and believes that her experience as a gymnast helped her to victory.
At the age of 14, Huckaby was diagnosed with Osteosarcoma, a rare bone cancer which resulted in the amputation of her right leg above the knee. Following a difficult year in which the teenager had to give-up gymnastics, Huckaby was invited on a rehabilitation ski trip. She wanted to snowboard because it reminded her of the beam, her most successful event.
"From the moment I began snowboarding I absolutely loved the feeling and freedom the mountains had to offer," the women's snowboard-cross SB-LL1 world champion said.
"Wanting more, a year and a half later I packed up my life in Louisiana and moved to Utah to snowboard full-time. After half a season under my belt, my coach took me to my first SBX [snowboard-cross] race where I fell in love with a new aspect of snowboarding - the competition. I decided this was my new passion and I wanted to see how far I'd go. At the end of my first season I entered my first race at the 2014 US Nationals where I placed third. From there, I was addicted, I wanted to attend more SBX races".
As much as Brenna misses gymnastics, she knows she would not be as successful as she is in snowboarding without it. The sport provided her a strong background in air awareness, athleticism, and the self-discipline to work hard.
"Gymnastics helped me know my body and what it is capable of. I can be quick with my movements to correct things most people can't see, and I 100 per cent relate this to my gymnastics background," she said.
"You never forget your first love."
In February Huckaby lined up at La Molina 2015 with three World Cup podiums from her first competitive season.
"I have a drive to succeed. I set goals and I will not quit until I reach them or push past them. My next goal was to make second at World Championships in SBX, I had no idea gold was in my reach. I work very hard for what I want. I do what it takes to push myself past the limit and I don't quit until I get there".
After taking the title and also winning silver in banked slalom, Huckaby is clear on her aims for the coming seasons, ahead of PyeongChang 2018 which will feature 10 medal events for snowboard.
"My short term goals are to continue where I stand in the World Cup circuit, or even improve them. This season was a trial run for me. Before this season I raced one race only, so I had no idea what to expect coming in. With the experience gained from this season I will take that knowledge, alter my training, and ideally improve my racing. I am excited to see how the season goes".
Huckaby, who watched para-snowboard make its Paralympic Games debut at Sochi 2014 on TV, is aiming to burst into the spotlight in 2018.
"I stayed up until 3am just to see all the riders compete live at Sochi 2014. Next time it will be different though. I will work my hardest to represent the USA at the Games in 2018".
The 2015-16 IPC Snowboard calendar will be announced shortly.