Hundreds of athletes benefit from Proud Paralympian
Youngsters competing at the Sao Paulo 2017 Youth Parapan American Games took part in the first two days of the IPC´s athlete educational programme.
20 Mar 2017
Imagen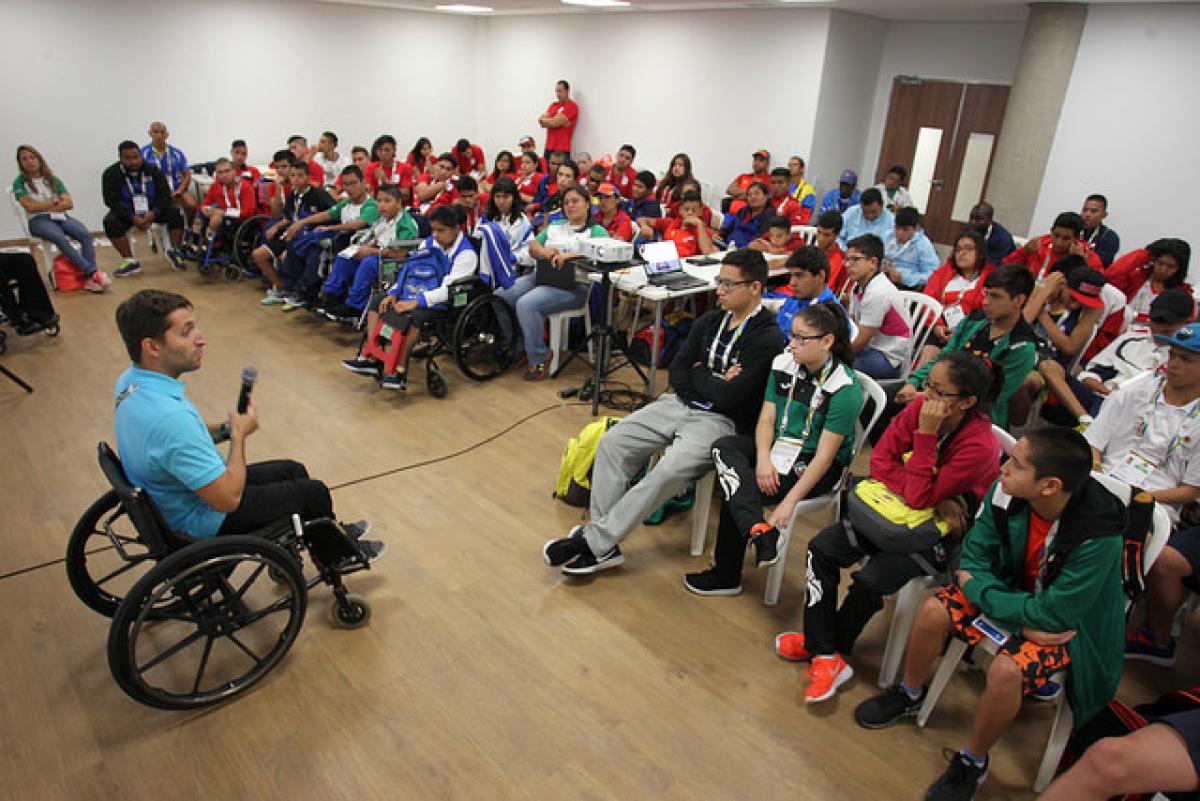 ⒸALAOR FILHO/CPB/MPIX
By IPC and Sao Paulo 2017
"We are here as leading athletes and hoping that these young talents become inspired and try to emulate us."
Hundreds of athletes set to compete at the Sao Paulo 2017 Youth Parapan American Games benefitted from Proud Paralympian, the International Paralympic Committee´s (IPC) athlete educational programme, over the two first days of activities on 18 and 19 March.
A total of 508 aspiring Paralympians took part in the programme on the first day, whilst 630 attended the different workshops on the second day.
Through a series of presentations given by Paralympic athletes, youngsters from several of the participant countries had the opportunity to learn about the values of the Paralympic Movement, as well as strategies for planning their careers after sport.
They also received valuable input on how to reach their goals at Sao Paulo 2017 and become future Paralympians. After taking part in some of the courses, Mexican swimmer Kenia Villalobos said: "This programme gives you the motivation to give the best of yourself.
"In Sao Paulo, I want to win gold in four of my six events. I hope this Games and being part of Proud Paralympian can give me the necessary boost to reach the Tokyo 2020 Paralympics."
Brazilian track athlete Sheila Finder, who competed at three Paralympics and is speaking to young athletes as a Proud Paralympian leader, said: "We are trying to show these kids what it takes to become high-level athletes, what they have to focus on.
"When I was their age, I did not have this opportunity, so this experience has been really rewarding."
Argentina´s four-time swimming Paralympian Ariel Quassi has also been delivering the workshops. "These sessions were so good, many people came. That is very gratifying, especially when the young athletes say thank you," he said.
"The coaches were very happy. When I started we did not have these opportunities, which are very good for the kids. We hope the future athletes are much better than us."
Another of the workshop leaders is sitting volleyball player Renato Leite, who represented Brazil at the Rio 2016 Paralympic Games. "We designed these workshops to be dynamic, fun and full of interaction from the athletes," he explained.
"We are here as leading athletes and hoping that these young talents become inspired and try to emulate us."
No activities will take place on 20 March due to Sao Paulo 2017´s Opening Ceremony, but they will resume on 21 March and run until the end of the Youth Parapans on 25 March.
There will also be an Athlete Space located in the Main Medals Plaza offering games, giveaways and a photo booth.
Proud Paralympian is the IPC´s athlete education programme. Supported by the Agitos Foundation, It aims to give Para athletes the tools they need to give their best on and off the field of play.
------------
Over 800 athletes, aged 12-20 years old, from 19 countries are expected to participate in Sao Paulo, with 12 sports being contested: athletics, boccia, football 5, football 7, goalball, judo, powerlifting, sitting volleyball, swimming, table tennis, wheelchair basketball and wheelchair tennis.
The last edition at Buenos Aires 2013 attracted more than 600 athletes from 16 countries, who competed across 10 sports. Brazil topped the medal table and 15 countries reached the podium at least once.
Barquisimeto, Venezuela, staged the inaugural edition in 2005, with athletes from 10 countries competing, whilst a total of 14 countries attended the event in Bogota, Colombia, in 2009.
For more information, visit Sao Paulo 2017's website.