IPC President's New Year Message
Sir Philip Craven looks ahead to 2016 and gives an insight into his expectations for the Rio 2016.
01 Jan 2016
Imagen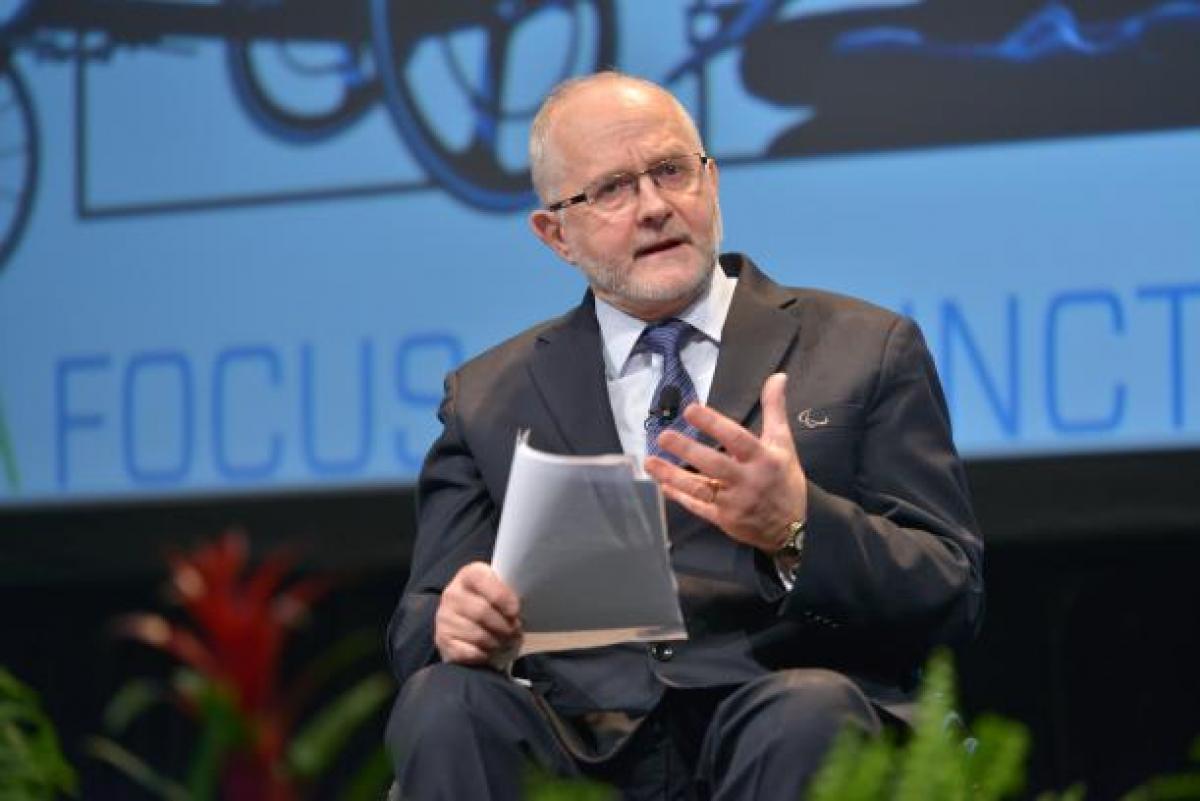 ⒸAAPM&R
Dear members,
Happy new year to everyone around the world; we've finally made it to the year of the Rio 2016 Paralympic Games.
The year ahead is one of the most important yet for the Paralympic Movement. As we work together towards making for a more inclusive society for people with an impairment through para-sport, it is vital that South America's first Paralympic Games are a real triumph. We must show to the world that Beijing 2008 and London 2012 were not exceptions, but the norm.
Rio 2016 will be very different to London 2012. It is important that the host city of the Paralympics integrates its own local culture, character and heritage into the event. I am confident the Carioca will achieve this by bringing a real carnival atmosphere to the Games, ensuring a huge party to remember for athletes and spectators alike.
The success of the Rio 2016 Paralympic Games will be determined by a number of factors such as TV audiences, spectators, athletic performance and legacy and, with just over nine months still to go, the signs are looking promising.
September's Games are expected to reach a record cumulative TV audience of more than four billion people with high quality images set to be broadcast in around 150 countries and territories.
The Organising Committee is also aiming to sell more tickets than ever before, aiming to surpass the 2.76 million tickets sold four years ago in London. With 94 per cent of tickets costing USD 23 of less, I am optimistic the venues will be full of spectators cheering on the world's best para-athletes.
As with all Games, there are many unknowns, but one thing I am absolutely certain of is that para-athletes will once again raise the bar in terms of athletic performance. We saw in 2015 when nearly every Paralympic sport held a World Championships that athletes are getting faster, stronger and more agile. Thanks to the efforts of the National Paralympic Committees, athletes will arrive in Rio not only as the best prepared but also the most well-known, with leading Paralympians enjoying greater public profile than ever before. This will go a long way to ensuring their performances really do inspire and excite the world.
Finally, the Games must leave a tangible legacy for the people of Brazil and the wider sporting community. Already we are seeing accessibility improvements across Rio to make it easier for people to get around, new laws have been passed benefitting people with an impairment, more money than ever before is being invested in para-sport and the new Brazilian Paralympic Committee training centre in Sao Paulo will help generations of para-athletes across the Americas.
Before the Games begin, the Test Events programme which started in 2015 will continue apace and these events will give athletes, international federations, officials, spectators and organisers a taste of what they can expect later this year.
With nine months to go there is not a moment to waste in preparing for the Games, and the final stretch ahead of the Opening Ceremony will pose a number of challenges for all involved.
Brazil's current economic downturn and political unrest are far from ideal, whilst issues with transport and water quality at open water sport venues persist. The health and well-being of athletes is the IPC's top priority at all times and between now and the Games, the IPC will be working closely with the IOC, Rio 2016 and the World Health Organisation to ensure that no health risk is posed to athletes competing in events such as rowing, canoe, sailing and triathlon.
It must be stressed that 2016 is not just about the Paralympic Games. Away from the biggest gathering of para-athletes ever, the Paralympic Movement must continue to grow in all other areas.
Central to this growth will be the IPC Strategic Plan 2015-2018, and together with our members we will work hard to deliver in the six strategic areas identified in the plan.
The year ahead will also see the IPC work closely with the IOC to extend our existing agreement to beyond 2020. The Agitos Foundation will also implement a new governance structure and continue its excellent work in developing para-sport around the world. Building on the tremendous success of 2015, the IPC will also be looking to expand the size of its sponsorship portfolio whilst renewing agreements with existing partners.
The Paralympic Movement has never been in a stronger position, and I hope 2016 makes it even stronger still.
Finally, thank you for your continued efforts and contributions towards the Paralympic Movement's growth. I look forward to seeing many of you later this year in Rio, for another magical and memorable Paralympic Games.
I wish you all a happy New Year.
Sir Philip Craven MBE
IPC President