Jeroen Kampschreur dazzles at alpine skiing season opener
Teenage sensation wins on home snow at first Europa Cup in Landgraaf
11 Nov 2017
Imagen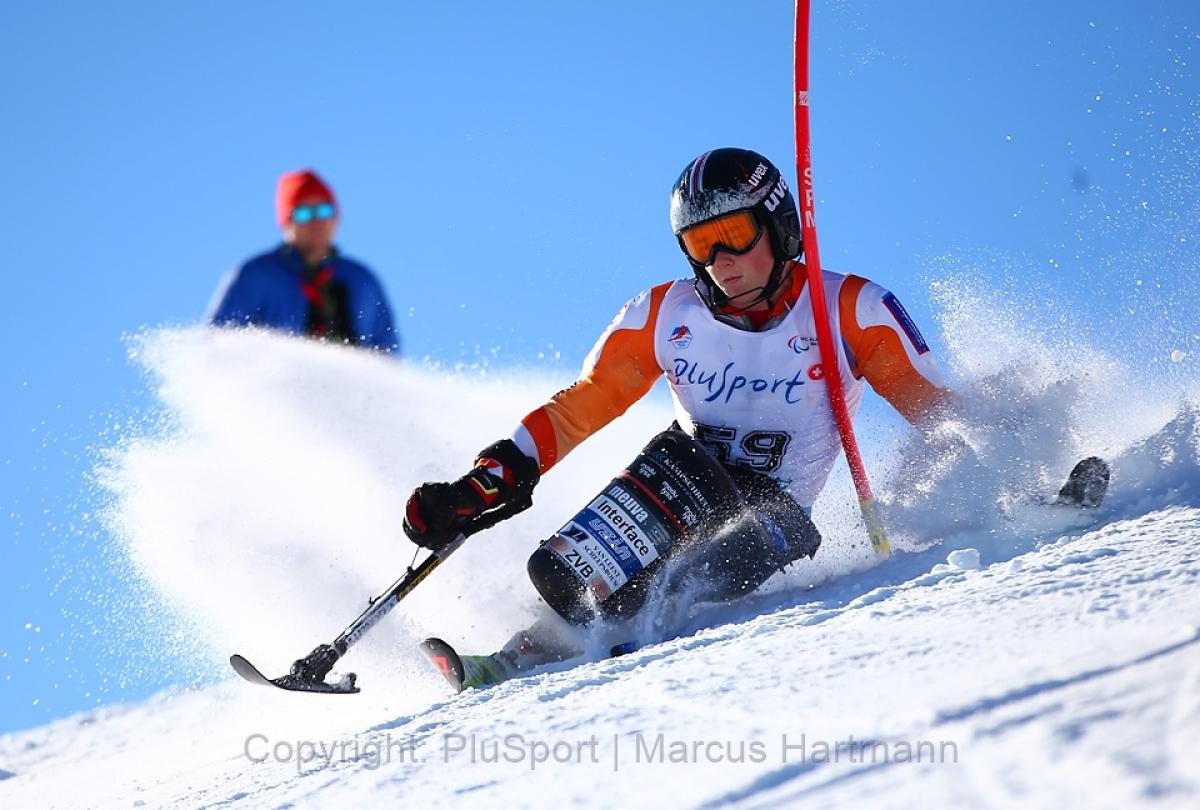 ⒸMarcus Hartmann
By IPC
The 2017-18 World Para Alpine Skiing season got underway with the Europa Cup in Landgraaf, the Netherlands, where home favourite Jeroen Kampschreur showed off his form ahead of the PyeongChang 2018 Paralympic Winter Games. The competition featured slalom races from Thursday-Friday (9-10 November).
Off the heels of a breakthrough season that saw him win three titles at the 2017 World Championships in Tarvisio, Italy; 17-year-old Kampschreur secured both slalom wins in the men's sitting events. He clocked 1:20.74 to take the first race, followed by France´s Yohann Taberlet (1:26.24) and the Netherlands´ Niels de Langen (1:28.04). Kampschreur returned the next day with another victory in 1:25.27, finishing well ahead of de Langen (1:31.52) and France's Frederic Francois (1:34.72).
Austria´s Veronika Aigner, with guide Elisabeth Aigner, also kicked off the season with double gold, by winning the women´s visually impaired. She set a time of 1:32.55 in the first slalom event. Croatia´s Eva Goluza (1:59.08), guided by Ana Zigman; and Norway´s Hanne Vadseth (2:01.56), with guide Lorentz Peter Gedde-Dahl, completed the top-three.
Aigner (1:39.75) won the second race with ease. Russia´s Aleksandra Frantseva* (1:54.19), guided by Semen Pliaskin, ended second; and Goluza (2:05.92) finished third. All Russian skiers competed as neutrals as an interim measure implemented by the International Paralympic Committee (IPC).
In the men's visually impaired, Russian Valerii Redkozubov, guided by Evgeny Geroev*, also celebrated two victories. He clocked 1:24.29 in the first race, followed by Austria´s Gernot Morgenfurt (1:31.99) and guide Christoph Peter Gmeiner; and France´s Thomas Civade (1:39.20) with guide Fabien Chambost.
There was no change in placements for the second race. This time, Redkozubov set a time of 1:31.43, ahead of Morgenfurt (1:38.72) and Civade (1:44.00).
Landgraaf also saw the return of France´s four-time Paralympic champion Marie Bochet, who won three golds at Tarvisio 2017 despite an injury-filled season. This week, the French skier tested herself in slalom, winning the first women´s standing race with a time of 1:29.48, followed by Dutch skier Anna Jochemsen (1:41.32) and Russia's Varvara Voronchikhina* (1:43.00).
Jochemsen, who could give Bochet a run for her Paralympic medals, won the second slalom race in 1:42.23. France´s Celine Deroualliere (1:57.87) and Switzerland´s Elena Kratter (1:58.83) took the second and third positions, respectively.
In the women´s sitting, Switzerland's Stephani Victor (1:47.29) won the first race, with Japan´s Yoshiko Tanaka (1:49.42) and the Netherlands´ Barbara van Bergen (2:01.54) coming in second and third, respectively.
Dutchwoman Linda van Impelen (1:48.22) was the fastest in the second race, beating out Tanaka (1:51.15) and van Bergen (1:52.44).
There was more home success also in the men´s standing. Jeffrey Stuut (1:25.33) secured the first race ahead of compatriot Thomas Mulder (1:26.79) and Russian Alexander Alyabyev* (1:27.59).
But France´s two-time teenage world champion Arthur Bauchet (1:28.43) flexed his strength in the second race, just edging Stuut (1:28.44) and Russian Aleksei Bugaev* (1:28.85).
The Europa Cup circuit will continue in Pitzal, Austria, from 7-8 December.
Full results are available at World Para Alpine Skiing's website.
*Editor's note: The International Paralympic Committee suspended the Russian Paralympic Committee on 7 August 2016 for its inability to fulfil its IPC membership responsibilities and obligations, in particular its obligation to comply with the IPC Anti-Doping Code and the World Anti-Doping Code (to which it is also a signatory). As a result of the suspension, Russian athletes cannot enter IPC sanctioned events or competitions, including the Paralympic Games. For further information please click here.