Jonathon Milne ready to make more history
Para archer targets world medal to add to Paralympic glory
15 Jan 2019
Imagen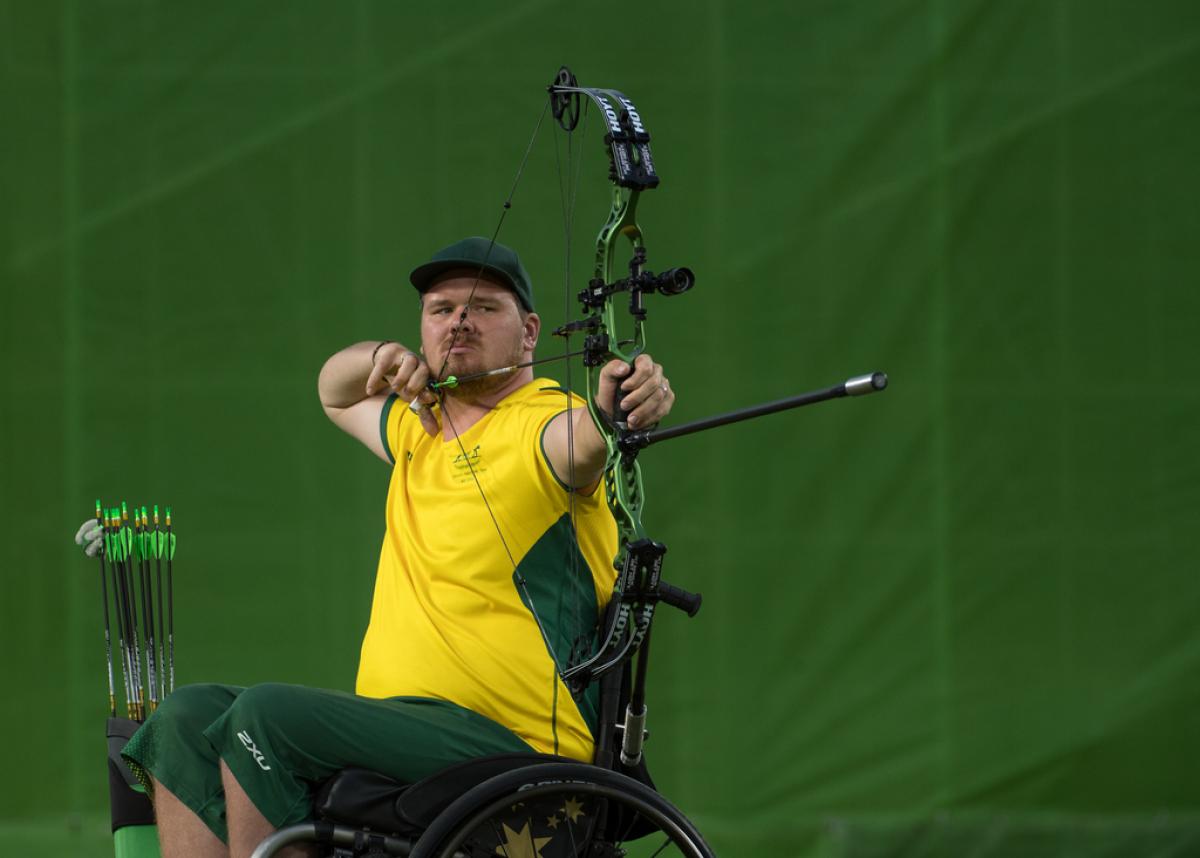 ⒸOIS
By Lena Smirnova and the IPC
"I try not to put any expectations on myself leading into a tournament. I know if I shoot to my potential and follow my shot process for each arrow, I will do well. I really want to help and support my teammates as well, so we can all qualify for the Paralympics in 2020."
Jonathon Milne revived Para archery in Australia by making history at the Rio 2016 Paralympics. Now he is leading his country's charge toward June's World Championships in 's-Hertogenbosch, Netherlands.
By taking bronze in the men's individual compound open, Milne won Australia's first Paralympic medal in the sport in 32 years. It was a sign that his country's work in building up the Para archery programme is paying off.
"Going into Rio I wasn't aware of the fact Australia hadn't won a medal in that long, I wasn't even aware of the last time we had an Australian archer qualify for the Paralympics," Milne reflected.
"Winning the bronze has definitely been a good thing for Para archery in Australia and we have had a lot of people start competing and training hard to try make the team for the World Championships in 2019."
All about archery
The 2019 World Para Archery Championships take place from 3-9 June and mark the first time that athletes can earn qualification slots for their countries at Tokyo 2020.
With his first world medal at stake, as well as Paralympic slots, Milne is all in for archery in 2019.
"My training is just about to ramp up at the start of 2019," the 32-year-old said. "I resigned from my job in the archery store I was working in for the last three and a half years to train as a full-time athlete leading up to the Para World Championships," Milne said.
"I'm really looking forward to being able to dedicate all my time to training and see where I can get my score too. I am training weekly with a team of Para athletes which I really enjoy."
Milne's long-time coach Ricci Cheah, who guided him to Paralympic history, is in charge of the national team preparing for the 2019 Worlds.
Milne is supporting Cheah, but coaching is not his forte.
"I'm still training and competing regularly, and I have started doing some coaching with other archers that have come to me for help," Milne said. "I'm really enjoying seeing them improve."
"I try not to put any expectations on myself leading into a tournament," Milne added. "I know if I shoot to my potential and follow my shot process for each arrow, I will do well.
"I really want to help and support my teammates as well, so we can all qualify for the Paralympics in 2020."
Family support
Throughout all the trainings and competitions, Milne has had unwavering support from his wife Sarah, who saw how pivotal Para sports were in his recovery from a swimming accident in 2012.
"Sarah thought archery was a bit of a weird choice as I had never showed any interest in it before my accident, but if it wasn't for her I would probably never have accomplished everything I have," Milne said.
"She works extremely hard in her job which allows me to not have to work full-time and train. She also loves to travel so if I do well I get to travel around the world, which is a good excuse to come with me."