Kasicka leads hosts to the top at Kosice 2022
Slovakian dazzles with four golds as hosts ends on top; Italy and Ukraine also shine in final event ahead of next month's European Championships
12 Sep 2022
Imagen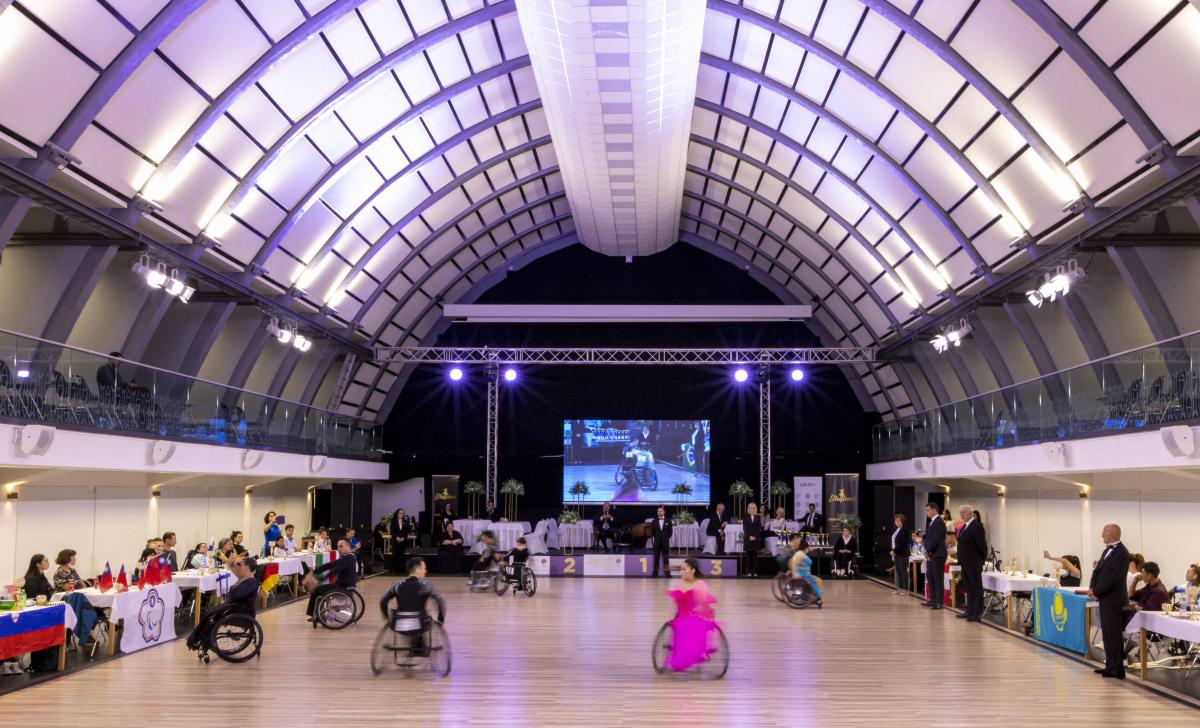 ⒸRoman Benicky
By Victor Pereira | For World Para Dance Sport
Home favourite Helena Kasicka produced an incredible show to propel the hosts Slovakia to the top of standings as the two-day Kosice 2022 World Cup wrapped up on Sunday (11 September).
Kasicka, a triple gold medallist in the last World Championships, lived up to her billing to clinch four gold medals. She dominated the women's single categories in class 1 – conventional and freestyle; and combi latin and freestyle categories, also in class 1, with her partner Mark Maruscak.
Altogether Slovakia had seven medals including one silver and two bronze medals.
In fact, Kasicka missed out a fifth gold as she and Maruscak wrapped up the combi standard in second place finishing behind Italians Andrea Barberis and Laura Del Sere.
Ahead to the Euros
As Kosice 2022 was the last World Cup before the European Championships next month in Prague, the nations from Europe experienced a high-level final test. Besides Italy and the host nation, Ukraine picked up gold medals in Slovakia. 
In the men's singles categories, Ivan Sivak won both the freestyle and conventional classes 1 and 2 combined events. He also joined his dance partner Olena Dankevych to grab a third gold in the combi latin class 2 event.
Asians on the Spotlight
Kazakhstan left Kosice 2022 with 14 medals, the highest number of medals by any country at the event. The nation topped the podium two times thanks to Malika Muktarova, who bagged the women singles conventional class 1 gold, and dancers Yermek Kalymbetov and Kulshum Atalykova triumphing in the combi freestyle class 2 event.  
The Kazakhs also picked seven silver and five bronze medals.
Chinese Taipei dominated the duo categories through their dancers Wen-sheng Huo and Yi-jung Huang. The couple took home three gold medals, finishing first in all duo events – standard and freestyle classes 1 and 2 combined, and latin 2.
Latin American Presence
Meanwhile, the only America's representatives at Kosice 2022 - Mexico and Brazil - also had reasons to celebrate. 
Haydee Guadalupe Guerrero won Mexico's first gold in the championships, in the women's freestyle class 2 event. She also took a silver in the women's conventional class 2 event, while bagged a bronze with her countrywoman Antya Guadalupe Munoz in the class 1 event.
Brazil also made it to the podium thanks to the effort of David Pimentel Pontes, who took home a bronze medal in the men's single freestyle classes 1 and 2 combined event.
You can watch again all the action from Kosice 2022 here. 
Next Stop: Prague
The World Para Dance Sport season now moves to Czech Republic's capital Prague for the European Championships next month. 
An increased number of athletes and countries is expected to gather at Prague 2022 compared to the last edition, when 124 athletes from 16 countries were in action at Lomianki 2018.
Prague 2022 will be held at the Clarion Congress Hotel from 28 to 30 October.