Marcoux brothers looking to be reunited for home Worlds
BJ Marcoux had to make the agonising decision to hand over the reins of being his brother Mac's guide at Sochi 2014 to Robin Femy, but the pair are working towards being back together at the 2015 IPC Alpine Skiing World Championships.
26 Jul 2014
Imagen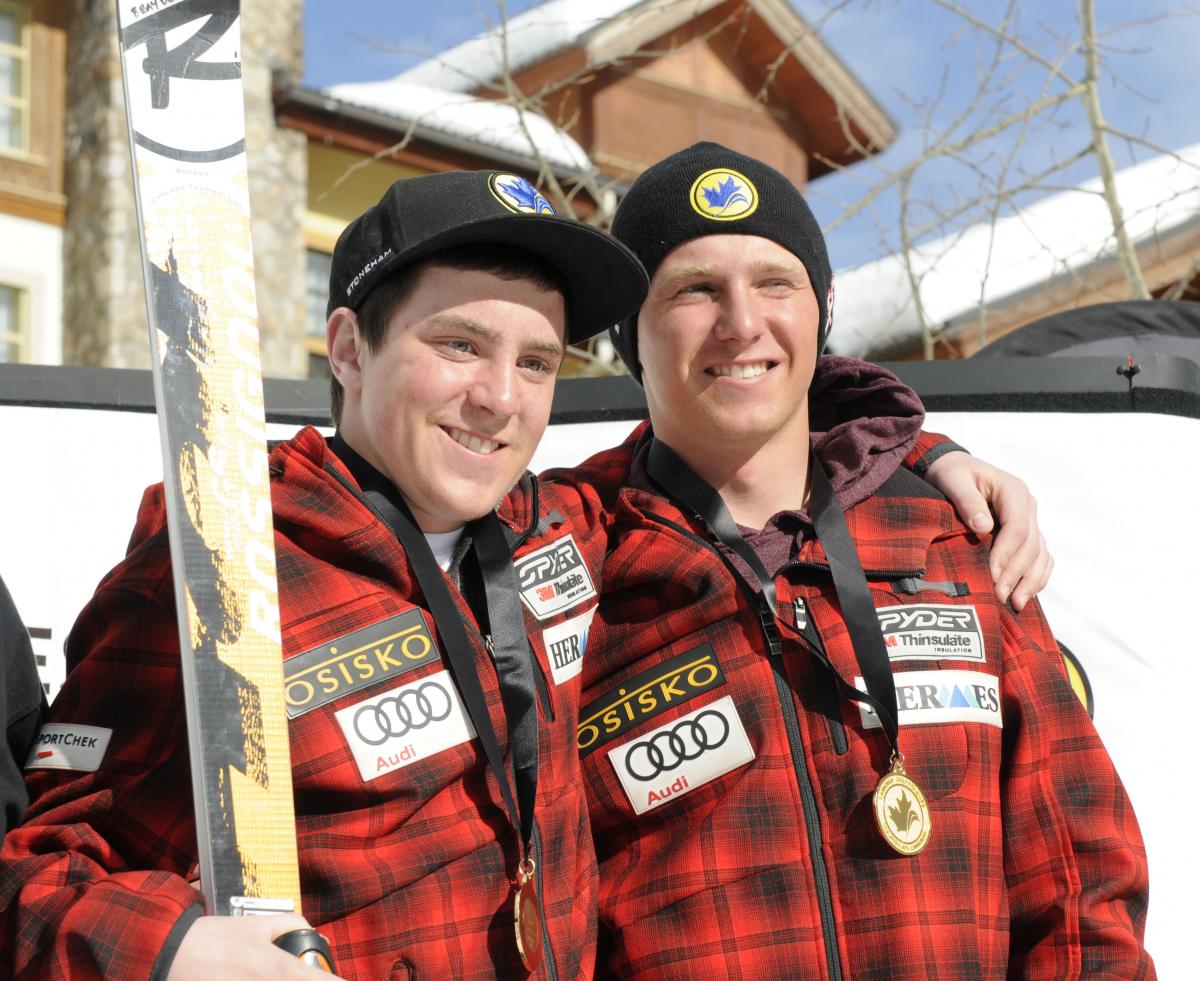 ⒸAlpine Canada
By Jake Duhaime | for the IPC
"I want to recover and get back to being my brother's guide," BJ said. "That's what is on my mind right now."
Looking back, the hardest decision of Canada's BJ Marcoux's life was not that hard after all.
Two weeks before the Sochi 2014 Paralympic Games began, Marcoux suffered a bulging disc in his back during a training session in Austria. As a guide for his younger visually impaired brother Mac, he was the eyes and ears for one of Canada's top medal hopefuls.
He did not want to be its biggest liability as well.
Knowing that any additional setback would derail his brother's dream of competing in Sochi, BJ was approached by team officials and agreed to step aside. He knew full well that skiers could not switch their guides once the competition officially began.
"If my back went out on the first day of the competition, I was going to screw Mac over," Marcoux said. "He worked so hard to get to that point and I didn't want to ruin it. It was the hardest decision we, both myself and the coaches have ever made, but it was made for the best."
Mac, under the guide of Robin Femy would win a gold medal in the giant slalom and bronze in the downhill and the super-G. BJ would watch from the stands, taking in the experience, as his little brother, the youngest member of the Canadian Paralympic team, embraced the spotlight.
"Because it happened so close to the Games, the team and the Canadian Paralympic Committee still made me feel like I was 100 percent part of it," Marcoux said. "I had visitor passes to get into the Village so I could spend time with Mac...which made it easier.
"I had never been a spectator at a ski race before," he continued, "so to be there standing at the bottom of the hill with 6,000 people screaming at the top of their lungs definitely got my adrenaline pumping."
Having BJ involved allowed both the Marcoux brothers a full taste of the Paralympic experience, but it also helped Mac remain cool and composed despite the adverse conditions. It was business as usual for the duo, who had been side-by-side throughout the last two competitive seasons.
"It would have been totally different if he wasn't around as much, but he was there almost as much as he would have been if he were on the hill," Mac said. "It made it easier to cope with the whole injury situation and move on."
Femy's experience having previously skied with Mac also helped soften the blow. The two first worked together during the 2012-13 season when BJ was sidelined with concussion. Mac, BJ and Femy developed a fast, but strong bond, to the point where Femy would work with Mac in camps whenever BJ wanted to focus on his own technique.
"I think one of the biggest things is that Mac is a super talented kid and a really strong skier, so he was able to adapt to what I do pretty easily," Femy said. That made things smooth when we first started skiing together in 2013 and at the Paralympics."
The last minute switch meant Femy would no longer ski with his regular partner, 2002 Paralympic gold medalist Chris Williamson, an honour that would fall upon his former guide Nick Brush. But, if there were ever a silver lining according to Mac, it was that the pressure was taken off of him due to BJ's injury. The unknown soon became a blessing.
"In some ways, it lowered the intensity and the pressure," Mac said. "Instead of having a perfectly set goal like when I was skiing with BJ, we could just ski and see how it worked out. Though having skied with him in the past made it 10 times easier, because we could be on the same level."
With the 2014-15 season approaching, BJ is still recovering from his injury and trying to build up his core strength. The goal is to return at the end of September for camp and participate at the IPC Alpine Skiing World Championships in Panorama, Canada. The motivation to compete in front of a home crowd filled with friends and family is fuelling that process.
"I want to recover and get back to being my brother's guide," BJ said. "That's what is on my mind right now."
"Having the upcoming IPC Alpine Skiing World Championships as a second opportunity to shine, on our home turf, makes you want to work hard throughout the summer," Mac said. "It will fuel us throughout pre-season because having that opportunity to ski again at a high level is exciting."
"To do it with BJ though. That would be priceless."
The 2015 IPC Alpine Skiing World Championships take place from 1-10 March 2015 in Panorama, Canada, and will feature around 239 athletes from 30 countries.