Masterclass by Oksana to seal second gold
China's Liu also completes a grand double
11 Mar 2022
Imagen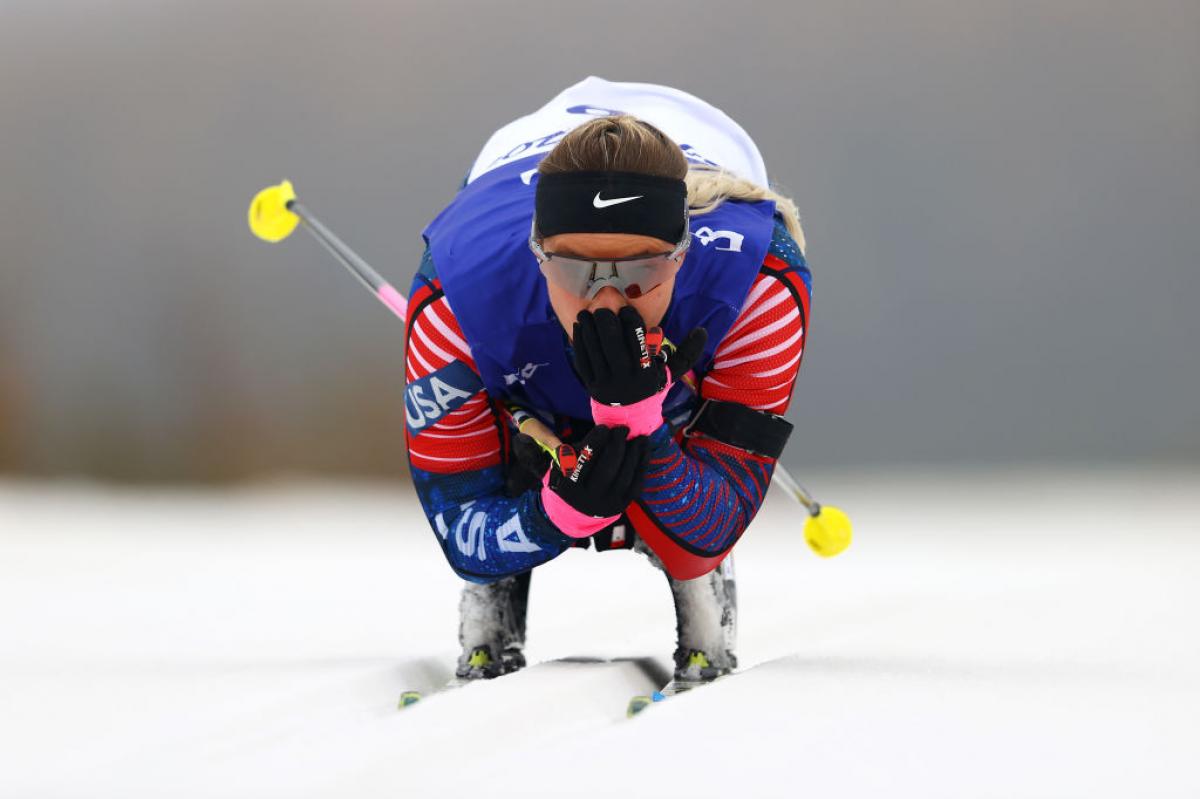 ⒸMichael Steele/Getty Images
By ND Prashant | For the IPC
The sun choose to remain under the cloud all day but that didn't deter US ace Oksana Masters from shining bright at the Zhangjiakou National Biathlon Centre on the final day of the Biathlon competition at Beijing 2022 Paralympic Games.
Masters clinched her second gold in Biathlon by clinching the Women's Individual Sitting authoritatively with a time of 42:17.9.
Compatriot Kendall Gretsch, who had claimed top honours in the same event at the World Championship in Lillehammer, was in control of the proceeding till the 10km mark but lost out to Masters 2.5km from the finish and had to be content with second spot with a time of 44:09.7. China's Yilin Shan was third, another 18.7 seconds behind.
"I was just trying to channel my inner Kendall. I was just watching her and I was so inspired by her at the end of the middle distance, she was just digging so deep.
"I knew it was going to be tough and I just wanted USA to be one-two and I can't wait to celebrate this," said a thrilled Masters.
Gretsch, speaking about the rivalry with Masters, said: "It was so fun. It was such a tight race, we both shot well and it makes it exciting.
"It's always so much fun to be one-two together (Masters). Today was one of the first days where I felt like I could really turn it up on the last lap, but she's just a fast skier so no regrets or anything about that race."
China's Shan too was pleased with her showing and accepted that the top two finishers were too strong for her on the day.
"I am so happy. I've been looking forward to winning this medal for a long time. For sure, I regret a bit not getting silver or gold, but I've got to admit that the athletes out there are really strong.
"They (Masters and Gretsch) skied really well and their shots were clean. Their skiing skills are what I lack and have got to learn from them," said Shan, who had earlier won a silver in the Women's Sprint Sitting.  
MENGTAO HAILS HIS WIN SAYING HE WAS DEAD SURE             
In  the men's Men's Individual Sitting action, host China's Mengtao Liu also added a second gold to his and his country's tally with a strong finish setting a time of 38:29.4. Ukraine's Taras Rad also added another silver to his kitty by finishing +44.5 seconds adrift of Mengtao. China's Zixu Liu, who had won a gold in the Men's Sprint Sitting, completed the podium.
After that dominant show Mengtao revealed that he was cent percent confident of taking the title. "Well, nothing special. I knew I'd win. It's good to see the national flag and hear the national anthem. It's too early to be happy right now because I still have a cross-country race coming tomorrow," said the 20-year-old.
Ukraine's  Rad, who now has three medals from three events at these Games, revealed he was determined to finish on the podium on the final day of the Biathlon competition.
"This race was very important for me because this was my last Biathlon race (at Beijing 2022). Of course, I had hopes that it could be gold, but silver is OK too. I am happy for this result and want to thank the whole team who is supporting me," said Rad attributing his success to all the hardwork put in by him and his team.
"There is a lot of work behind us. This work has been going on for many, many years, for example the last four years. We have trained harder and harder, so because of our work we are getting the results."