Mentel-Spee: Four riders to watch in 2014-15
One of the pioneers of para-snowboard, Dutch Paralympic champion Bibian Mentel-Spee, offers her tips on the athletes to watch ahead of the 2015 Worlds.
10 Dec 2014
Imagen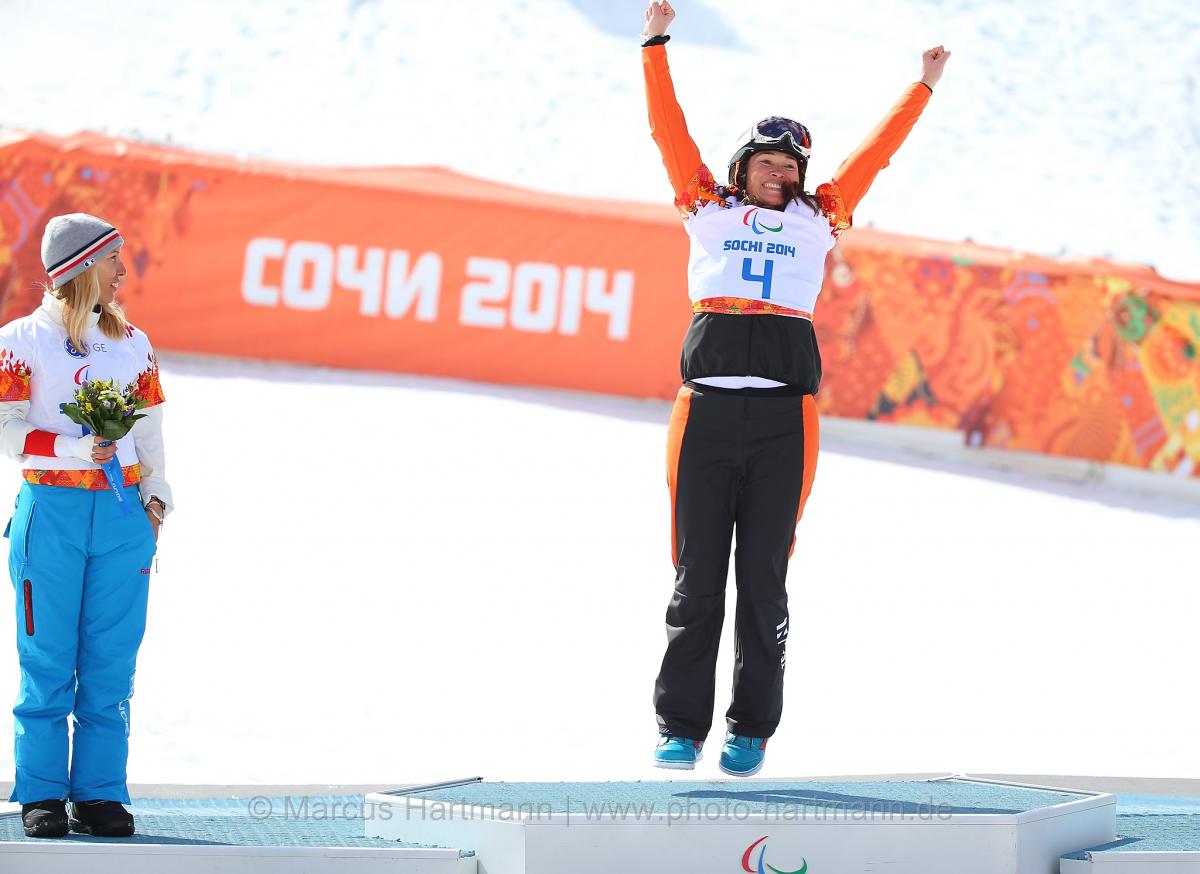 Ⓒwww.photo-hartmann.de
Dutch Paralympic champion Bibian Mentel-Spee should know what makes a good snowboarder, having been instrumental in getting the sport into the Paralympic Winter Games at Sochi 2014.
Here, the world No.1 and multiple World Cup winner offers her tips for the 2014-15 season which continues with a World Cup in Aspen from 11-13 January..
Highlighting the season, from 23-28 February, riders will compete at the 2015 IPC Para-Snowboard World Championships in La Molina, Spain, in the new discipline of banked slalom. There will also be a new head-to-head format for snowboard cross.
As participants in Mentel-Spee's development programme for young boarders in the Netherlands, Vos and Bunschoten are close to her heart. But they are also good prospects for this season.
"They are going to train in America to progress their lower riding and I think that will help them a lot and make them better riders than they are now," Mentel-Spee said.
Her predictions so far have been correct, with Vos and Bunschoten both picking up a win and podiums at the IPC Alpine Skiing World and Europa Cups in Landgraaf, the Netherlands, in the men's SB-LL1 and women's SB-LL2 respectively.
Mentel-Spee singled out the Australian because "he's young and it doesn't look like he has a lot of difficulties with his disability when he is riding."
Tudhope also competed at Sochi 2014, and whilst he may not be up there with the likes of Evan Strong just yet, Mentel-Spee thinks he has what it takes in the men's SB-LL2 both on and off-snow.
"When I see him riding he is like an able-bodied rider of his age," she said. "He is such a natural good rider. At this moment he is still young and light which does not benefit him but he will progress and grow. He will get stronger and heavier which will make him a better rider.
"He's so mature and he's such a sweetheart. He's our little hamburger!"
Mentel-Spee has been impressed with Finland's Suur-Hamari's pre-season preparations.
"He's been training a lot this summer and I've seen some little films that he's done so I think he's really progressed a lot," she said.
Again, her predictions have started to come true, with Suur-Hamari knocking on the door of the men's SB-LL2 podium in Landgraaf.
La Molina 2015 will feature around 80 riders from 20 countries competing at the very first para-snowboard World Championships under the governance of IPC Alpine Skiing.
Riders will race in the new discipline of banked slalom and in a new format for snowboard cross, where athletes will race head-head after initial qualification round. Events will be included for both lower and upper-limb impaired riders.
IPC Alpine Skiing has introduced a split in the classifications for lower-limb impaired riders in 2014-15. SB LL-1 riders are more severely impaired and have a significant impairment in one leg, for example an above knee amputation, or a significant combined impairment in two legs, for example significant muscle weakness or spasticity in both legs.
Snowboarders in the SB LL-2 sport class will have an impairment in one or two legs with less activity limitation. A typical example is a below knee amputation or mild spasticity.