Mentel-Spee stronger than ever
Despite an ongoing battle with cancer, the Dutch world champion snowboarder will return to the snow this season.
16 Nov 2016
Imagen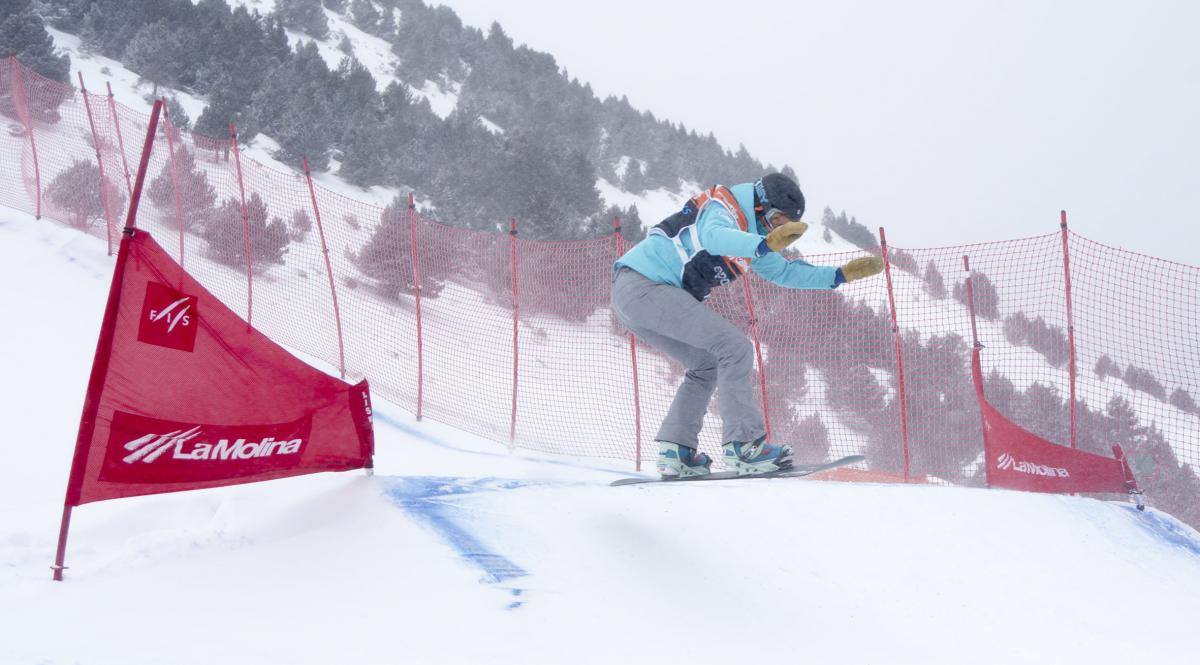 ⒸOriol Molas
By Giuseppe Di Florio and the IPC
Despite a challenging summer fighting health problems, the Netherlands' Bibian Mentel-Spee is ready for the start of the Para snowboard season which will see her defend two world titles.
Mentel-Spee is gearing up to compete at home in Landgraaf, which will feature a Europa Cup on Wednesday (16 November) and two World Cups in banked slalom on 17 and 18 November.
It will be an important season with the World Para Snowboard Championships in Big White, Canada, from 1-8 February and the World Cup Finals in PyeongChang, South Korea, which will serve as a Test Event for the PyeongChang 2018 Winter Paralympics.
"I've been training this summer with [Finnish snowboarder] Matti Suur-Hamari and [teammate] Merijn Koek and that has been working out very nice so far," Mentel-Spee said. "Together with the coaches Mikko Wendelin and Edwin Spee, we have a great team where we work very hard but also have a lot of fun!"
At the end of 2015, Mentel-Spee had to restart her fight against the disease that led to the amputation of her right lower leg in 2002. She took some time out to receive treatment for cancer before returning to competition in Aspen, USA, in February 2016.
After the season Mentel-Spee, who went on to win the overall women's SB-LL2 World Cup, had her lungs checked.
"…This time again they found a tumour, but on spot [in the hilus] that the doctors thought it was too risky to operate on," Mentel-Spee explained. "And also chemo and radiation therapy would not be any option. So basically I was told in May that they couldn't do a whole lot for me anymore."
Despite what seemed to be a hopeless situation, Mentel-Spee and her family rallied around refusing to accept that nothing could be done. Her husband and coach Edwin did some research and found that a new treatment option was available in Amsterdam, a first in Europe.
"So in July I had a treatment of 12 sessions of radiation and luckily I didn't really feel anything of the treatment, so I was able to keep training and this really cleared my head," Mentel-Spee said. "I just had my first CT-scan and that looked good, but it will take another three months before they can really say if the treatment has worked or not."
Mentel-Spee has been focusing on the future and training in the build-up to the new season. She has just returned from two weeks in Saas-Fee, Switzerland, and before that trained on indoor snow in the Netherlands.
"I've made up my mind, I really want to become this 90-year-old grandmother, with my grandchildren on my lap and spoiling them badly, so that is my aim in life!!!" she said.
A closer goal is to win gold in snowboard-cross at the PyeongChang 2018 Winter Paralympics, which would be her second Paralympic title. She could add another in the banked slalom.
"By training hard and loving the sport as much as I do, my aims are to put down the best performance I can do and hopefully this will result in two gold medals," she said.
An inspiration for many, Mentel-Spee is in turn inspired by her family.
"I think my family inspires me the most to keep going. I just want to see my kids grow up, so that my husband and I can enjoy them and our future grandchildren."
The IPC Snowboard World Cup in Landgraaf will be followed by an edition in La Molina, Spain, from 16-21 January. The Big White 2017 World Para Snowboard Championships will then feature around 80 of the world's best Para snowboarders from 25 countries.