Miguel Carballeda re-elected as NPC Spain President
He will serve for another four years following unanimous vote
20 Nov 2020
Imagen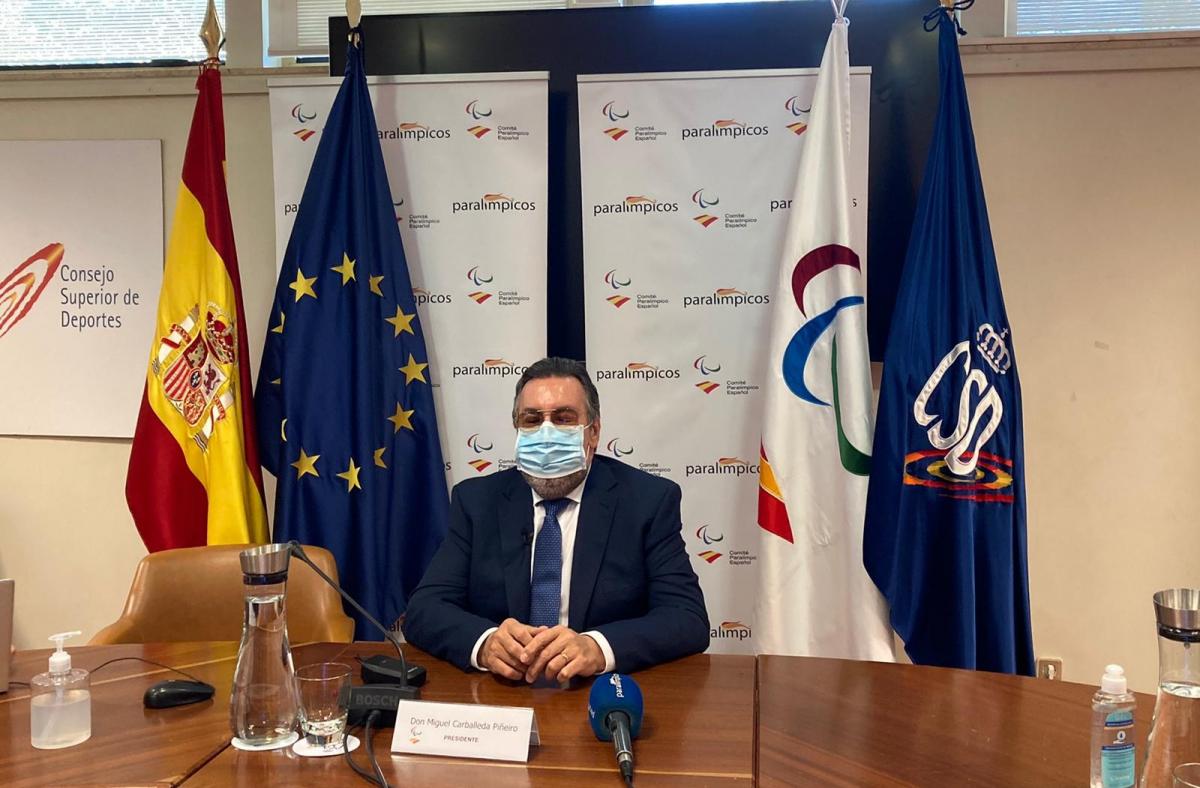 ⒸComité Paralímpico Español
By Spanish Paralympic Committee
Spanish Paralympic Committee (CPE) President Miguel Carballeda has been re-elected by unanimous vote at the General Assembly held remotely on 11 November and will serve for four more years.
Carballeda received the support and congratulations from CPE Honorary President Infanta Elena, Superior Council of Sports President Irene Lozano and Spanish Olympic Committee President Alejandro Blanco.
During his speech, Carballeda said that he expects his upcoming term to provide "the available resources to be directed to sports;" requested the collaboration of the Paralympic Sports Federations to "continue improving and increasing" the number of people with disability practising sports; and hoped the Paralympic Games can be held next year and the Spanish Team can have a brilliant performance.
"We are the Spanish Paralympians and in difficult times we will set an example of perseverance," he said.
COE Honorary President Infanta Elena congratulated Carballeda and reinforced her desire to help the organisation "in anything they need" and that together "we can overcome future challenges."
Irene Lozano encouraged Paralympic athletes to "continue being the beacon for hundreds of thousands of people with and without disabilities".
Alejandro Blanco highlighted the "great honour" he feels by sharing the presidency of the Spanish Olympic and Paralympic Movements with Miguel Carballeda and said that "during these uncertain times, if we are able to be together and work together, we will overcome this situation and help shape a better future for Spanish sport".
Alberto Durán was named first Vice President, José Alberto Álvarez renewed his position as second Vice President, and Javier Gutiérrez was appointed third Vice President. Miguel Sagarra continues as Secretary General for one more term, while Julián Rebollo joins the board as Treasurer.
They will be joined in the new Executive Board by Ángel Luis Gómez (ex-officio member), Miguel Ángel Machado (representing single-sport federations), Antonio Jesús de la Rosa (representing the non-Paralympic federations) and two freely appointed members: Fátima Cao (responsible for Para equestrian at the Royal Spanish Equestrian Federation) and Fernando Riaño (RSC Director/Sustainability and Institutional Relations of the ONCE Social Group).
In addition, the General Assembly ratified the proposed composition of the Guarantee Commission, with lawyer Germán Alonso-Alegre as President, Mariano Ruiz as Secretary and Miguel Ángel García as spokesperson. It also renewed the position of Alberto Jofre as COE Managing Director.
Miguel Carballeda has been President of the Spanish Paralympic Committee since 2004. He is also President of the ONCE Social Group and Vice President of the Spanish Committee of Representatives of People with Disability (CERMI).