Mike Schultz saves best for last in Landgraaf
US snowboarder upsets reigning world champion Chris Vos at World Cup
16 Nov 2017
Imagen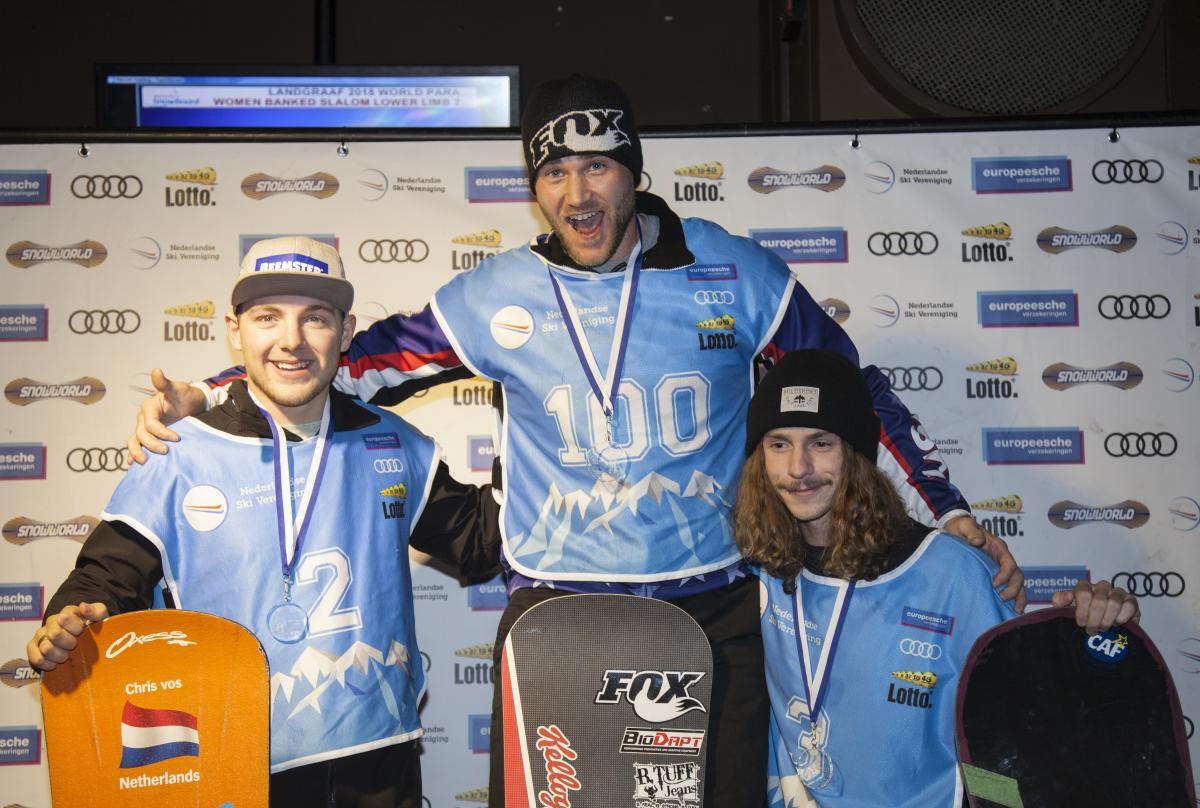 Mike Schultz saved his fastest run for last, as the US rider caused an upset to win on Thursday (16 November), the last day of the World Para Snowboard World Cup in Landgraaf, Netherlands.
The second leg of the World Cup circuit featured only banked slalom races, and Schultz's victory ahead of Dutch reigning world champion Chris Vos adds heat to the men's SB-LL1 category ahead of the upcoming PyeongChang 2018 Paralympic Winter Games. Teenage sensation Vos clocked the fastest times in his first two runs. But Schultz's third and final run of 42.61 was enough to top Vos' time of 42.92. Schultz's compatriot Noah Elliot (44.02) was third.
After missing out on the gold following a tie-breaker on day one (15 November), Finland's Matti Suur-Hamari was back on top in the men's SB-LL2. The reigning world champion won with his time of 40.33, swapping places with Wednesday's winner Mike Shea from the USA (40.48). Japan's Gurimu Narita (41.10) completed the podium.
The USA also finished with victories in two other categories.
Mike Minor (40.78) was in control throughout the day, taking a second straight victory in the men's SB-UL. Italy's Jacopo Luchini (42.66) was second. Austria's Patrick Mayrhofer finished third in 43.09, adding to his silver from the Europa Cup two days earlier.
Brenna Huckaby (44.88) also repeated her success from Wednesday, winning the women's SB-LL1 to add to Team USA's success in Landgraaf. France's Cecile Hernandez-Cervellon (46.72) and Canada's Michelle Salt (49.88) claimed silver and bronze respectively.
The Dutch did get to celebrate a victory on home snow, with Lisa Bunschoten making it two-for-two in the women's SB-LL2. Despite an uncharacteristic last-place time in her first run, the Dutch rider made up for it in her next two for a commanding 46.04 victory. Australia's Joany Badenhorst (48.09) and the Netherlands' Renske van Beek (48.55) rounded off the podium.
Complete results from the Landgraaf World Cup can be found at World Para Snowboard's website.
The next World Cup is in Pyha, Finland, featuring snowboard-cross from 30 November – 2 December.