Monthly preview: April 2016
Rio 2016 qualification events in wheelchair rugby and rowing, plus European Championships in swimming have major implications.
08 Apr 2016
Imagen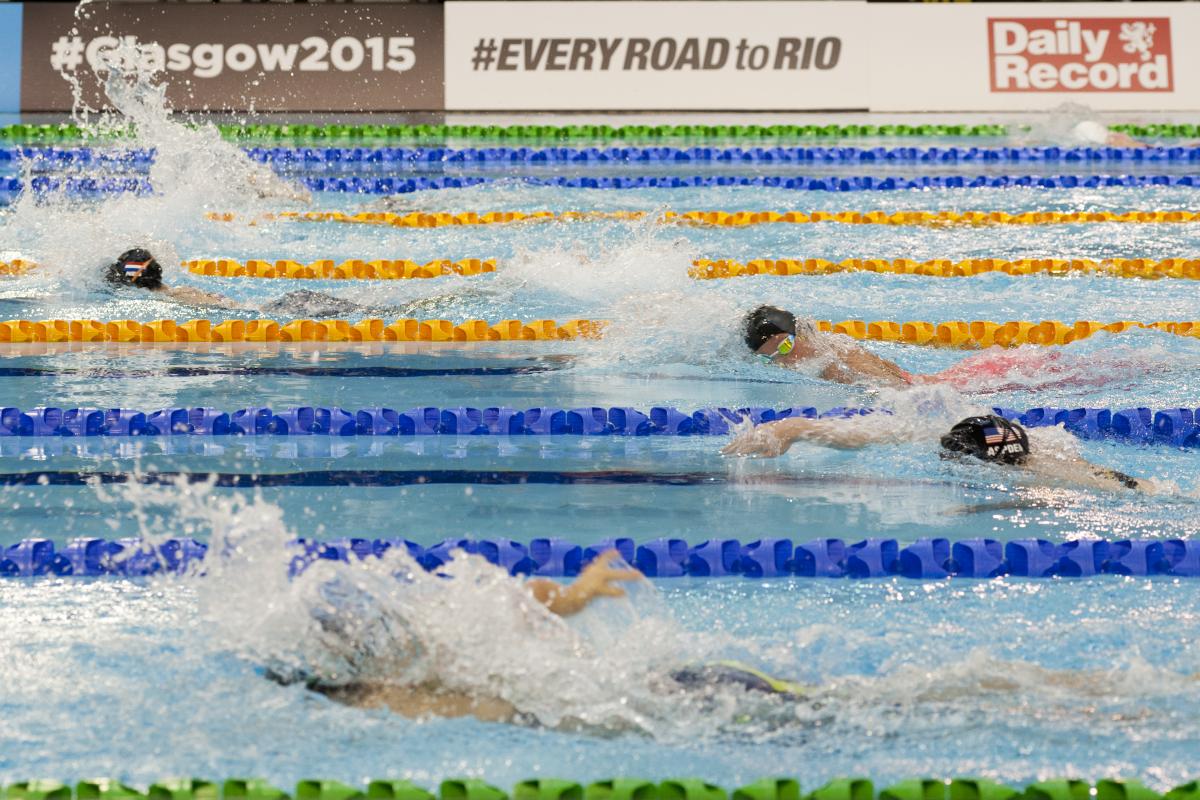 ⒸLuc Percival Photography
By IPC
European Para Archery Championships
More than 160 athletes from 25 nations are in Saint Jean de Monts, Vendee, France, where 17 European titles will be awarded.
The Championships, which run until 10 April, are also the regional qualifiers, with nine spots available for the Rio 2016 Paralympic Games.
More information can be found on the event website.
IPC Ice Sledge Hockey European Championships
Six teams are vying for the 2016 European title over five days of competition until 10 April in Ostersund, Sweden. Italy will try to retain their gold medal from 2011, when the last Euros took place, but they will have to get past Paralympic silver medallist Russia, host Sweden, the Czech Republic, Germany and Norway. Full stats, along with live stream, are available on the event website.
IPC Swimming European Open Championships; Rio 2016 Test Event
The European Open Championships (30 April – 7 May) is the last major stop for swimmers ahead of the Rio 2016 Paralympics. Set to take place in Funchal, Portugal, the competition will feature more than 450 swimmers from 50 countries, including Belarusian Paralympic champion Ihar Boki and Brazilian superstar Daniel Dias.
All heats and finals will be shown live, alongside live results, at the Funchal 2016 website. Tickets are available free for download.
But prior to the Europeans, swimmers will get to feel the Paralympic pool ahead of Rio 2016, with the Test Event held 15-20 April at the Olympic Aquatics Stadium.
IWRF 2016 Paralympic Qualifier Tournament
The top two finishers from the International Wheelchair Rugby Federation (IWRF) Paralympic Qualifier Tournament will stamp their tickets to Rio 2016. The pressure is on for the six teams – Denmark, Finland, France, Germany, New Zealand, USA – battling for the remaining spots, as the tournament runs 18-21 April in Paris, France. Visit the IWRF website for more.
Pre-Paralympic Tournament (football 7-a-side)
The International Federation of Cerebral Palsy Football (IFCPF) Pre-Paralympic Tournament is the last official test for the qualified teams before heading to Rio 2016.
Argentina, Brazil, Great Britain, Ireland, the Netherlands, Russia, Ukraine and the USA will face off beginning 30 April in Salou, Spain. More information on the team draws and schedules can be found on the event website.
Paralympic Qualification Regatta (rowing)
The final qualification opportunity for rowers takes place from 21-23 April in Gavirate, Italy. Paralympic spots in the AS women's single sculls (ASW1x), AS men's single sculls (ASM1x), TA Mixed double sculls (TAMix2x) and LTA Mixed coxed Four (LTAMix4+) will be contested. For more information, visit World Rowing's website.
IWAS Asian Wheelchair Fencing Championships; IWAS World Cup
Paralympic qualifications are up for grabs in the International Wheelchair and Amputee Sports Federation (IWAS) Asian Wheelchair Fencing Championships 2016. The competition is being held in Hong Kong, China, until 11 April and is live streamed on the event website. The second World Cup of the season will also take place later this month, beginning 27 April, in Laval, Canada.
IPC Athletics Grand Prix (Italian Open Championships; China Open Athletics Championships) and Marathon World Cup
Around 237 athletes from 40 countries will line up over the three days of competition (8-10 April) for the Grand Prix in Grosseto, Italy, which doubles as the Italian Open Championships. With the European Championships, also in Grosseto in June, on the horizon and the Rio 2016 Paralympic Games less than five months away, exciting performances should be on the cards. The Grand Prix series then moves to Beijing, China, from 22-24 April.
The top marathon wheelchair racers will head to London, Great Britain, on 24 April to take on the Virgin Money London Marathon. Expect familiar faces such as the USA's Tatyana McFadden and South Africa's Ernst Van Dyk in the mix.
Kazakhstan Open; Suomi Open (wheelchair dance sport)
The first wheelchair dance sport competition of 2016 takes place in Astana, Kazakhstan, from 9-10 April, and will be followed up by the Suomi Open on 30 April in Lohja, Finland. All performances will go toward world rankings. For more information, visit the IPC Wheelchair Dance Sport website.
Handi Equi' Compet (para-equestrian)
The International Equestrian Federation (FEI) confirmed the 30 nations who earned spots in Rio. Now it is up to the nations to select which rider/horse combinations they will send, and much will be decided between 8-10 April, in Deauville, France, where 50 riders from 17 nations are competing.
Pentrith ITU World Para-Triathlon Event
The International Triathlon Union (ITU) World Para-Triathlon series continues in Australia on 24 April, as athletes continue to battle for qualification points for the Rio de Janeiro Paralympic Games this summer.
Home favourite and national champion Kate Doughty leads the women's PT4 class, while defending world champion Bill Chaffey heads the men's PT1. Visit the ITU's website for more.
ISAF Sailing World Cup
The third World Cup of the 2015-16 season heads to Hyeres, France, from 25 April to 1 May. Races in the 2.4mR, SKUD 18 and sonar will be contested, and it is the last leg for Paralympic sailors before the Rio 2016 Games.
BISFed 2016 World Open
Held from 26-30 April in Montreal, Canada, the competition is expected to bring athletes coming off from last month's Individual Boccia World Championships. It is the last competition before the 30 April deadline for athletes to better their rankings toward the Rio 2016 Games. Visit the Boccia International Sports Federation (BISFed) website for more.