From Olympic ambition to Paralympic equestrian rider
Rodolpho Riskalla returns to competition at Mannheim ahead of World Equestrian Games
03 May 2018
Imagen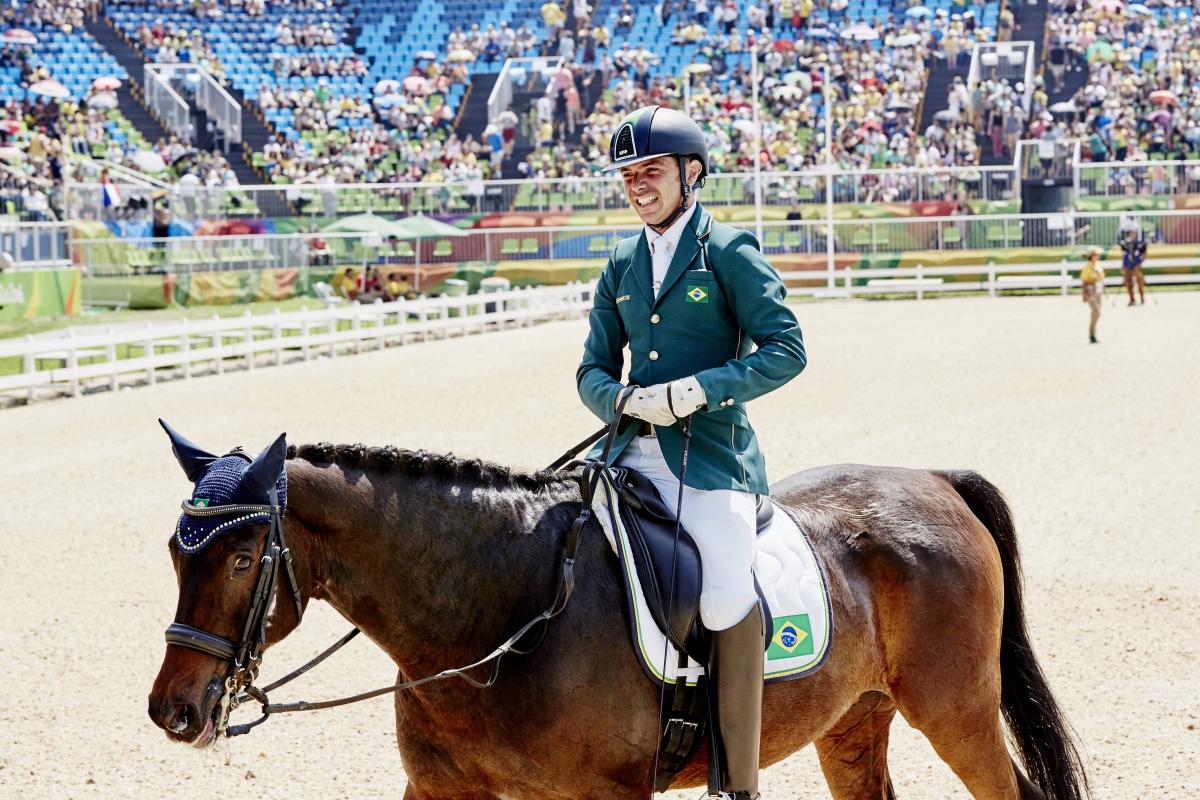 ⒸFEI/Liz Gregg
By Rob Howell | For the IPC
Hoping to qualify for the Rio 2016 Olympic Games, Brazilian dressage rider Rodolpho Riskalla moved to Europe in 2012 to concentrate on his sport and gain the international experience he needed to be picked for his nation's team.
He'd narrowly missed out on a place in the team for London 2012 but was determined not to let the chance to compete at a home Games slip by. And it was that determination to ride for his country at home which helped him through the most dramatic change in his life – circumstances which, had it not been for the Games, would have been even harder to cope with and recover from.
Riskalla moved to Paris, France, shortly after the London Games, confident that living on the continent would give him the exposure and international experience he needed. He was a talented rider, competing regularly in internal competitions, getting the scores he needed to bring him to the attention of selectors, and picking up wins, especially in competitions for younger riders.
In August 2015 however, 12 months out from the start of those Rio Games, Riskalla's life turned upside down. His father, back at home in Sau Paulo, became ill and sadly passed away. Having flown home to be with the family, Riskalla himself then contracted bacterial meningitis. Subsequently he lost his right hand, two fingers on his left hand, and had to have both legs amputated below the knee.
The following January, Riskalla got back on a horse, driven by the prospect of now competing at the Paralympic Games. "I just thought, 'OK we can do this again'," he said. "It was rushed and I pushed to do everything much quicker than I could normally do but I finally thought I can go to the Games. It was because it was Rio. I knew I would never see the Games at home again in my lifetime. I wouldn't have done it if it wasn't for Rio."
At the Games itself Riskalla was 10th in the grade III (now grade IV) individual test, a result which meant he didn't qualify to ride the freestyle. Either way though, he still talks enthusiastically about the whole Games experience. "When you compete with horses and you're already at a high level you want to do more – it's the Paralympic and Olympic spirit.
"Rio was amazing and a really nice experience, as a disabled person, to see other people similar to you. You also see that your own problems are not so big. And to ride in my home country with so much support from friends and family was incredible."
The year ended on a high for Riskalla, however, as he was named the recipient of that year's Federation Equestre Internationale (FEI) Against All Odds award, presented to him at a glittering awards night held in Tokyo.
Targeting Tryon
This year's FEI World Equestrian Game (WEG) in Tryon, USA, take place just over two years after the Rio competition, and the same determination which got Riskalla to those Games is in play again in 2018.
Riskalla's friend and sponsor Ann Kathrin Linsenhoff gave him one of her horses – Don Henrico – to ride in both Para and able-bodied competitions. "He's a really nice horse," Risalla said. "We competed at Deauville in France earlier in the spring and were a little disappointed with our results (fifth in both the grade IV individual and freestyle) but we got the scores needed to qualify for WEG. Now we have to carry on riding and wait and see what our national federation decides in a couple of months' time."
In the meantime, Riskalla will compete again at Mannheim in Germany in May and continue living and working in Paris. "I work for Dior there. I started in the store but now work in the event bureau helping to organise art exhibitions. They have been really supportive of me, throughout my illness and now they sponsor me at the shows I want to compete in."
He'll also be able to return to running, thanks to a new pair of Ottobock blades he is trying out. "I used to run before my illness and wanted to run again," he explained. "Ottobock have new blades for social running and other sports like playing volleyball. It's a great feeling to be able to run again."