Owen Pick: No gold, no problem
British snowboarder says Paralympic gold is the one that matters.
08 Jun 2017
Imagen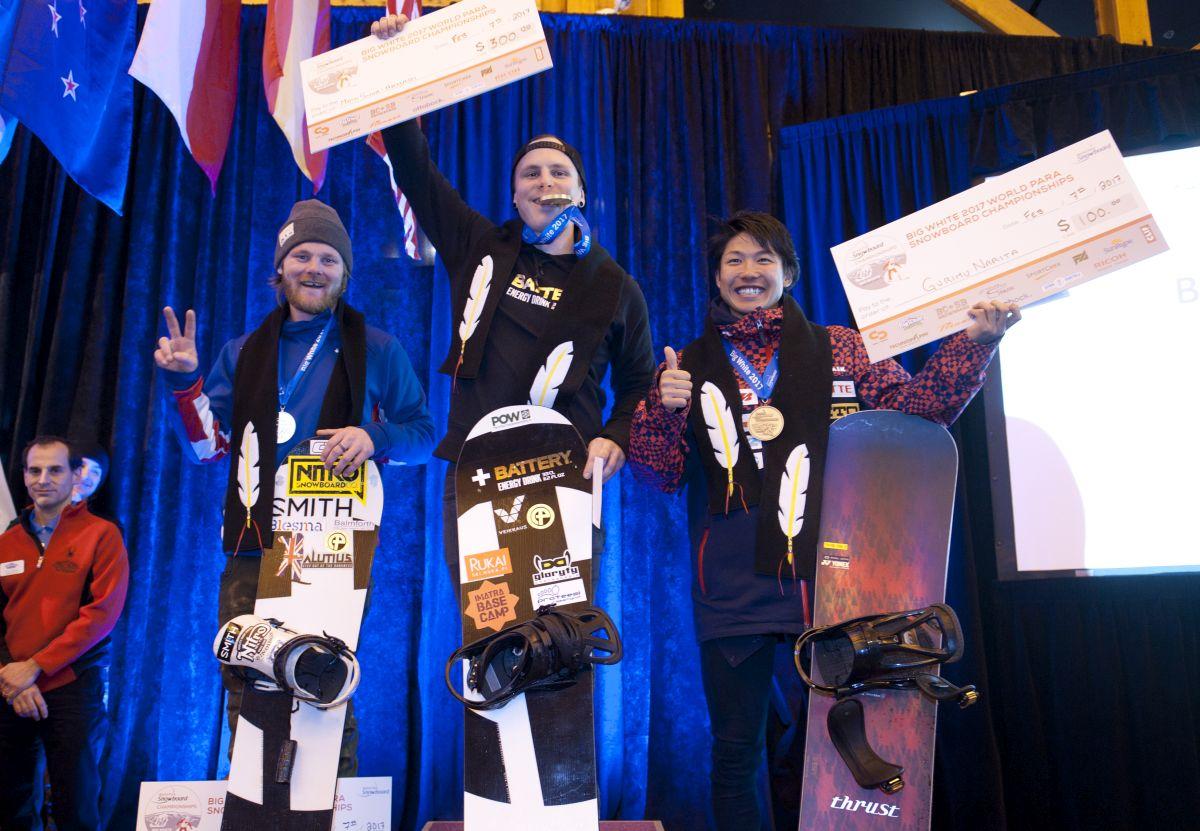 ⒸGavin Crawford
By Dave Phillips | For the IPC
"I want go out to South Korea, and win by two seconds so no one can even get near me."
Owen Pick might have a disadvantage competing in Para snowboard with the lack of snow and facilities in his home country. But the British World Championships medallist sees it more as motivation.
"I can't just walk out the back door go snowboarding, I have to travel," Pick explained. "Every time I go snowboarding it costs me at least GBP 700, at a bare minimum. But I like that – it's the beauty of it. I know I can go [to Pyeongchang 2018], and say I've worked incredibly hard for four years, and know how much I've spent. If I go there, and I don't happen to win or finish on the podium, I know I've done absolutely everything I can to get there."
The 25-year-old is coming off his most successful season, in which he won his first major medal – silver in the men's banked slalom SB-LL2 at the 2017 World Para Snowboard Championships in Big White, Canada.
He followed up with two podium finishes at the World Cup in La Molina, Spain.
He said there is a difference between what he expects at the PyeongChang 2018 Paralympic Winter Games and what he is aiming for.
"I want go out to South Korea, and win by two seconds so no one can even get near me," Pick said. "That's the way to do it. Why be just good enough? Why not be more than good enough? I plan to go there to absolutely be best prepared as I can, not thinking that I might win, but that there is no way on earth that these guys will get anywhere near me.
"However, you can't expect to win, because on the day, anything can happen. I could go around the first corner and get a pain in my leg, and there are things that are completely beyond my control. Boarder-cross is also a very mental sport, and if your head's not in the right space at that moment in time you're probably not going to win. I don't think anyone should ever expect to get it, because no one is ever that good."
Summer training
Most of the time Pick travels outside Great Britain to train. Recently he has been in the Netherlands and will travel around the world for the summer season.
"The first two weeks of July we're going to France, in August we go to Chile, and then in October we'll be on snow pretty much every day, getting as good as we can get. By the time we go to PyeongChang we go there with no doubt in our minds," he said.
Heading into Big White 2017, Pick knew it would be a challenge to reach the podium in both the snowboard-cross and banked slalom events.
"Generally my training went really well. I definitely felt myself progressing coming into Canada, but nothing really said to me 'I'm going to get a medal at this event,'" he said. "Everyone else is training at the same time. When I got there, I was expecting maybe to be in the top five as normal."
Instead Pick took the silver at Big White 2017.
But he could not officially celebrate until all the riders had finished their last runs.
"I got to the top, and everyone came up to me said 'Owen, well done.' I just said, 'Not yet, we've still got one more run to go.' So I took it in for a minute, and strapped in for my final run," Pick said. "My coach was at the bottom giving us the live timings as the guys were coming through the gate, and I knew that Matti Suur-Hamari had beaten my time, and I knew [Japan's] Gurimu Narita had gone past me also. I knew I had to push it. I did my final run, got to the bottom and asked 'What's going on?' I'd managed to push Narita into third place, but Matti had managed to beat me by half a second. It was incredible, it felt really cool, and it was a lot of fun.'"
But missing out on gold might have been the best result.
"If I'd got gold there, it would have meant everyone else would start to work even harder," Pick said. "The most important gold is the one at the Paralympics. It was cool to get on the podium, and really nice to have everyone congratulate me, but it doesn't change me or what I do. Even when I did those runs, I thought 'I could have done this better, I could have done that better.'"