Para equestrian: Q&A with Roberta Sheffield
Get to know the Canadian grade III rider ahead of Rio 2016.
05 Sep 2016
Imagen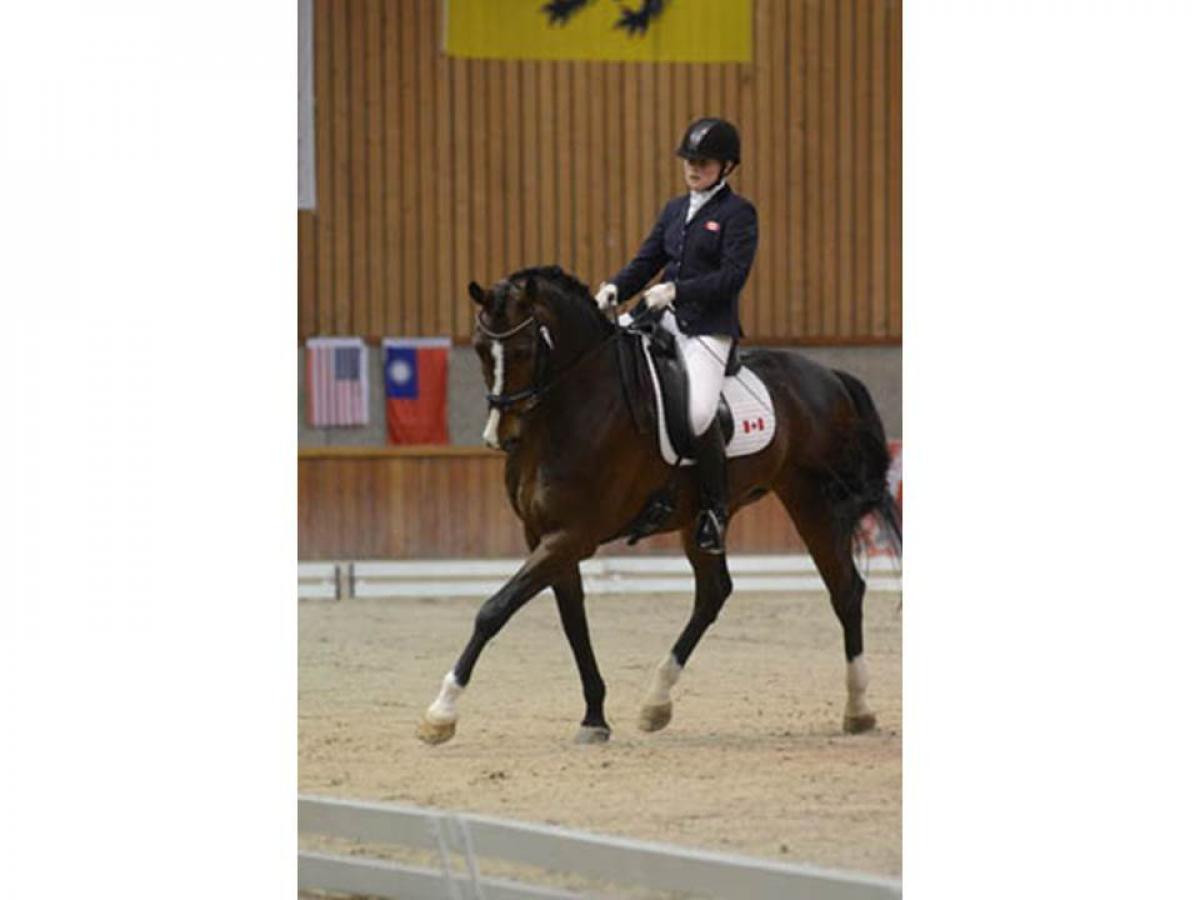 ⒸFEI
By Robert Howell | For the IPC
Team Canada could well surprise a few pundits at this year's Rio 2016 Paralympic Games. Among their strong contingent, and making her Paralympic debut, is Great Britain-based Roberta Sheffield (grade III).
Paralympic.org: How did you get into your sport?
Roberta Sheffield (RS): I started riding when I was five years old, at Gaddesden Place RDA (Riding for the Disabled Association) Centre. Then I rode my own ponies and showing Welsh Cobs as a teenager. I turned to dressage after reading Politics and Public Policy at Aston University when I was offered a job as a British Dressage apprentice to Gareth Hughes. He was the one that suggested I try Para equestrian, so I went and got classified and it all snowballed from there. I still train with Gareth and enjoy competing in able-bodied as well as Para sport.
What does it mean to you personally to represent Canada at Rio 2016?
RS: Canada has always inspired me. I have always identified as Canadian, much to the surprise of many around me as I was growing up. Not only do I find Canada to be the most beautiful country, with a wonderful cultural attitude, but I enjoy the support and positive attitude it brings my way. It is a tremendous honour to be able to represent the people and values of my country on the international sporting stage.
What would it mean to you personally if you won a medal in Rio?
RS: Winning a medal in Rio would be an amazing recognition of the many years of belief and hard work, not just by me but by the hugely supportive team behind the scenes. It truly does take more than a village to even get to Rio, it takes a country! I am so lucky to be Canadian!
If you had to pick five words to describe yourself what would they be?
RS: Driven, gladiator, integrity, empathic, philosophical.
Who do you see as your biggest rivals in Rio?
RS: (South Africa's) Philippa Johnson-Dwyer and (Norway's) Ann Cathrin Lubbe, both Grade IV Paralympic gold medallists.
Do you have any superstitions or routines which you go through when competing?
RS: I'm not really into all that stuff but I do always check my horse and her tack before I get on, usually adjusting something. Double Agent, Darcy, is my dancing partner so the buck stops with me to make sure she is as comfortable and happy as possible. We know each other so well - I have owned and trained her for the last seven years - that we read each other's moods. She is a living, breathing, feeling entity in her own right, not just a piece of sports equipment. Like all ladies, she doesn't appreciate being taken for granted.
What advice would you give any riders starting out in your sport?
RS: Work hard on yourself, study as a rider then play with your horse, keep it light and fun. It's all about communication and cooperation.
If you could pick one thing about your sport what do you most enjoy?
RS: I love working with and training my horses. That, to me, is my nirvana. Training is the part of the journey we do together every day. It is artistic, building and maintaining a partnership in harmony over the years; creating common language with this hugely powerful yet sensitive creature.
If you could have dinner with anyone, living or not, who would that be?
RS: That's a really hard one, there are so many interesting artists, musicians and intellectuals as well as inspiring people from the world of horses. Maybe my bizarre cooking could persuade Trent Reznor (Nine Inch Nails) to compose me an original freestyle?
Who is your biggest inspiration in life?
RS: I was lucky enough to get to see (German Olympic gold medallist) Reiner Klimke ride when I was a child and his riding has always inspired me. It was the dawn of modern dressage, there was so much harmony as well as expression, truly living by "My horses are my friends, not my slaves." I also love his quote that to ride well takes "concentration and a little bit of power."
Para equestrian competition at Rio 2016 begins 11 September, with medal events taking place 13-16 September, at the Olympic Equestrian Centre in Deodoro.
__
Sport fans from around the world can now buy their Paralympic tickets for Rio 2016 from authorised ticket resellers (ATRs)
The IPC's Global ATR is Jet Set Sports, and Rio 2016 tickets and packages can be purchased on theCoSport website.
Residents of Brazil can buy 2016 Paralympics tickets directly from the Rio 2016 website.
Visa International is the exclusive payment card and the official payment system for the Paralympic Games.