Para Nordic newcomers take part in Agitos Foundation camp in Oberried
Athletes and coaches from 10 nations learned from experts at state-of-the-art venue
Imagen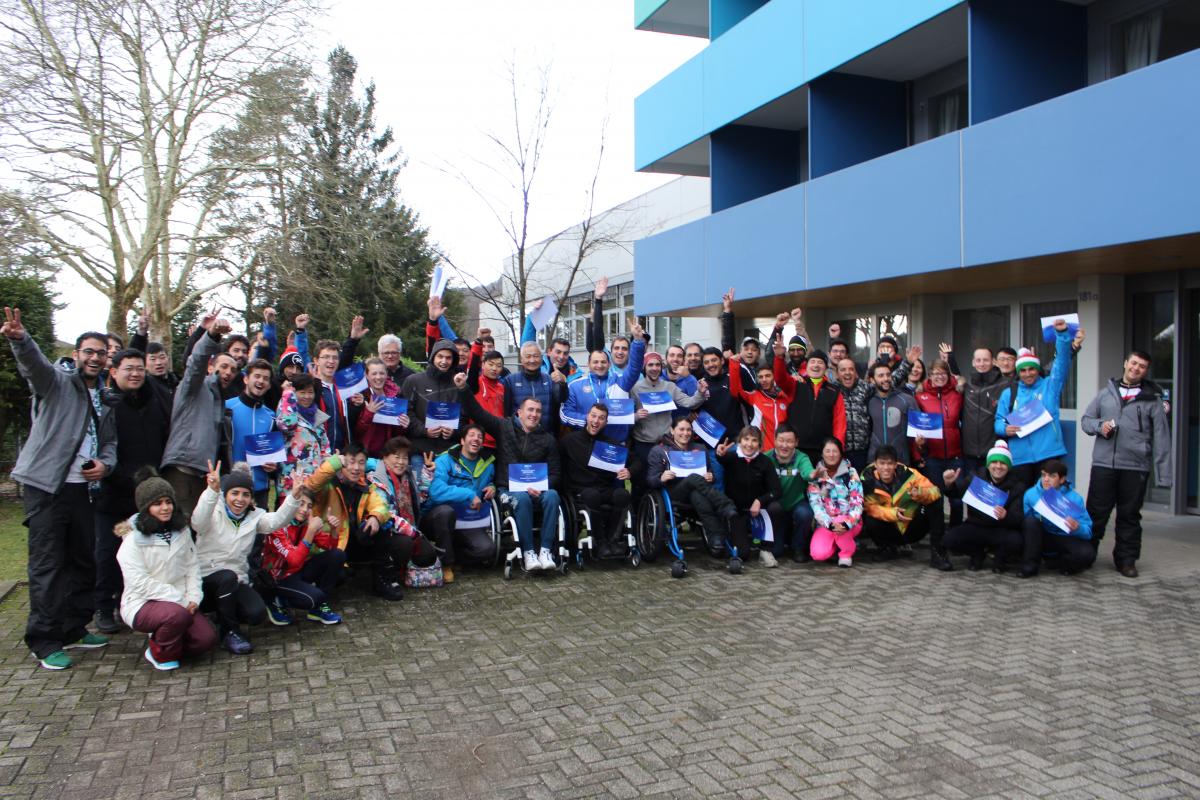 ⒸAgitos Foundation
By Agitos Foundation
"I saw some talented athletes and I am sure that, if they keep on training and get good equipment, then we'll see some of them in the next World Cups with good results."
Having already taken part in a one-week training camp, athletes and coaches from 10 nations will get to immediately put their new-found knowledge and skills to the test at the World Para Nordic Skiing World Cup, which begins 20 January in Oberried, Germany.
Organised by World Para Nordic Skiing and supported by the Agitos Foundation, the camp was held 10-17 January at the same site of the Oberied World Cup, hosting 49 athletes, coaches and officials and and giving them the opportunity to learn and develop their skills and knowledge in the sport. After a packed week of training, athletes then went through classification and are set to compete for the first time in cross-country skiing – and, hopefully, build their way to the PyeongChang 2018 Paralympic Winter Games.
Participants from Argentina, Armenia, Bulgaria, Chile, Georgia, Iran, Kyrgyzstan, Mongolia, Serbia and Tajikistan trained in the state-of-the-art facilities of the Olympiastuetzpunkt Freiburg-Schwarzwald, home of the German Para nordic skiing team. The training centre has a 3mx5m treadmill that simulated the PyeongChang 2018 cross-country course, which athletes had an opportunity to practice on.
The training camp was led by German team's head coach Ralf Rombach – a former cross-country skier who has two Paralympic medals as a guide, in Nagano 1998 and Salt-Lake City 2002 – and his team.
"It was a great experience for me and I hope that all athletes and coaches had a good time in Germany. It was nice to see that, among so many different nations, every athlete has the same goal," said Rombach. "I saw some talented athletes and I am sure that, if they keep on training and get good equipment, then we'll see some of them in the next World Cups with good results."
For some participants, this was the first opportunity to practice in the snow – like Iran's Hassan Mirzahosseini, a rock-climbing champion who recently represented Iran in the PyeongChang 2018 Olympic Torch Relay.
"We started training in the gym five months ago in Iran, but unfortunately we didn't have enough snow in our country this year. We hope we can achieve our best results in the competition," said Mirzahosseini. "I wanted to thank the Agitos Foundation for such an incredible experience. I'm coming back to Iran full of ideas and I will definitely share this experience with other people to help expand Nordic skiing in Iran."
Chile's Silvana Camelio, who has been an alpine skier and coach, is also eager to share the knowledge she gained about cross-country skiing back in her country.
"It has been a wonderful experience to our athlete. I have been skiing for all my life and this training centre is wonderful, we don't have anything similar in terms of technology in our country. We have learnt a lot and we hope to take this knowledge to Chile to make this sport grow."
The Nordic Development Camp – Agitos Foundation Sessions is part of the NPC Development Programme, which aims to build capacity within National Paralympic Committee's around the world. Supported by the IPC's Worldwide partnership with Toyota – who also provided transportation for the camp –, the programme will run until 2024 and will reach over 140 countries, aiming to strengthen the capacity of NPC's and create a sustainable impact on the growth of the Paralympic Movement.