Paredes motivated after a satisfying season
After a top three finish in both the banked slalom and snowboard-cross World Cup, the Spanish snowboarder is ready for PyeongChang 2018.
06 Apr 2017
Imagen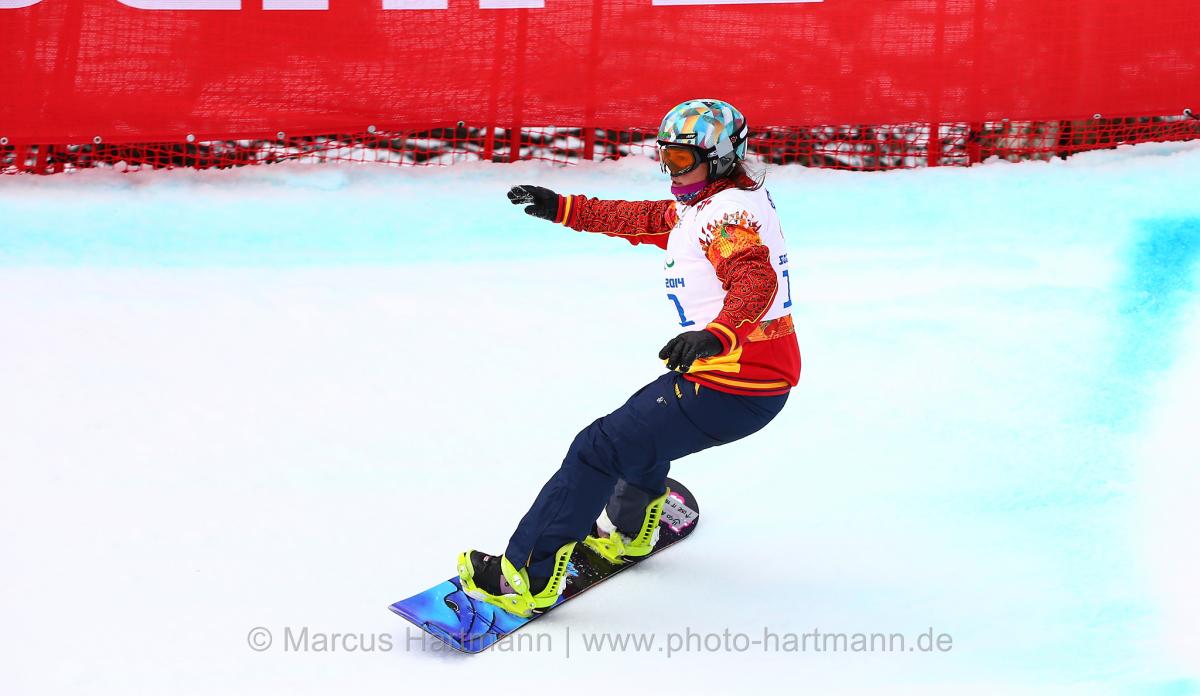 Ⓒwww.photo-hartmann.de
By By Giuseppe Di Florio
"This season has been very satisfactory, I am really happy with my progress."
Spanish Para snowboarder Astrid Fina Paredes has her sights set on the PyeongChang 2018 Paralympic Winter Games after her best ever season competing in the women's SB-LL2.
Paredes reached her first World Cup podium in the banked slalom on her home slopes of La Molina in February where she trailed Dutch rider Lisa Bunschoten by just 0.09 seconds. A trio of top three finishes followed, helping her to second in the final banked slalom rankings and third in snowboard-cross.
Even though she missed the podium at the Big White 2017 World Para Snowboard Championships in Canada, Paredes is excited by her performances overall.
"This season has been very satisfactory, I am really happy with my progress," she said. "I started with this sport only five years ago and it motivates me a lot to see how I'm advancing little by little."
The Barcelona-based snowboarder defines herself as a "fighter." She is positive and driven to set high goals.
But in 2009 her strong character was put to the test after a motorbike crash.
"After the accident my foot was catastrophic but doctors tried to save it," Paredes said. "After three years and several surgeries I got a hospital bacterium that infected my foot until reaching the bone. Doctors told me I had two options, either to remove all bones from the foot and end up with a useless foot or to amputate. After a few hard months I decided to amputate."
It was during those years that the Spanish rider tried snowboarding and joined the national team.
"Since for three years I have been unable to walk, I wanted to try everything," Paredes said. "A friend of mine, Kiko Caballero, is a snowboard teacher and invited me to try. I did two days of training with him and when I returned home he told me he had heard the national team was looking for new entries. Without thinking about it too much, I introduced myself, I got picked and they taught me from scratch."
After competing all around Europe and in the USA, Paredes fulfilled her dream of competing at a Paralympic Winter Games in 2014. She finished sixth in the snowboard-cross in Sochi, Russia.
In March 2017 she travelled to the PyeongChang 2018 Paralympic Winter Games Test Event where, after losing the small final again to Bunschoten, she finished third in the snowboard-cross World Cup rankings.
In a few weeks, after a short break, Paredes will start to prepare for next season with a focus on PyeongChang 2018.
"I will work technically, physically and psychologically. During the summer we will make some escape to the glaciers to keep improving and reach 100 per cent of the condition," she said. "I hope to demonstrate everything I learned, and above all enjoy everything I do. I liked the slopes in South Korea and I hope to do well next year".
Paredes will try to succeed in the wake of her two national heroes, able-bodied riders Queralt Castellet and Luca Egibar.
"They both inspire me a lot. Castellet has had some hard times but she has taken the strength to continue pursuing her dreams. Egibar is a born boarder-cross champion, I love his technique and his way of thinking when it comes to competing".
PyeongChang 2018 will take place from 9 to 18 March 2018 and will feature 80 medal events in six Winter Paralympic sports.