PyeongChang 2018: Alpine skiing flash quotes day 1
Athletes' reaction following opening day of competition
10 Mar 2018
Imagen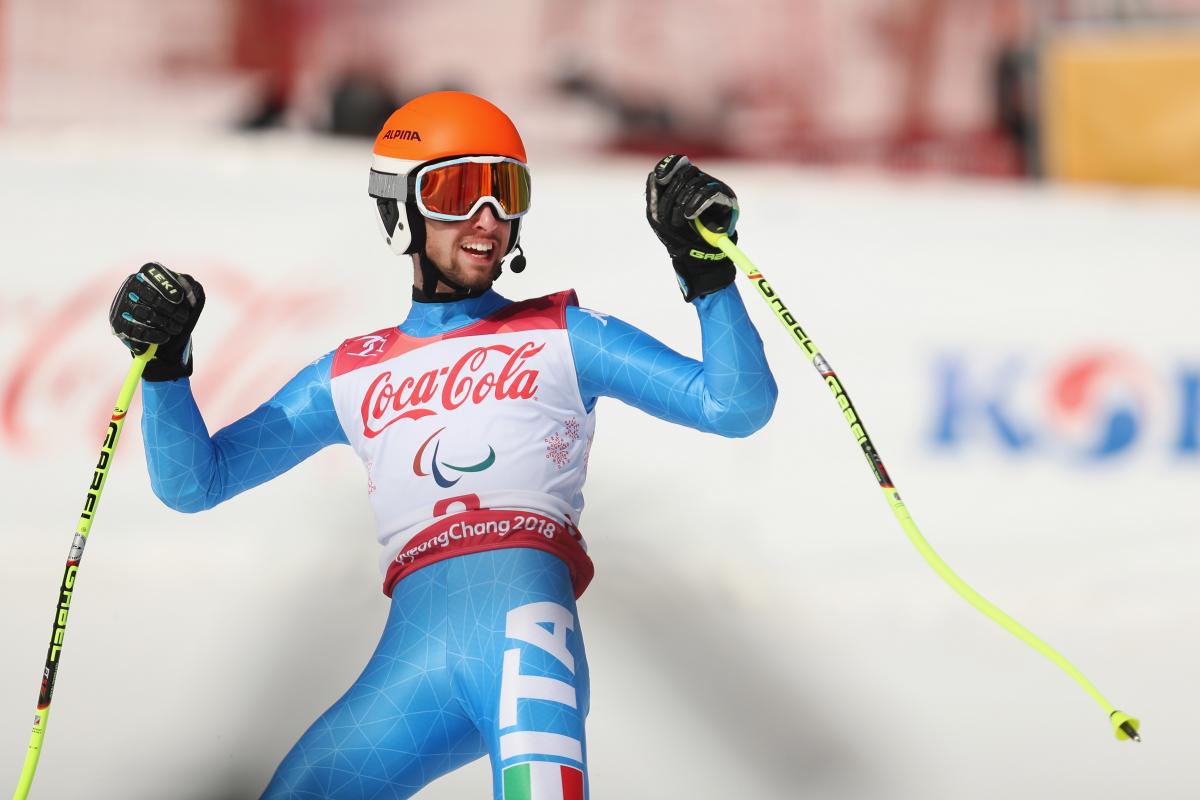 ⒸGetty Images
Henrieta FARKASOVA (SVK) - gold - women's downhill vision impaired
"It's been great, amazing... It's definitely different to be confident in your abilities rather than arrogantly confident toward other (athletes) and I think this is the difference that we have. We are confident in what we can do and what we're able to do to perform. But we never, ever would have reached that point of saying, 'Yeah we can win it all, there is no one better than us.'
"No, we admire all the girls that ski with us, they're great competitors and we always want to put our best (down). And we're always happy when everyone finishes so we can really win fair and square and prove (to) ourselves that we are the best out there, not just because someone else made a mistake.
"There is always a place for a gold medal from the Paralympics."
Millie KNIGHT (GBR) - silver - women's downhill vision impaired
"That was amazing, oh my days. That course is fantastic, I'm so happy. It's a little bit different (to the world championships) but we just treated it like any other race. I was solely focused on (guide, Brett WILD, GBR) and what he was saying and when we crossed the line I heard the massive, 'Yes!' And I knew we'd had a good one."
Anna SCHAFFELHUBER (GER) - gold - women's downhill sitting
"I was very nervous, I had made my mistakes so I was not sure it would be enough for gold when I saw my time. I was sure she (Claudia LOESCH, AUT) would be faster on the first intermediate because I had my first big mistake before the first intermediate.
"It was a good run but we have to analyse it for super-G tomorrow (Sunday) to make it better."
Marie BOCHET (FRA) - gold - women's downhill standing
"I can't imagine how I do it for the moment. It was a big journey to get here.
"Four-out-of-five last time (at Sochi 2014), we will see about five-out-of-five this time."
"Alpine skiing is really special, every day it's different, you have to adapt. You never know who will win, what will happen. When we talk about the Paralympics with the team, I tell them, 'What never happens, happens at the Paralympics'.
Andrea ROTHFUSS (GER) - silver - women's downhill standing
"[I can't beat Bochet] on the downhill. If I look back to the other two downhill races this season, I was not happy with my performances. And with just one training run here, it was going to be really hard.
"Maybe I can beat her, I have four other chances to beat her. Let's see."
"I am so happy with this run, I was struggling with the training and now a silver medal - Yeah."
Mac MARCOUX (CAN) - gold - men's downhill vision impaired
"It was awesome, really. I'm feeling pretty numb right now. It's a pretty overwhelming feeling and I couldn't be more happy at the way things have ended up today."
"It's been amazing. I started skiing with Jack at the beginning of last season and it's been awesome. I can't say more about this guy, he's awesome. On the hill he's so strong, you can tell that he instils confidence in me when I see how strong a skier he is and off hill he's great to be around. I couldn't have got luckier with the guy."
Jakub KRAKO (SVK) - silver - men's downhill vision impaired
"It was brilliant, my skis were prepared very well, they were pretty fast, so I was surprised by that, therefore I did a lot of mistakes. You can see everyone makes mistakes, (but) it was second place so I'm pretty happy.
"I'm not a gold downhill racer, I'm preparing for the super-G, another discipline, so I am pretty happy that I won silver. I feel like I win a gold medal in another discipline. It's a really important time for me."
Giacomo BERTAGNOLLI (ITA) - bronze - men's downhill vision impaired
"I really didn't expect this medal. I have to think about it.
"It was my first race and first training in downhill in 12 months.
"I don't know how I did it, but if I have an idea, I want to make it happen. No fear, no nerves today, nothing. I don't know why but I was calm.
"Maybe it's because of the pasta."
Theo GMUR (SUI) - gold - men's downhill standing
"It's incredible. I didn't (think I would win) this morning. (I thought) it would be good but I've won a gold medal today, it's fantastic. It's my first Games, I have no pressure. I just wanted to ski fast and today I can say my dream can become reality."
"The plan now is to do the super-G, the giant slalom also and maybe the combination. And we will see what happens. I think maybe I can do one more medal."
Arthur BAUCHET (FRA) - silver - men's downhill standing
"I did some mistakes in my technical attitude but at the finish it was enough, just magic.
"I think (I did not have enough to win gold) because without mistakes, we don't know. I did the best ski I could do with mistakes, but there is always mistakes so I think it's good like this.
"It's magic. I did third in the last training downhill and now I do second, it's just magic.
Markus SALCHER (AUT) - bronze - men's downhill standing
"The conditions were soft, three or four of my turns weren't perfect. That's why it's only bronze.
"My goal was to get a medal, it doesn't matter which colour. It's a good beginning."
"It's warm and the snow is soft but it's normal, it's spring. Normally I like these conditions but the problem was it was a bit bumpy and if it's bumpy I can't do clean turns in the downhill position. Because of my disability but I must do it better tomorrow. I know this and I will do it.
Andrew KURKA (USA) - gold - men's downhill sitting
"This right here is redemption.
"I woudn't change Sochi, I wouldn't change anything that has happened throughout my life. It has all been learning experiences that have helped me to grow.
"It's been my journey to gold. It makes it that much more meaningful, since I have broken my back, my femur, all the bones I have broken throughout my career. All the pain, all the anguish, all the doubt I have ever had, it's all worth it."