PyeongChang 2018: Mark Soyer eyes Paralympic debut
Australian alpine skier fully recovered from injury and ready for Winter Games
08 Mar 2018
Imagen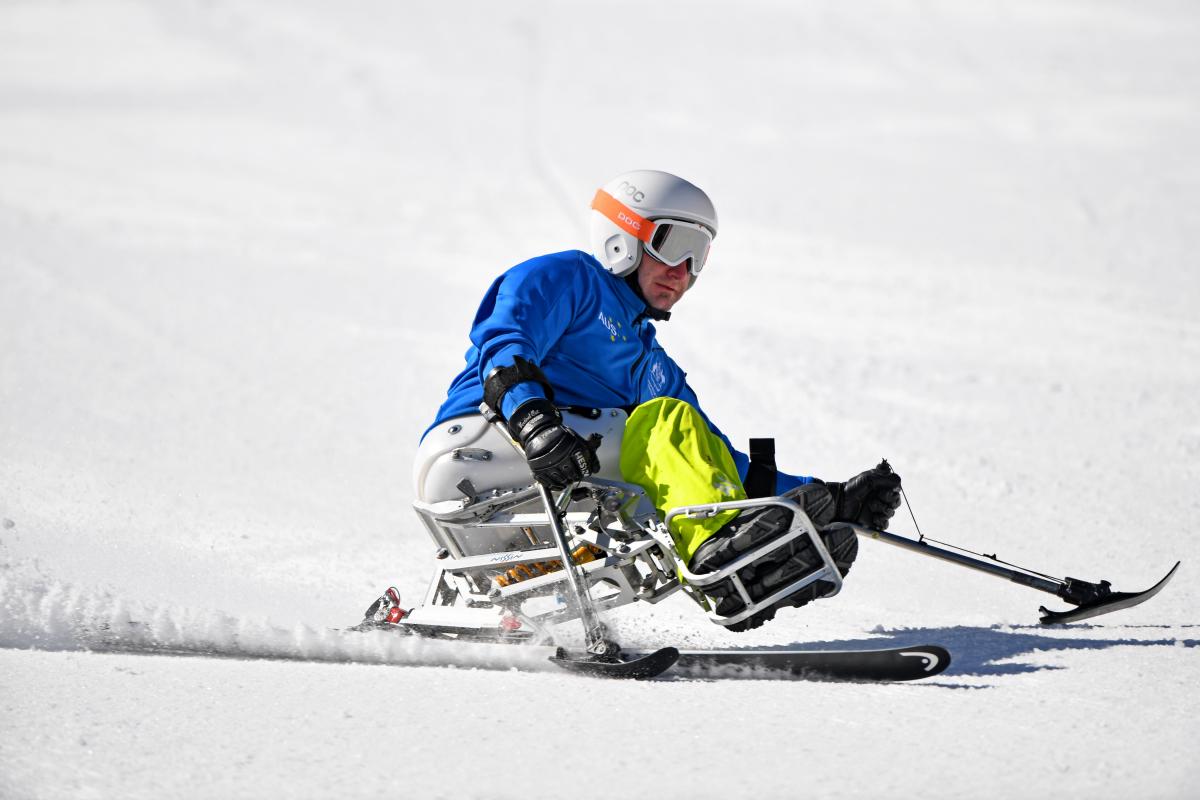 ⒸAustralian Paralympic Committee
By IPC
"Para sports have been pretty much my whole life over the last 12 years. I get to travel the world and see lots of things I would not otherwise see. It gives me a real sense of fulfilment."
Mark Soyer was competing at his second World Championships in Tarvisio, Italy, in 2017, when he fell during one of his runs and dislocated his shoulder, broke his collarbone and 12 ribs.
Far from giving up, and knowing the Paralympic Winter Games were only a year away, the Australian alpine skier began a long rehabilitation process to get ready for the following season.
"This injury has been a bit of a work in process. It took six, seven months. It was an extensive rehab but I feel strong again," Soyer said.
But this was not the first time the 39 year old had to overcome a big obstacle in his life. At age three, he was diagnosed with leukaemia. Following a three-year battle he was declared to be in remission. He relapsed at age eight, and recovered a second time.
Later on in 2004, he had a motorcycle accident which resulted in paraplegia. Soyer spent five months at hospital but recovered once again. "I have been told I am quite stubborn," he said when asked about where he finds the strength to move forward over and over again.
"I just get up every day and do what I do, either if it is recovering from something or doing what I have planned for the day.
"You just face the situation because there are so many things to look forward to. Look for support, family or friends. Find something you are passionate about and immerse yourself in that. I love skiing, it drives me forward, make me keep going.
"Life keeps changing and you need to keep changing with it. If you are passionate and happy doing something, keep doing it."
Looking ahead to his first Winter Paralympics at PyeongChang 2018, the 39 year old plans just to "ski as best as I can. If I can do that I will be pretty satisfied. Everyone dreams of the victory but if that does not happen and I skied well I will already be satisfied."
Soyer ended 19th in the men's sitting 2017-18 World Cup overall standings. "The skiing has been pretty good, it has its ups and downs, but the last few training days have been really good so looking forward to competing," he said.
After all he has lived through, Soyer is grateful for the life he is now getting to live through Para sports.
"Para sports have been pretty much my whole life over the last 12 years. I get to travel the world and see lots of things I would not otherwise see. It gives me a real sense of fulfilment."
Tickets for PyeongChang 2018 can be purchased here.
Every competition as well as the Opening and Closing Ceremonies can be watched live right here on the International Paralympic Committee's website. Paralympic.org Highlights of each day's action will also be made available.