PyeongChang 2018: Snowboard flash quotes day 7
Athletes give their reaction to the banked slalom events
16 Mar 2018
Imagen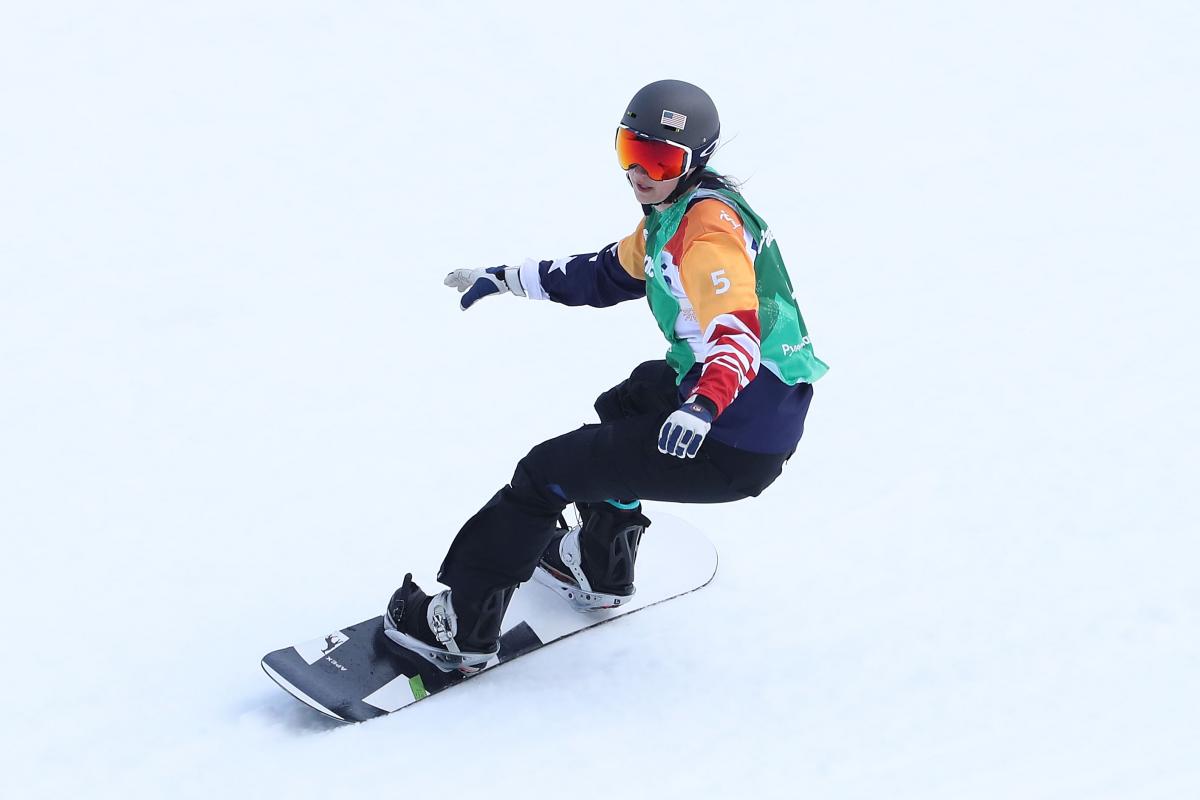 ⒸChung Sung-Jun/Getty Images
Bibian Mentel-Spee (NED) - gold - women's banked slalom SB-LL2
"I was excited though a little bit concerned as well. I had no idea I could pull it off, but I had a really good talk with my coach and trainers and they all said, 'Bibian you can do it, just make a clean run, put the board more on the edge, go for it. You can do it.' I thought, 'It's now or never,' and I pulled it off. I'm really stoked."
Brenna Huckaby (USA) - gold - women's banked slalom SB-LL1
"It was cool, it was close. It kept it fun and kept me on my toes for sure. I always think it's all about having fun and that was my main focus (on the final run): to keep if fun, keep it flowy and hope for the best, and that's what I did."
Mike Minor (USA) - gold - men's banked slalom SB-UL
"I just couldn't believe everything fell so perfectly into place when I needed it to most. There was a lot of pressure on me before I came out of that gate at the top. I had one deep last breath before I went and told myself, 'It will be what it will be, run your lines and enjoy this race'.
"We are always very hard on ourselves and critical."
Noah Elliott (USA) - gold - men's banked slalom SB-LL1
"I had fun on the course. The conditions were tough, the ice was bulletproof. It made the course really fast.
"On a course like this they say smooth is fast."
Mike Schultz (USA) - silver - men's banked slalom SB-LL1
"Noah was on the gas today and just riding so smooth. The faster man won today.
"We push each other and the way, in the last year, we have elevated in speed and control is impressive. It's been a lot of fun.
"Having two golds would have been rad but having a gold and a silver, I definitely count today as a success."
Gurimu Narita (JPN) - gold - men's banked slalom SB-LL2
"Perfect feeling. I did a perfect run, I got first place. It's a perfect situation for me.
"This is my dream, I want to show my sport to disabled people, injured people."
Evan Strong (USA) - silver - men's banked slalom SB-LL2
"I had so much gas in the tank and I knew the course (in the third run).
"In a lot of ways those last runs feel slower because you can anticipate what's coming. Of course you hope it's faster.
"I just had fun with it, definitely the pressure was on because I was sitting in fourth and I didn't want to end up with another fourth place. So many people put down fast times but it didn't make me feel like, 'Oh I am going slow,' it just gave me more data that the course is running faster. And I was like, 'Can I go faster? Absolutely I can go a lot faster.'
"It's stressful but it's fun to be able to perform under pressure."