Round-robin concludes at World Wheelchair Curling Championships
China, Finland and Slovakia join Russia in the play-off games.
12 Feb 2015
Imagen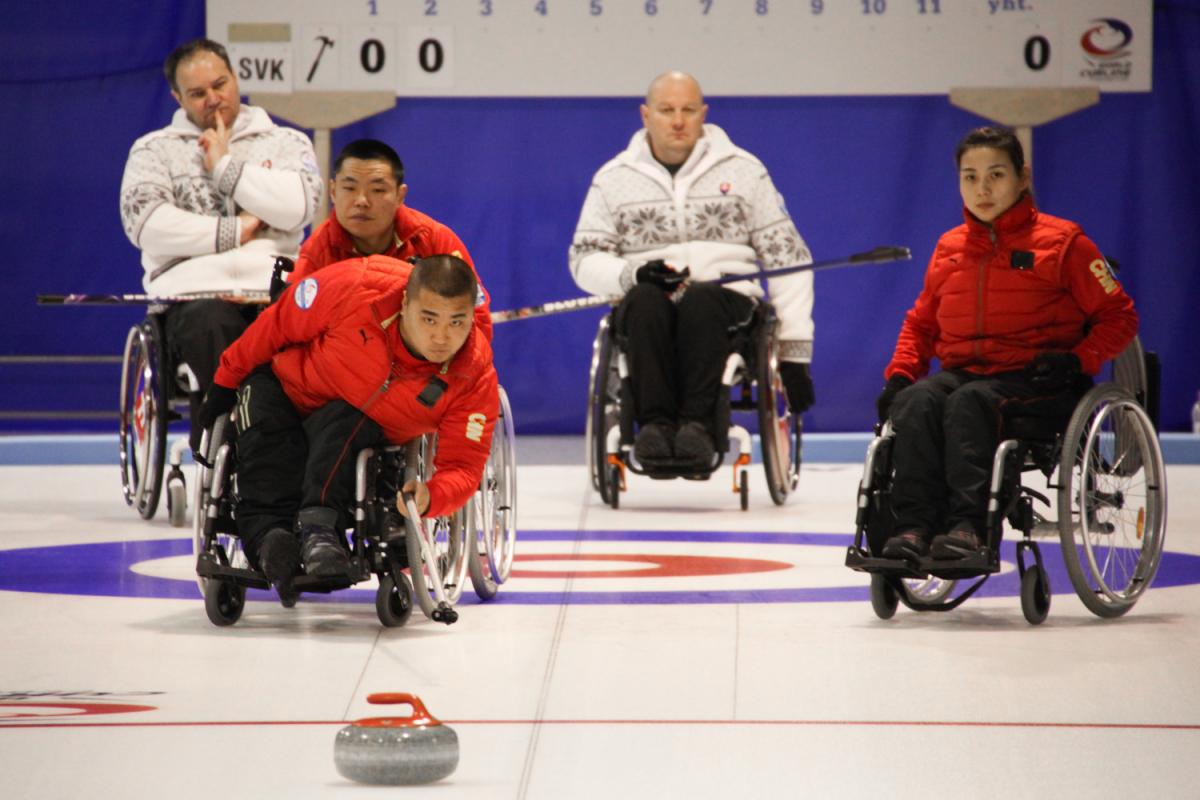 Ⓒ© WCF / Alina Pavlyuchik 2015
By World Curling Federation
China, Finland and Slovakia joined Russia in the Page play-offs following the conclusion of the round-robin stage of the World Wheelchair Curling Championships 2015 being played at the Kisakallio Sports Institute in Lohja, Finland.
China's win against Norway and Russia's win against Germany in the morning session means that Russia will play China in the Page 1v2 play-off.
Finland's 8-4 victory over Scotland and Slovakia's 8-5 win against Norway in the afternoon session sees them go into the Page 3v4 play-off.
This is the first time that Finland has qualified for the World Wheelchair Curling Championships play-off stages and are therefore guaranteed to finish in their highest ever ranking at this event.
At the bottom of the standings, Norway finished in tenth position and have been relegated to the World Wheelchair Curling Qualification event.
Sweden, Germany and Scotland all finished with a record of three wins and six losses, however as Scotland and Germany beat Sweden during the round-robin, Sweden ranked below them and have also been relegated.
As a result, Scotland must now play Germany in a tie-breaker, with the loser relegated along with Sweden and Norway.
Both the 1v2 and 3v4 Page play-off games, along with the relegation tie-breaker, will be played at 15:30 (local time) on Thursday (11 February).
The other scores in the afternoon session saw China defeat Sweden 6-5 while Germany put an end to the USA's play-off hopes as they won 10-5, largely thanks to a score of five points in the first end.
Russia meanwhile finished off the round-robin with a 100 per cent record as they defeated defending champions Canada 6-4 to end their pursuit of a play-off spot.
Earlier, in the morning session of play, a score of three points in the fourth end helped China on their way to their 5-1 victory against Norway after seven ends of play, a win which secured their place in the 1v2 play-off against Russia.
After this game, China skip HaiTao Wang said: "Because of how we've been playing this week we were confident that we were going to qualify and we are very happy that we have. This morning, Norway made some mistakes that we were able to take advantage of – that was the key to getting our win."
Scotland's game against the USA proved tight, with single point scores throughout before Scotland claimed a 4-2 victory.
Sweden picked up their third win of the Championships during session eight as they defeated hosts Finland.
Skip Jalle Jungnell and his team from Sweden picked up a crucial score of three points in the third end then followed that up by stealing two points in the fourth end to lead 6-1 by the fourth end break.
Sweden finished off the game with a score of two points in the eighth end to secure their 8-4 victory.
Germany meanwhile found it tough going against a Russian team who had yet to lose a game at this Championship.
It didn't start well for Germany as Russia skip Andrey Smirnov was left with a draw into the house for three points in the first end. From there on Russia dominated the game as they went on to win 10-1.
Slovakia also picked up a crucial win against reigning Paralympic and world champions Canada.
Although Canada took three points from the first end, Slovakia fought their way back into the game, taking one point from the second end before they stole three points in the third end.
Slovakia eventually stole another single point in the eighth end to claim a 7-6 victory, which proved crucial for them in terms of qualifying for the play-offs later in the day.
Results
Session 8: Norway 1, China 5; USA 2, Scotland 4; Russia 10, Germany 1; Sweden 8, Finland 4; Canada 6, Slovakia 7.
Session 9: USA 5, Germany 10; Russia 6, Canada 4; Finland 8, Scotland 4; Slovakia 8, Norway 5; China 6, Sweden 5.
Standings after round-robin (W-L):
1. Russia 9-0 (To play China in 1v2 Page play-off)
2. China 7-2 (To play Russia in 1v2 Page play-off)
3. Finland 5-4 (To play Slovakia in 3v4 Page play-off)
4. Slovakia 5-4 (To play Finland in 3v4 Page play-off)
5. USA 4-5
6. Canada 4-5
7. Scotland 3-6 (To play Germany in tie-breaker. Loser relegated to WWhCQ*)
7. Germany 3-6 (To play Scotland in tie-breaker. Loser relegated to WWhCQ*)
9. Sweden 3-6 (Relegated to WWhCQ*)
10. Norway 2-6 (Relegated to WWhCQ*)