Russia retain Wheelchair Curling world title
The Sochi 2014 hosts have now won the world title three times in the last five years.
29 Feb 2016
Imagen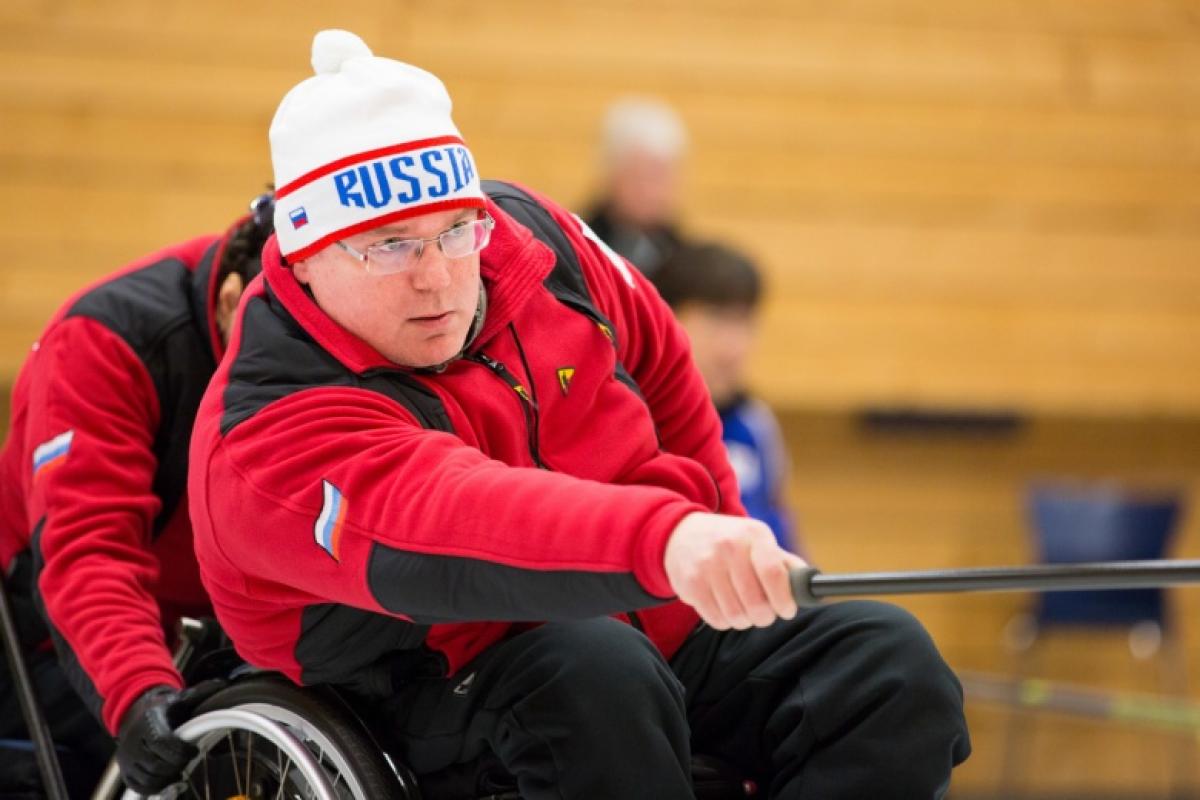 ⒸWCF / Celine Stucki
By World Curling Federation
Russia are the 2016 World Wheelchair Curling champions after defeating Norway in the gold medal game at the Lucerne Curling Club in Lucerne, Switzerland, on Sunday (28 February).
This result means that Norway take the silver medals while South Korea defeated Switzerland for the bronze medals.
In the gold medal game, Russia retained their title with a 7-4 victory over Norway. Russia opened the scoring with single point steals in the opening two ends before Norway responded with a single point in the third end and a steal of one point in the fourth end to level the scores at the break.
The fifth end would see Russia score five points when after they were sitting four shot stones, Norway's skip, Rune Lorentsen, attempted to promote one of his stones into scoring position, but instead pushed it through the house. This left Russia a simple draw into the house for five points that would effectively seal their victory.
Norway attempted a fight back but after scoring a single point in the sixth end and stealing a single point in the seventh end, they were run out of stones by Russia.
Victory was Russia's third world title in five years. They won their first championship in Chuncheon, South Korea in 2012 and last year's championship in Lohja, Finland.
In this year's gold medal game they were skipped by Andrey Smirnov, with Konstantin Kurokhtin playing third, Svetlana Pakhomova in second, Marat Romanov playing lead and supported by alternate, Alexander Shevchenko and coach, Anton Batugin.
"We are so happy now that I cannot describe it with words. We aimed to become champions again and we achieved it!" said Russian skip Andrey Smirnov.
"We are very satisfied with the work we've done and everyone is happy. And of course this win is very, very important for us.
"I think to become world champions again is also important for Russia and for Russian athletes because it actually helps to attract more new players. If we compare wheelchair curling now and three years ago there's a big difference. Now we have around 20 teams all over the country that can develop and grow," he added.
Norway's skip Rune Lorentsen said: "They stole in the two first ends. We took one and stole one to level it after four, so we were really in the game. Some bad decisions in the fifth end that we should have done something else than what we did. A five there is hard to get back into it against Russia. We nearly made three points in the sixth, but I missed a little bit, but all together it's been a fantastic week.
"As I said early in the week, if we can make it to the play-offs anything can happen, and it almost did. We are satisfied with the silver medal, of course, but directly after the match I felt bad about the fifth end because they were my misses. The whole week has been great for us, but the Russian team deserved to win, they've defeated us three times this week, they deserved it."
In the bronze medal game South Korea defeated hosts Switzerland 6-5.
South Korea opened the scoring in this game with a single point in the first end followed by a single point steal in the second before Switzerland drew level with a score of two points in the third end.
Switzerland then stole single points in the next three ends to take a 5-2 lead. The seventh end was a pivotal moment for Korea as they scored three points to level the scores.
In the eighth and final end, Korea would force Switzerland to attempt a difficult runback as Korea held shot stone. The Swiss skip's stone would over curl, taking their stone wide and giving Korea the single point steal for the win and the bronze medals.
Soon-Seok Seo, South Korea's skip for the bronze medal game said: "First of all, I'm so happy with our achievement and I want to say thanks to my colleagues, coach, manager, and everyone who helped us. Lastly, thanks God for bringing us here.
"We had a crisis in the seventh end but we believed that there would be one more chance for us if we could wait and be patient and we didn't miss our winning chance when it came to us.
"Before we came here many people helped us for this championship. We couldn't achieve this bronze medal without their effort. We will try our best to be a better team for the championship in 2017."
Earlier in the day Norway defeated South Korea 7-4 in the sole semi-final to reach the gold medal game against Russia while South Korea moved onto the bronze game to face Switzerland.
Results of the medal games:
Gold: Russia 7-4 Norway
Bronze: Korea 6-5 Switzerland
Semi-final: Norway 7-4 Korea
Final standings (W-L):
1. Russia (9-2) Gold medal winners
2. Norway (8-4) Silver medal winners
3. Korea (7-5) Bronze medal winners
4. Switzerland (7-4)
5. China (4-5)
6. USA (4-5)
7. Canada (3-7)
8. Germany (3-7)
9. Slovakia (3-6) Relegated to WWhBCC*
10. Finland (2-7) Relegated to WWhBCC*
*WWhBCC – World Wheelchair-B Curling Championship