Sao Paulo 2017 Opening Ceremony speech by Jose Luis Campo
The Youth Parapans opened on 20 March and will run until 25 March.
20 Mar 2017
Imagen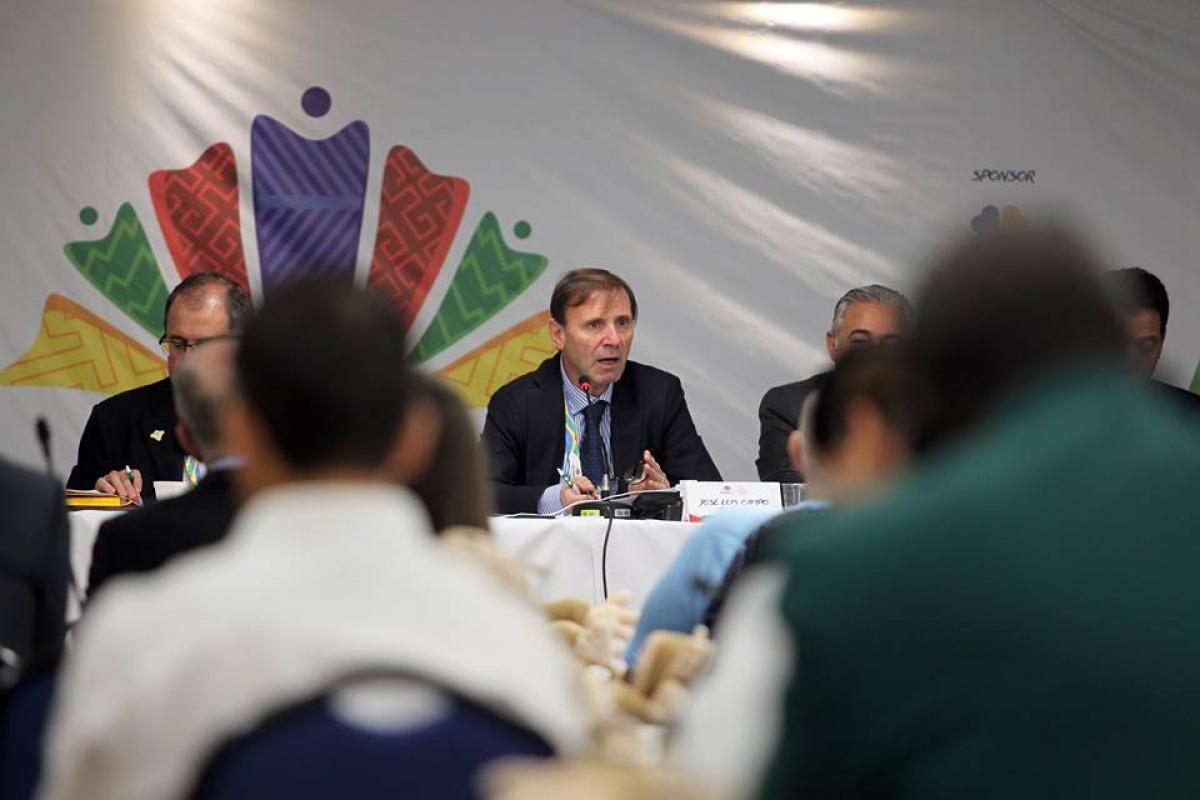 ⒸAlaor Filho/CPB/MPIX
By IPC
¡Buenas tardes a todos! Boa tarde a todos! Good afternoon everybody!
Welcome to Sao Paulo for the opening of the Youth Parapan American Games.
Over the next four days, more than 800 youngsters from 19 countries will compete across 12 sports, making this the biggest Youth Parapans ever.
It is with great pride that we are gathered here in the company of International Paralympic Committee President Sir Philip Craven at the Anhembi Expositions Pavilion.
Many of the world's best Paralympians train and compete here at the outstanding Brazilian Paralympic Training Centre, a tremendous legacy of the Rio 2016 Paralympic Games. I am confident these fantastic surroundings will inspire athletes to deliver the best performances possible.
Sao Paulo 2017 will build on the success of Latin America's first Paralympics and continue to raise awareness of the Paralympic Movement in this continent.
The Lima 2019 Parapan American Games may just be two and a half years away, and the Tokyo 2020 Paralympic Games three and a half years. But, athletes, you should not see them as out of reach. You should be hugely motivated that many athletes who have competed in this event, starting with the first edition in Venezuela in 2005, have gone onto not just compete at the Paralympics, but win medals on the biggest stage of all.
Here in Sao Paulo you can learn more about how to follow in their footsteps, receiving advice and training on what it takes to be a top athlete both on and off the track through 'Proud Paralympian', the International Paralympic Committee's athlete educational programme.
Many of you come to Sao Paulo to win medals, others to gain valuable life changing experiences and enjoy your first international event. Regardless of what your personal objective is here, please ensure to have fun, make friends and do your best.
To close I would like to thank the Organising Committee, led by its Brazilian Paralympic Committee President Andrew Parsons. Together with your partners you have done a tremendous job to organise this event and make everyone feel at home in this beautiful city.
Thank you also to the IPC and CPB staff, our volunteers and our technical officials. Without your invaluable help and hard work, Sao Paulo 2017 would not be possible.
Finally, I wish you all the very best of luck. Have fun, play fair and use this opportunity to fulfil your potential and become the best athlete you can possibly be.
I now have the honour to declare the Sao Paulo 2017 Youth Parapan American Games officially open.
ESPAÑOL
¡Buenas tardes a todos! Boa tarde a todos! Good afternoon everybody!
Bienvenidos a Sao Paulo para la apertura de los Juegos Parapanamericanos Juveniles.
Durante los próximos cuatro días, más de 800 jóvenes de 19 países competirán en 12 deportes, haciendo de estos los más grandes Juegos Parapanamericanos Juveniles de la historia.
Es con gran orgullo que estamos reunidos aquí, en compañía del Presidente del Comité Paralímpico Internacional Sir Philip Craven, en el Pabellón de Exposiciones Anhembi.
Muchos de los mejores deportistas Paralímpicos del mundo entrenan y compiten aquí en el Centro Paralimpico Brasileno, un magnifico legado de los Juegos Paralimpicos Rio 2016. Estoy convencido de que este fantástico ambiente inspirará a los atletas a ofrecer su mejor rendimiento posible.
Sao Paulo 2017 construirá en el éxito de los primeros Juegos Paralímpicos de Latinoamérica y continuará difundiendo el Movimiento Paralímpico en este continente.
Quizás los Juegos Parapanamericanos Lima 2019 estén a dos años y medio de distancia y los Juegos Paralímpicos Tokio 2020 a tres años y medio. Pero ustedes atletas no deberían considerarlos fuera de su alcance. Deberían estar motivados porque muchos atletas que compitieron en este evento, desde su primera edición en Venezuela en 2005, no solo llegaron a clasificar a Juegos Parapanamericanos y Paralímpicos, pero incluso ganaron medallas.
Aquí en Sao Paulo ustedes aprenderán más sobre cómo seguir sus pasos, recibiendo consejos y entrenando para convertirse en grandes atletas, tanto dentro como fuera del campo de juego, a través de ´Proud Paralympian´, el programa educacional para atletas del Comité Paralímpico Internacional.
Muchos de ustedes vinieron a Sao Paulo a ganar medallas, otros buscan vivir una valiosa experiencia y disfrutar de su primer evento internacional. Pero independientemente de su objetivo personal aquí, no olviden divertirse, hacer amigos y dar lo mejor de ustedes.
Para cerrar quiero agradecerle al Comité Organizador, liderado por el Presidente del Comité Paralímpico Brasileño Andrew Parsons. Junto con sus socios han realizado un enorme trabajo para organizar este evento y hacer sentir a todos como en casa, en esta hermosa ciudad.
Gracias a los staff del IPC y el CPB, y a nuestros fantásticos voluntarios y oficiales técnicos. Sin su invaluable ayuda y trabajo duro, Sao Paulo 2017 no sería posible.
Finalmente, les deseo a todos la mejor suerte. Diviértanse, jueguen limpio y usen esta oportunidad para desarrollar su máximo potencial y convertirse en el mejor atleta que puedan ser.
Ahora tengo el honor de declarar oficialmente abiertos los Juegos Parapanamericanos Juveniles Sao Paulo 2017.