Sara Morganti's recovery from Rio 2016
Italian wants to ride past Paralympic disaster to world gold
28 Jun 2018
Imagen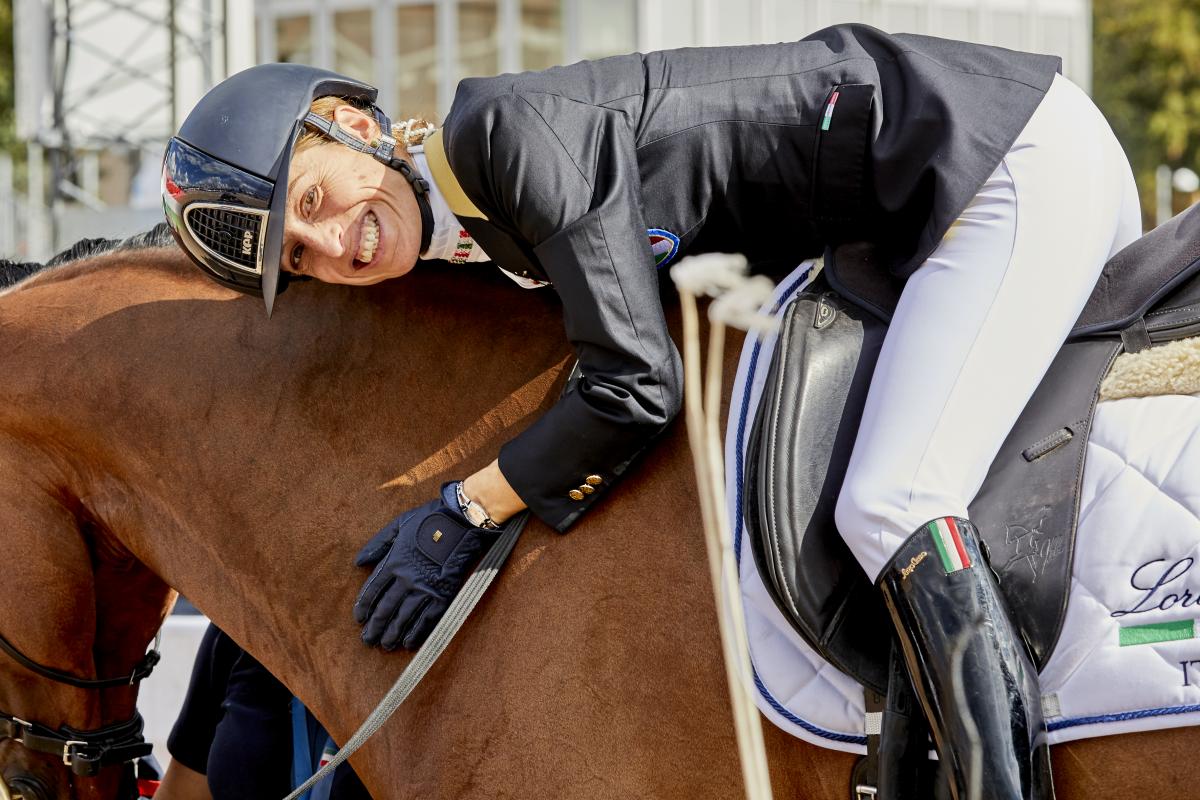 ⒸLiz Gregg/FEI
By Rob Howell | For the IPC
"In that big environment when things you don't like happen, it makes you grow up. I didn't like coming fourth but it wasn't so terrible, especially after Rio. I was OK and we'll go on and try again. There are always things to work on to go on and I certainly want to do that for now."
Sara Morganti was close to quitting after the Rio 2016 Paralympics. But although her journey back to competition has not been smooth, the Italian Para equestrian rider remains determined to defend her title at September's World Championships.
As the 2014 freestyle grade I world champion, Morganti had high expectations entering Rio 2016.
But disaster struck.
Before each competition, every horse takes part in a veterinary inspection, known as a trot up. The horses parade in front of two vets and are then passed for competition. In Rio, Morganti's medal-winning partner, Royal Delight, was ruled unfit. Morganti was not able to compete.
"I was devastated, both then and for a long time after," Morganti recalled about her Rio experience. "I wanted to stop. It was so difficult to accept."
But she realised ending her career would not be fair to her, to Royal Delight and her other horses, and her sponsors, family, friends and supporters.
"I had to start work and riding again," she said. "That's what works for me."
Part of that work is her role as the President of the Italian Paralympic Athletes Committee, which helped her look beyond what happened in Rio.
"I want to help promote Paralympic sport because I believe in the power it has to help people to live a better and happy life, and to be better," the 42-year-old said.
Ready to return
Despite her struggle for motivation, the gap between Rio and a return to competition was not long.
In spring 2017, she was back competing again on both her horses; Royal Delight and Ferdinand. But that came with challenges.
"It was difficult to go back to competition," she recalled. "The memories of Rio came back. Royal Delight didn't have any serious problems, just a not very good trot up. So competing was psychologically difficult but very good for me, to just go on with my career."
That same year, Morganti competed across Europe, including at her home event in Somma Lombardo, before contesting the 2017 European Championships on Royal Delight. Although she finished without a medal, the pain of Rio put the result into perspective.
"In that big environment when things you don't like happen, it makes you grow up. I didn't like coming fourth but it wasn't so terrible, especially after Rio. I was OK and we'll go on and try again. There are always things to work on to go on and I certainly want to do that for now."
But hopefully the judges see differently at the Federation Equestre Internationale (FEI) World Equestrian Games (WEG), from 18-22 September in Tryon, North Carolina, USA.
Morganti's preparations for that are off to a good start with wins on her other horses and a brilliant double win on Royal Delight at this year's Somma Lombardo.
"I was especially pleased there because two of the judges who gave us good scores will be judging at WEG too," she said. "I started this year later than normal as WEG is so late in the calendar. We're getting started though and we'll see what happens with her.
"I know the competition is greater than ever though, and it's certainly tougher than it was in 2014, but we have worked a lot with my trainers, Laura Conz and Alessandro Benedetti, who I'm hugely grateful to, and Royal Delight has improved technically. I hope I have too and I just hope my best is good enough to win - and you can be sure I'll do my best."