Hannelore Brenner back in the saddle
German Paralympic champion preparing for Worlds with new horse
14 Jun 2018
Imagen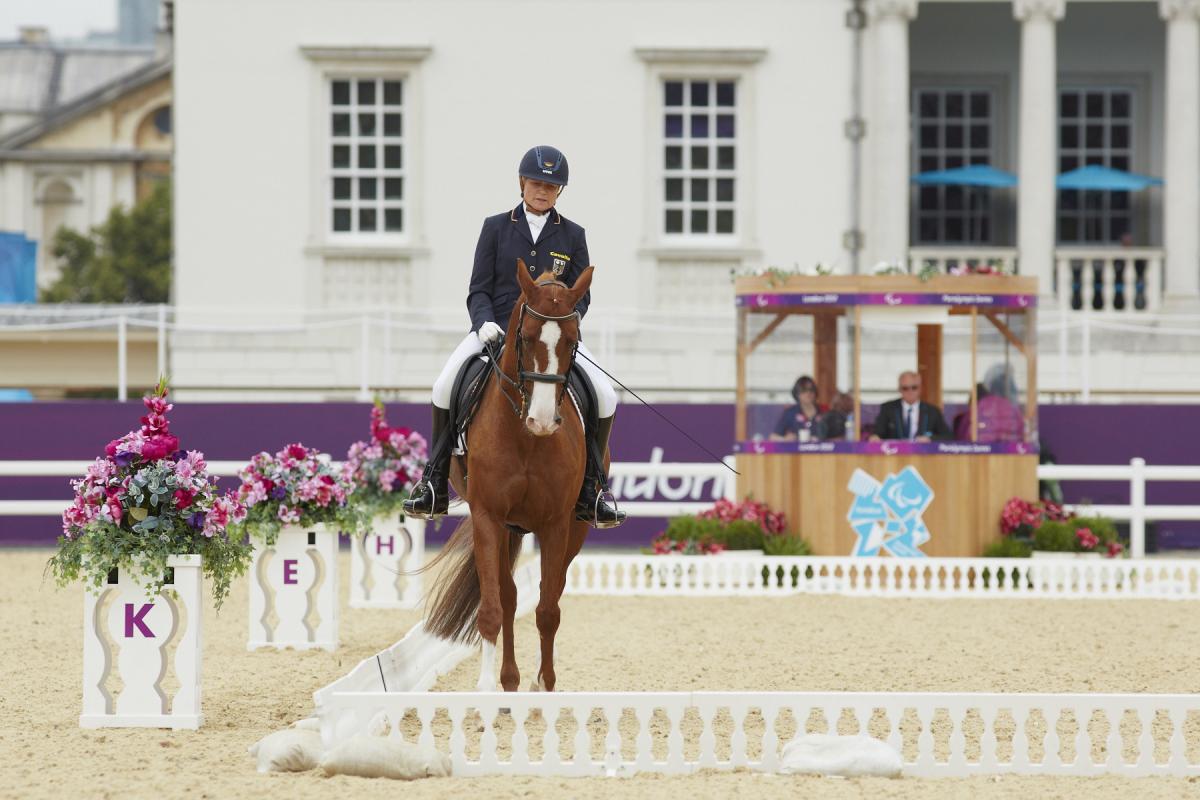 ⒸLiz Gregg/FEI
By Rob Howell | For the IPC
"I don't want to ride if it's just nice to keep in the top 10. I want to have the chance to be in the best places. It is not necessary to win but it is important that we can. I want to see what is possible."
The last two years have been tough for Germany's top Para equestrian Hannelore Brenner. But in 2018, with the Federation Equestre Internationale (FEI) World Equestrian Games fast approaching, she is back in the saddle and fighting for her place back at the top of the sport.
In the days leading up to the Rio 2016 Paralympic Games, Brenner made one of the toughest decisions of her riding career by pulling out.
Brenner was scheduled to go to Rio having scooped gold medals in the individual and freestyle events at both London 2012 and Beijing 2008, on her beautiful mare, Women of the World. Coming into 2016, she was also the reigning European champion and world individual title holder too.
By that time though, Women of the World was enjoying her hard-earned retirement and Brenner was riding her new horse Kawango (known as Kiwi).
"He is a special horse," she said. "But we never had that harmony together that Ollie [Women of the World] and I had. As a result it wasn't easy to qualify and be selected for Rio, so we were very happy and proud when it happened.
"Two days before we were due to leave for Rio though, Kawango hurt himself in his Box and so, unfortunately, we had to withdraw from the Games."
A quieter 2017 followed as Brenner continued to build her relationship with Kawango and took on two new horses to develop as well.
Early this year, her beloved Women of the World died.
"She had laminitis in younger years before I bought her," she explained. "But that was never a problem in her life with me. But over the years she picked up some additional problems like Cushing's disease [a tumor found in the pituitary gland] and Equine metabolic syndrome [EMS], a diabetes-like condition, so she became lame and then had another bout of lamititis in March. Laminitis is like an injury under your fingernail. It's a terrible condition and hurts so much for the horses."
Brenner continued: "She was very good to ride and we had a happy 12 years together. We did all we could for her for five or six weeks before we decided to let her go, at the age of 23. It had to come but it's hard to accept. We lived together and I saw her every day."
Highlights of Brenner's career on Women of the World include victories at the highest level of able-bodied competition, as well as those Paralympic golds.
"Hong Kong [venue of the Beijing 2008 equestrian competition] was amazing," she said. "It was hot and wet and we had to ride under the floodlights. Everything was new and she was nervous but did everything. It was a feeling I had never had with a horse before then.
"And then in London it felt fabulous to ride in that stadium so full of spectators who all knew about, and loved, horses. My freestyle there was the best ride I had ever had."
New partnerships
Coming into 2018, Brenner now has two mares she is hoping to continue in the sport with. The first, Rainbow Queen (called Queenie), has been with her for nearly five years now.
"She's a big, dark chestnut horse and is really cool," she said. "I can ride her anywhere and we competed for the first time at Genemuiden (Netherlands) earlier this year."
The other is Bellisima M, who is owned by her breeder Peter Moskopp.
"I have had her for two and a half years now," Brenner said. "And she is my horse and my heart."
"In many ways she is like Ollie and can be amazing or just very normal. We're working to improve that, to have more amazing moments. She's a horse for championships but possibly is not quite ready for WEG (World Equestrian Games). Everyone wants to go to that and, for a major championship, it's important that the best riders and horses compete."
Brenner is optimistic, but open minded about her future.
"I don't want to ride if it's just nice to keep in the top 10. I want to have the chance to be in the best places. It is not necessary to win but it is important that we can. I want to see what is possible. Both horses have made good progress in the last years and can improve more, but we will have to wait to see."
The FEI World Equestrian Games will take place from 18-22 September in Tyron, North Carolina, USA.