Schultz: Being among the best does not come easy
Despite what many may think after an incredible debut season in snowboard, the USA's Mike Schultz is working hard behind the scenes.
19 Oct 2015
Imagen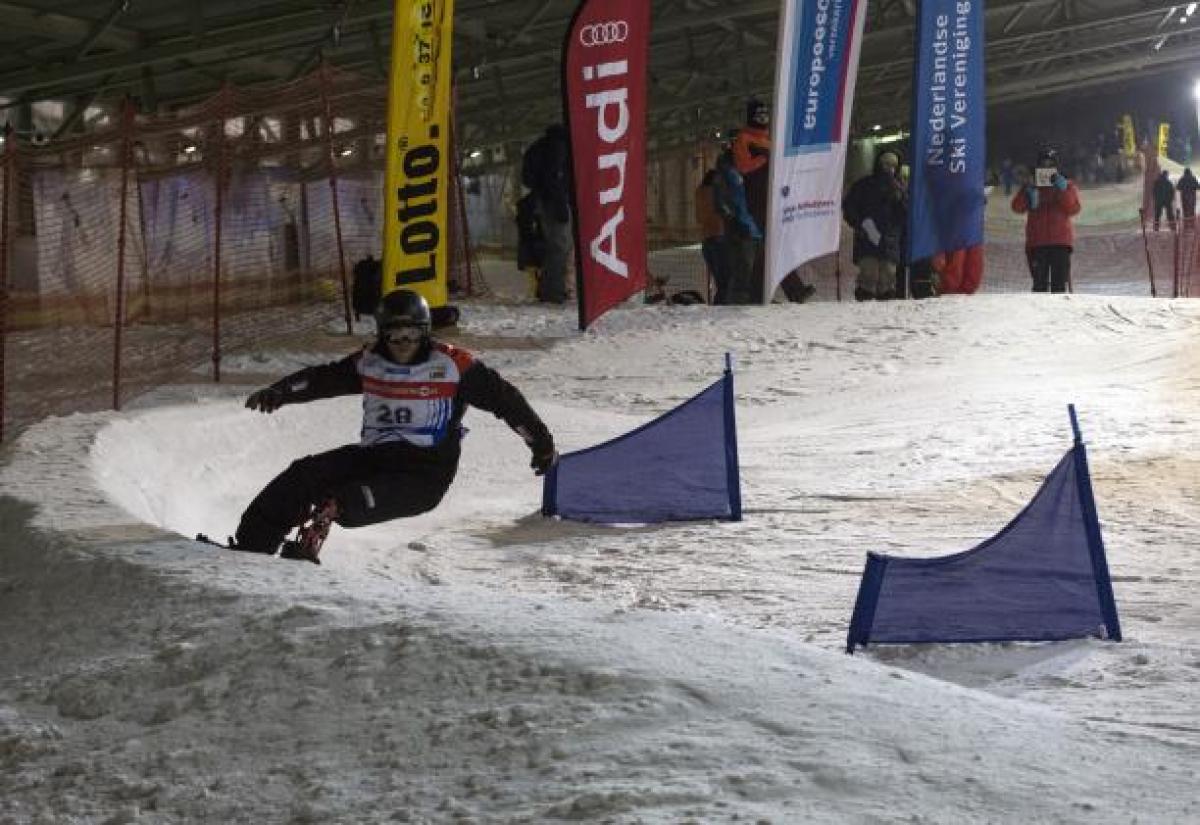 ⒸNSkiV/Wintersport.nl
By Giuseppe Di Florio | for the IPC
After storming onto the para-snowboard scene in 2014-15 with three World Cup wins, US newcomer Mike Schultz has spoken of how his early success is not just the result of raw talent.
Schultz, whose is currently working his way back from an injury sustained during adaptive snowboard-cross at the 2015 Winter X Games, has found that a huge amount of hard work and training is required as the sport becomes increasingly competitive.
"I can see how the sport of adaptive snowboarding is growing and I want to be a part of it," he said. "I have to be honest, snowboarding is quite a challenge for me since I had very little experience before this. I am taking it very seriously and working really hard to be where I'm at.
"From the outside a lot of people think I just have a tonne of natural talent and can be good at any sport, but the reality is that I spend countless hours training on snow, training in the gym and then I develop all the prosthetic equipment I use, so I put a tonne of effort into all the sports I compete in."
Despite his limited experience on the board, Schultz made an impressive competitive debut last season. He won the first three IPC Snowboard World Cups he competed in, in men's banked slalom and snowboard-cross SB-LL1.
This provided Schultz with the motivation for the rest of the season, especially ahead of March's World Championships. However just two months before, his plans were derailed when he severely injured his right foot while at the Winter X Games. He shattered his heel when he came up short on a landing and had to undergo surgery to repair it.
"It was definitely hard to sit and watch everyone compete for the rest of the year" he said.
Schultz also had a very slow and painful recovery which prevented him from high intensity activity for six months.
However he has recently been able to ramp up his training and has been competing in some of his other favourite sports, including on his beloved motocross bike.
"We just held the second round of our Moto X Adaptive Championship Series in Colorado on and I won my class," Schultz said. "It felt really good to compete again. We have our third and final round in Texas in October. This is a race series that a friend and I started last spring [Moto Sport Adaptive] and would love to see some of the snowboard competitors try out" he said.
Snowboarding, dirt bike, snocross and motocross are just some of the sports Schultz loves to do, and he is pretty good at them too. In his career, the 34-year-old has won six X-Games gold medals in snocross and motocross as an able-bodied and para-athlete.
Best known as "Monster" Mike for his aggressive riding style, he got that nickname in 2003 while racing snowmobiles.
"I'm a competitor and enjoy any activity that is a challenge, is fast paced and has a finish line" he said. "I am a very goal oriented person and need things to focus on to help me keep moving forward. After my injury [a motocross accident which ultimately led to the amputation of his left leg above the knee in 2008], adaptive motocross was that goal that kept me positive and moving forward. If I didn't have a specific activity or goal to focus on, I could have gotten depressed very easily."
Schultz's next focal point is to compete at the Pyeongchang 2018 Winter Paralympic Games with the ultimate goal of bringing home some silverware in snowboard.
The 2015-16 IPC Snowboard season gets underway on 18 November with a Europa Cup in Landgraaf, the Netherlands, followed by two World Cups on 19 and 20 November at the same venue.