Shahrad Nasajpour's journey of a lifetime
Asylee Para thrower realises dreams through Independent Paralympic Athletes' team
03 Aug 2017
Imagen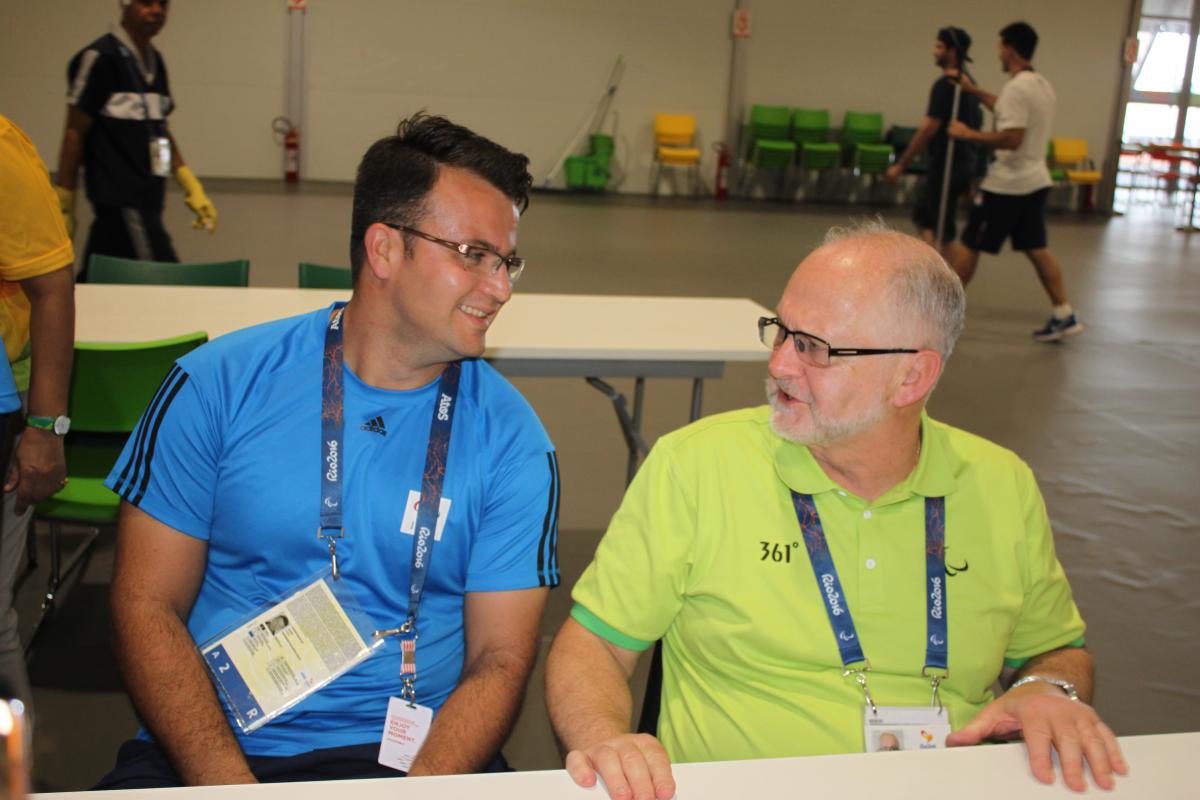 ⒸIPC
By IPC
"The spirit of the Paralympics is something else. When you're at the Games and competing and seeing the people, you feel something else, something special."
Shahrad Nasajpour is fresh off his second major international competition.
It is something he did not think was possible less than a year ago.
As an asylee living in the USA, the F37 discus thrower said Rio 2016, let alone the World Para Athletics Championships London 2017 in July, was not on his mind.
But that changed when he got the news that the Independent Paralympic Athletes' (IPA) Team was being formed, and Nasajpour grabbed the opportunity.
"When I got to the US before I never thought I could be in the Rio Games," he said. "I never thought about it. But when the IPC [International Paralympic Committee] asked me to be on the team and represent refugees, and even carry the flag at the Closing Ceremony, it was a dream."
"It was a great experience for me, the Games, the competition, the people, everything," he added. "When I woke up, and was like 'whoa, suddenly I'm in Rio.'"
Nasajpour was born in Iran with cerebral palsy and after moving to the USA, was invited to represent the thousands of people with impairments who have to leave their homes because of conflict, persecution or natural disasters.
Having a team to represent at Rio 2016 provided Nasajpour with resources toward his Games preparations, both in training and admin. For example, the Chef de Mission of the IPA Team, Tony Sainsbury, helped put Nasajpour on the right path by using his own coaching experience. Nasajpour was also supported by Team Official Ramon Boixadera.
Many partners also came together to support the IPA Team in Rio, including Paralympic Partners, Allianz, Ottobock, Panasonic, Visa, and kit suppliers Adidas and Speedo, organised through the World Federation of Sporting Goods Industry.
"IPC was one of the biggest [resources]," Nasajpour said. "IPC helped create the IPA Team for Rio and London. And another one that helped a lot was Visa. They sponsored me, like last year they helped me a lot at Rio and that I could stay on the road. Visa was great, and also the IPC in helping make the connections and traveling schedules and everything for me."
Being on a temporary status in the US in 2015, Nasajpour said he did not think too much about training and could not fully focus on his sporting career. He was only training a few times at the facilities at the University of Buffalo in New York.
"I was training just two or three days a week because my priority was something else at that time. …I was in a new place with no status," said Nasajpour, whose status in the USA was later finalised.
"But when the IPC said they were going to have a team, I started training again and better. And after Rio I tried to find a better situation to train."
With the help of IPC funding, Nasajpour was able to secure a coach in US Olympian Ryan Whiting to continue his training post-Paralympics.
He moved to Phoenix, Arizona, to focus on training. But with no family in the USA, Nasajpour admitted he faced another challenge in being a Para athlete. To support himself financially, he works as a cashier at Macy's department store. External support also has played a huge role as he tries to continue pursuing his sporting career.
"After Rio I moved to Phoenix just for training. I had no friends or family," he said. "I made some good friends at Buffalo and I moved again to Arizona for better coaching. And I got better for sure, my performance was better."
Competition-wise, Nasajpour said the World Para Athletics Championships in London was better than Rio 2016 since he knew what was needed to perform better. But the Paralympic Games was a whole other experience, and it has motivated him to keep on. He hopes to compete at Grand Prix events next season.
"The spirit of the Paralympics is something else. When you're at the Games and competing and seeing the people, you feel something else, something special. So you don't want to quit," Nasajpour said.